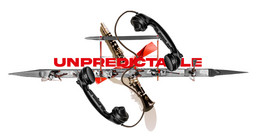 TEDxYouth@ISPrague is a signature half-day event, curated by, organised by, and featuring international high-school students and select guests. Featuring a vast range of ideas, talks are suitable for mature youth and adults, and open to the public. This year's TEDx is the International School of Prague's 6th annual event. Previous years' talk playlists can be found on the TEDx Youtube channel under TEDxYouth@ISPrague. This year's event will be live-streamed and videos of the talks will be available online soon.
Speakers
Speakers may not be confirmed. Check event website for more information.
Arbana Vidishiqi
journalist
We had no idea what was going on when the novel coronavirus hit the world at the beginning of 2020. We had to educate ourselves fast, avoid reliance on just any information and not fall victim of the so-called infodemic. Now, more than ever, it is important to seek out reliable facts and not accept anything as the truth. Arbana Vidishiqi is a professional journalist, leading the Balkan Service of Radio Free Europe / Radio Liberty.
Elizabeth Carleton
rower, critical thinker, student
An anxiety disorder doesn't make life easy so discovering something you love and using it to combat your everyday struggles is well worth it. Since Elizabeth started rowing, she's been able to use her anxiety to fuel her hard work in the sport, and rowing to fuel her mental health journey. As Elizabeth has dealt with her anxiety over the years as an expat, it's become a part of her identity, a part of who she is. Through her struggles of being a new kid, moving, and being a teenager, she's learned how to work with her anxiety and row down her mental health journey.
Jana Findlay
aspiring scientist, researcher, student
The Overview Effect is a fascinating psychological effect stemming from space travel that has baffled psychologists for decades. Despite its elusive basis, one thing is very clear – this space-borne effect could change life on Earth forever. Jana Findlay is from the Czech Republic and America, and has been interested in science and medicine from a very young age. Jana's talk, made up of meticulous research and personal experience, was inspired both by her love of space and concern about planet Earth.
Jason Nam
designer, educator, Master's student
Design is all around us but what makes great design? In the design process, empathy is a crucial step to understand the needs of others for creating better solutions. Jason is the Director of Design Disco, a nonprofit organization aiming to make design education more accessible to people of all ages. With a team of volunteer staff, Jason has hosted and led numerous workshops, panels, trips, and public events all over the world to help people discover the relevance of design in their lives. Jason studied at the Virginia Tech School of Architecture+Design and received his Bachelor's degree at the Architectural Institute of Prague. For 3 years, Jason led the design program at the Visual Arts Department of Riverside School in Prague and is currently pursuing a Master's degree at the Coop Design Research in Anhalt University of Applied Sciences and Bauhaus Dessau Foundation.
John Denis Jarolímek
playground fan, researcher, student
Being a parent in the world today is more difficult than ever. Helicopter parenting and overprotection are becoming the new normal in most of western society, whether we agree with it or not. And as a result, modern kids are becoming increasingly more dependent, and unprepared for adult life. John Denis argues that the perceived risks a kid faces during childhood are often negligible when weighed against the possible gains they would obtain from them, empowering them to a better future. He speaks about his own experience with parents who believe in this and shares a few early stories that have changed his understanding of the world as a child. As a "thriving survivor" of this method of parenting, he is hoping to inspire parents to break away from the increasingly restrictive norms and give their kids a unique advantage to moving forward in life.
Maria Kotova
language learner, aspiring linguist, student
It is a well-known fact nowadays that languages have a strong effect on our brain. However, not many give thought to the concept that even one's personality can change depending on the language one speaks in. Maria, a third culture child, explores the concept of linguistic determinism and the connection between language and identity through personal experiences and linguistic analysis. Maria comes from a Russian family and since moving to Prague, she has attended a Czech school before coming to the International School of Prague. She is passionate about learning languages and communicating with people all around the world.
Natalie Langer
violinist, musician, student
Charles Auguste de Bériot was a famous Belgian violinist and composer in the 17th century. One of his most famous concertos - Concerto No. 9 in A minor Op. 104 - shows his pioneering violin technique and Romantic style of composition. Those factors make this concerto an important stage for serious violin players before exploring other difficult concertos in the Romantic era. Natalie has been playing the violin since she was 3, however, with living in two other countries during most of her childhood, it has been difficult to keep studying via online lessons from her teacher. Nevertheless, she kept practising and performing increasingly harder pieces with building her technique in order to eventually play beautiful yet very difficult concertos like de Bériot's. Natalie comes from the Czech Republic and she's in her final year as a student at the International School of Prague.
Peter Sís
author, illustrator, artist
From his home in New York, award-winning author and illustrator Peter Sís reflects on his journey as an artist from Communist Czechoslovakia to his adopted home in the US. Along the way, Peter took on many personas, from musician, DJ, animator and filmmaker, to writer and social commentator. The unifying theme throughout his life and work is leaving home - wherever it might be - in the quest for freedom. This remote interview is conducted from Prague by Dr. Arnie Bieber, Director of the International School of Prague. Peter is the recipient of a MacArthur Fellowship and winner of the Hans Christian Andersen Medal. Among many other awards, Peter is an eight-time winner of The New York Times Book Review, Best Illustrated Book of the Year and a four-time Boston Globe-Horn Book Award Honoree. Of the book, The Wall, the late president Václav Havel once said it "should be required reading for all those who take their freedom for granted."
Petra Vaiglová
archaeological scientist
Archaeology is not just about the science but also about engagement with locals, developing mutual respect. Connectivity between ancient communities, regions and continents have enabled cultures to evolve while maintaining local identities. Petra Vaiglová is an archaeological scientist at Washington University in St Louis researching past interactions between humans, plants and animals in a range of environmental settings: from prehistoric Greece, through Bronze Age China and the Tibetan Plateau, to the Roman and Byzantine Near East.
Shaan Suri
musician, composer, student
Shaan is a Czech-Indian pianist, clarinet player and self-taught composer. Music is a large part of his life as he's been going to a piano music school for 11 years, and learning the clarinet for 4. His exposure to the almost diametrically opposed, yet equally beautiful, aspects of both lyrical Czech folk music and mysterious Indian classical music has given him a very broad perspective on musical composition as a whole. Shaan's composing inspirations range from Dvořák to Ravel to Prokofiev.