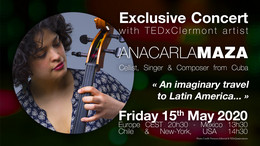 We celebrate Arts and Culture at the end of the quarantine in France and Spain with a private online concert by Ana Carla Maza from her place in Barcelona.
Ana Carla Maza is a radiant writer, composer and performer. Alone on stage, she sensually explores the sound of the cello with virtuosity. Ana Carla deploys a range of colors and sensations, alternating caresses and storms. In the difficult exercise of the solo concert, the young musician imposed her natural energy, mixing jazz and the sounds of the South American continent, from the Brazilian bossa nova to the Cuban habanera.
She was on stage at TEDxClermont in 2016:
https://www.youtube.com/playlist?list=PLF38uMZc1-Vcr4PnsmqtvHf1-PHUIyTB6
Speakers
Speakers may not be confirmed. Check event website for more information.
Writer, composer, cellist & singer
Ana Carla Maza is a radiant writer, composer and performer, born in Cuba and raised in a family of musician. Alone on stage, she sensually explores the sound of the cello with virtuosity. Ana Carla deploys a range of colors and sensations, alternating caresses and storms. In the difficult exercise of the solo concert, the young musician imposed her natural energy, mixing jazz and the sounds of the South American continent, from the Brazilian bossa nova to the Cuban habanera. Ana Carla Maza has already given hundreds of concerts and put her cello at the service of the most diverse ensembles and styles, from classical to jazz and pop music. — -