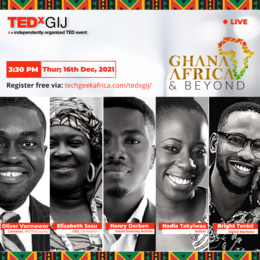 This is the maiden edition on the Ghana Institute of Journalism Campus. This event aims at equipping attendees with the necessary skills for the progress of Africa. Attendees will journey through the world of technology, human development, the role of the media in development, the impact of Corona Virus, health, data science, artificial intelligence, governance as well as other thriving fields in Africa. Africa can be the beacon of hope if we manage our resources effectively.
Speakers
Speakers may not be confirmed. Check event website for more information.
BRIGHT TENBIL
DIGITAL MARKETER
As a young enthused digital marketer and social tech blogge,, Bright Tenbil has collaborated to build digital presence with brands in Ghana and beyond. He is passionate about building brands with African Youth. As an expert in SEO, Social Media Management, Web Development and Content Marketing, he has consulted and worked with top brands like Okyeame Kwame, MTN Ghana, The European Union, TEDxAccra, Lynx Entertainment Ghana amongst other. Inspired by the Youth Advocacy, Bright Tenbil started Hyperlink Africa in 2014 from the University of Ghana campus with the basic ideology to connect the youth to agencies and brands across the nation to engage, publicize and sell products in the form of experimental marketing and events. With over 5 years' experience of strategic digital brand growth, he has transformed the ideology of product presence online with impactful campaigns.
ELIZABETH SASU
CEO, GH AVAITION
Elizabeth Twummua Sasu is a young lady with high aspirations and ambitions of making a difference in the world.She is an Entrepreneur, Aviationist, IT Administrator, Travel/Tour Consultant, Journalist and a Public Relations Consultant. er passion is to bridge the gap between Aviation and Tourism for sustainable socio-economic growth of the country. With this in mind, she created the AviaTour Conference and is the convener of the Aviation Tourism Group. Elizabeth likes to help aspiring Aviators understand the industry and decide on the right fields in the industry they want to pursue. She is currently championing the agenda #bringbackourairlines, which seeks to make our airlines work well and hold accountable for the wellbeing of staff even if it goes defunct. She loves Aviation with a passion and hopes to be instrumental in making Ghana an aviation hub in West Africa.
HENRY DERBEN
VISUAL DIVERSITY ARTIST
A storyteller at heart, Henry Derben is a communications professional with a diverse background in development and corporate communications and multimedia storytelling. He is deeply passionate about telling stories that are relevant, engaging and can bring real social change. Henry worked with Afrocentric visual content provider - PICHA in its mission to improve the diversity of imagery of Black people and communities and curate modern visual stories from across the continent and beyond. Derben co-founded Crust Media and has worked as a communications consultant for a number of international organizations including the United Nations, Newmont, PHD Media, International Finance Corporation and Silverbird Entertainment.
NADIA TAKYIWAA MENSAH
Author
Nadia Takyiwaa-Mensah is an award winning entrepreneur and founder of Sixth Sense & Sai Wine Café - Author of How to Get Ahead in Ghana.
OLIVER BARKER - VORMAWOR
#FixTheCountry Convernor
Oliver Barker-Vormawor is a law and governance advisor with significant law and policy expertise in various African countries, in the United States and within the United Nation's System. He also has significant consulting experience with various international and multilateral institutions such as the World Bank, UNDP, DFID, OSIWA, ClientEarth etc. Oliver held various roles in the Private Sector, in Government, and with the United Nations. Oliver has worked as a Diplomat in the Foreign Service of Ghana, Senior Legal and Policy Officer at the Office of the President in Ghana, Judicial Fellow to the Vice President of the International Court of Justice, Legal Officer at the United Nations Headquarters in New York USA, and as Global Law and Policy Advisor at Covington & Burling LLP in Washington DC, USA. He was also engaged as a Constitutional Researcher to Ghana's Constitution Review Commission in 2010-2011. Oliver currently convenes the ongoing #FixTheCountry protest movement in Ghana