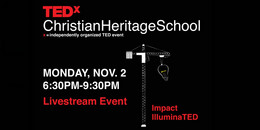 Too often we are blind to what is happening in the world and even in our own communities. When we recognize how others are transforming ideas into influential action, we begin to alter our own perceptions. New avenues are exposed in service, innovation, creative endeavors, and elsewhere. Gaps between disparities are bridged. Barriers are broken. Voices are heard. An impact illuminated forces us to consider how others are defying boundaries, and how we can make a difference ourselves.
The goal in hosting this event is to create community conversations whose influence spreads locally but whose ideas are also globally applicable.
Speakers
Speakers may not be confirmed. Check event website for more information.
Arshad Bahl
Entrepreneur, Founder
Arshad Bahl is the Founder of Amrita Health Foods. When his son, Ayaan, was diagnosed with autism in 2007, Arshad and his wife started him on an aggressive gluten and dairy free nutrition program that made him focus easier on other therapies. Now Ayaan is academically doing well in a regular high school. Arshad's son's success inspired him to create Amrita—a plant-based nutrition company. He recently launched his own production facility to be very hands-on and to also provide employment on the autism spectrum. Arshad lives in Westchester County (NY) with his wife, Taskeen, and their kids—Ayaan (12), Ayesha (10), and Aliya (4). Arshad has served on the Board of Directors for SPARC Inc. in Westchester. He holds an MBA from Kenan-Flagler Bus. School at UNC-Chapel Hill and a Masters in Environmental Science from Clark University. He spent about 20 years with Fortune 50 companies in senior roles. In 2012, he decided to move from his corporate role to making Amrita successful.
Gordon Boronow
Associate Professor of Business and Economics + author
Gordon C. Boronow is Associate Professor of Business and Economics and Department Head for the Department of Business, Accounting and Economics in the School of Business and Leadership at Nyack College. He received a Ph.D. in Economics from Stony Brook University in 2008. In 2019, Professor Boronow published the book Production, Property & Power: Making Sense of the Economy, a sophisticated new teaching model of how the economy functions. Prior to an academic career, Mr. Boronow enjoyed a business career in the insurance and financial services industry. He began his career as an actuary, eventually becoming the President and COO of American Skandia Life from 1991 until his retirement in 2001. Today, Professor Boronow and his wife Anna live in New Canaan, CT.
Karen Amaker
Principal
Karen Amaker is the Founding Principal of P-TECH Norwalk, Connecticut's first 9 – 14 high school. Since beginning her career over 25 years ago, Karen has led several equity initiatives to abate the opportunity gap. Her work has involved diversification of independent schools and greater access for students of color. As Director of Educational Opportunity Programs at the Yale University School of Medicine, Karen created STEM programs for underrepresented youth. She has continued her commitment to equity work while at P-TECH. Karen has graduated 32 students of color and 18 females with an associate's degree in computer science. She is progressive in her education approach and believes that schools are responsible for contributing to students becoming life-ready. The Connecticut Technology Council and Connecticut Center for Advanced Technology selected her as a 2020 Women of Innovation Finalist. Karen enjoys reading, traveling, and spending time with her son, Kristopher.
Leila Daneshmandi
Ph.D. candidate + co-founder and COO
Leila Daneshmandi is a Ph.D. candidate in Biomedical Engineering at the University of Connecticut and the co-founder and COO of Encapsulate, a cancer-battling start-up in Farmington, CT. As a student entrepreneur and young leader, Leila is passionate about bringing real-life healthcare solutions to those in need. She was selected as a 2020 Women of Innovation Finalist by the Connecticut Technology Council and Connecticut Center for Advanced Technology and is currently a General Electric Graduate Fellow for Innovation at UConn's School of Engineering. Encapsulate was recently awarded the prestigious Technology-in-Space Prize for $750k from The International Space Station U.S. National Laboratory and Boeing and is currently conducting clinical studies in partnership with Hartford Healthcare. Leila has over twelve peer-reviewed publications and holds five patents and is interested in pursuing a career in academic entrepreneurship to mentor the next-generation of health-tech entrepreneurs.
Margaret LeMaire
Administrator, Refugee Mentor + Translator
Margaret LeMaire has lived a life of service empowering people through a variety of means. She has taught biology and chemistry in a Congolese secondary school, was an administrative assistant/dispatcher for a humanitarian/faith based aviation program in Cameroon, DRCongo, and Ethiopia, tutored immigrants in English, and led a lay caregiving ministry serving hurting people. Currently, she continues to mentor refugees and serves as a financial and communication assistant for a local global impact ministry and for a Congolese Technical School, which empowers marginalized young men and women with marketable skills. She has a B.S. in biology from George Fox University and speaks French and Swahili. She is passionate about her faith, transformational development, and issues of justice.
Maria Chrysochoou
Professor and Department Head, Civil and Environmental Engineering, University of Connecticut
Maria Chrysochoou is a Professor and Head of the Department of Civil and Environmental Engineering at the University of Connecticut. She obtained her BS in Physics at the Aristotle University of Thessaloniki, her MS in Environmental Engineering at Technische Universität Dresden in Germany and her Ph.D. in Environmental Engineering at Stevens Institute of Technology. Hired as Assistant Professor at the University of Connecticut in 2007, promoted to Associate Professor in 2013 and Full Professor in 2019, she was recently appointed as the first female Department Head in the School of Engineering. Dr. Chrysochoou serves as Principal Investigator of the project "Beyond Accommodation: Leveraging Neurodiversity for Engineering Innovation." Sponsored by the National Science Foundation Revolutionizing Engineering Department program, this 5-year project aims to transform educational practices and cultivate the potential of neurodivergent individuals to contribute to engineering breakthroughs.
Matt Siracusa
CEO, Founder
Matt resides in South Windsor with his wife, Meghan, and their two daughters, Lucy and Emilia. He is an avid cook and spends his free time hunting and fly fishing. Matt is the founder of two companies, WEWOOL and USA Lab Movers. He also works full time for ClearSpan. Matt has also founded a nonprofit in Hartford, Connecticut, called Sparrow Ministries. His goal is to spread positivity and inspire others to set fear aside and chase after their dreams. Faith, Family, and Friendship are all that matters to Matt!
Patricia Liu
Educator
Patricia Liu is the daughter of first-generation Americans and comes from a long line of educators. After graduating from Wellesley College in 2014, she started her career in teaching at Christian Heritage School where she developed and implemented the K-12 Mandarin Chinese program. In 2017, she started the Model Congress program at CHS with a small cohort of 13 students. Three years later, Model Congress at CHS has since quadrupled in size and remains one of the most active and accoladed student groups on campus. To date, CHSMC students have won over 24 awards at major conferences, including two Best Delegation awards in 2018 and 2020. In 2020, Patricia left CHS to pursue full-time graduate studies and is currently an Ed.M candidate at the Harvard Graduate School of Education, where she is concentrating in Instructional Leadership within the Learning & Teaching program.
Musician and author
In 2011, Roger experienced first-hand the power of the arts to heal and build community in response to the earthquake, tsunami, and nuclear disaster in Japan. The following year he started Community Arts Tokyo. He is also the coordinator for the MAKE Collective, a global network of artists. Roger received a Master of Music from The Juilliard School and Bachelor of Science from Columbia University. He has won numerous competitions and has recorded five albums. He is the author of "The Broken Leaf," "Aroma of Beauty," and "Pippy the Piano and the Very Big Wave." He lives in downtown Tokyo with his wife Abi and four boys.