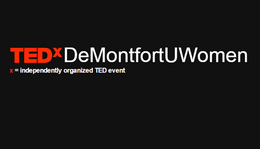 In the spirit of ideas worth spreading, TEDx is a program of local, self-organized events that bring people together to share a TED-like experience. At a TEDx event, TEDTalks video and live speakers combine to spark deep discussion and connection in a small group. These local, self-organized events are branded TEDx, where x = independently organized TED event. The TED Conference provides general guidance for the TEDx program, but individual TEDx events are self-organized (subject to certain rules and regulations).
Speakers
Speakers may not be confirmed. Check event website for more information.
Carol Leeming
Lecturer, Contemporary Music Theatre Module BA, Performing Arts, De Montfort University
Carol was awarded an MBE 2019 as poet and playwright, for her contribution to arts and culture in Leicester. Carol works as a freelance multi-disciplinary arts practitioner, and consultant for Leicester based arts cultural organisation Dare to Diva. Carol is hailed as a polymath, her other roles include: published author (fiction/non-fiction), director, dramaturge, performer, filmmaker, curator, and public speaker. Other achievements and numerous awards include, UK Cultural Olympian 2012. East Midlands Womens' Awards: Outstanding Woman Arts Media & Music, Leicester Writers Club Awards: Ena Young, Siobhan Logan & Penfold Award for Poetry, Listeners & Media. African Caribbean Citizens Forum/Leicester City Council: Black Achievers Award Arts & Entertainment.
Dr Natasha Katuta Mwila
Senior Lecturer, Leicester Castle Business School, De Montfort University.
Dr Natasha Katuta Mwila was born in Zambia and has studied and lived in Australia, South Africa and the United Kingdom. She is a business management academic with a passion for women's enterprising. Natasha is a Christian woman, proud mother to Oluwafemi Caleb Omole and happily married to Owolabi Gabriel Omole. Her motivation to speak on women and identity is driven by her own life journey and her desire to make a positive difference in the lives of those she has the privilege of encountering.
Dr Paris Connolly
Senior Lecturer, Leicester Castle Business School, De Montfort University.
Dr Paris Connolly is a Research Fellow working on the Decolonising DMU project. She was awarded a PhD in Sociology in 2019; her thesis is titled Female Genital Cutting in the UK: A feminist phenomenological study of perceptions and lived experiences. She also completed her BA Hons in Health studies here at DMU and was awarded a First-Class degree. Paris has worked as a Domestic Abuse Practitioner for Women's Aid and is interested in trauma-based approaches. She is interested in researching issues around gender and sexuality, race and ethnicity, human rights and violence against women and girls, feminist research methods and art-based methods.
Dr Shardia Briscoe-Palmer
Lecturer in Media, Race & Social (In)Justices, De Montfort University
Shardia's research specialisms intersect across the politics of gender, race, and social injustices. Her research focus explores the politics of black masculinity whilst (de)constructing postcolonial identities. Shardia's research interests also include academic diversity and inclusivity challenges faced by minority groups within higher education. Shardia completed her doctorate at the University of Birmingham in political science and international studies. She is a strong advocate on why and how race and its intersections must be addressed adequately in Higher Education. I am a mother of two young boys and spend many of my days navigating the world around them, being their example for change. She can be found via Twitter @ShardiaBPalmer
Jane Hearst
PhD Researcher in Arts-for-Health / Founder of The Curious Observer
Jane is an East-Midlands creative with a passion for storytelling. Whether it be writing for film and radio or working with communities to creatively express their real-life stories. She is fascinated about the use of artistic media and storytelling to aid positive mental health and holds this at the core of all her work. In addition to her work as a practitioner, Jane conducts research into the arts-for-health industry. Underlying this work is a belief that narratives have the power to educate, build emotional intelligence, bring communities together and offer social justice.
Nafisa Siddiqui
Third Year Biomedical Student, De Montfort University
An advocate for women's' rights and mental health awareness. Hoping to inspire more people to help make the world a better place.
Natalie Whyte
Deputy Co-Chair of Leicester, Leicestershire and Rutland Maternity Voices Partnership
Following her own tragic loss within her pregnancy at 34 weeks this led her on a journey to make a difference within maternity health services for women and their families. Working with service users, Heads of Midwifery, Midwives and Clinicians has been highly beneficial and rewarding. Her main goal is to continue working together to enhance the future of maternity care in Leicester, Leicestershire and Rutland. Natalie also works with a Baby loss Charity which aims to reduce barriers to accessing bereavement services.
Professor Jo Richardson
Professor of Housing & Social Inclusion
Jo is a housing researcher, working with local, national and international community partners. She is passionate about finding a sustainable solution to homelessness, and is interested on what we mean by 'home'. Her recent book explores 'Place and Identity: the performance of home'. You can follow Jo on Twitter @socialhousing and further details about her research can be found here: https://www.dmu.ac.uk/about-dmu/academic-staff/business-and-law/jo-richardson/jo-richardson.aspx
Sarah Higgins
Leadership Coach and Author of 'Power of Love Leadership®'
Sarah Higgins is the author of 'Power of Love Leadership®, which enables leaders to improve productivity, morale, creativity and fearlessness by using seven successfully proven strategies. Having gained a First-Class Honours Business Studies Degree from De Montfort University in 1996, Sarah has over 25 years professional experience. After leaving her role as Human Resources Director until 2011, Sarah Higgins set up her own successful coaching and consultancy business, which enables leaders and leadership teams to maximise their effectiveness through her 1-1 executive coaching, leadership team workshop facilitation and training. A Fellow of the CIPD and Practitioner in NLP, Sarah brings professional, practical expertise as well as the use of world class psychometric assessments for self-insight and impactful change to her leadership clients. Sarah supports local charities including Hope Against Cancer and she is a Board Trustee for Lamp (Leicestershire Action for Mental Health Project).
Sarah Thomson
Director of Social Impact and Engagement, De Montfort University
Sarah leads a directorate that focuses on pubic engagement and co-curricular student activity. Sarah's research focuses on the barriers to the implementation of service-learning within universities and how to co-create curriculum with the community. Sarah is committed to embedding social justice practice within Higher Education and is an advocate of bringing together communities to work in partnership for positive social change.
Tara Munroe
Founder and Creative Director of Opal22 Arts and Edutainment
Founder and Creative Director of Opal22 Arts and Edutainment and advocate of Black History. I produce thought provoking projects and outcomes that merge Black History, Arts and Culture together.