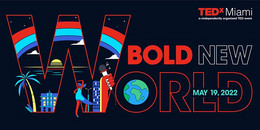 Entering a BOLD NEW WORLD we focus on the emerging trends and the change-makers forging the path.
Our speakers take us on an explorative journey of the bold new trends emerging in education, medicine, technology, environment science, and food production. Join us at the beautiful New World Center at Miami Beach for an evening of eye-opening talks and great conversations.
Can't join us live? Check out the livestream here:
https://www.facebook.com/TEDxMIAMI
Speakers
Speakers may not be confirmed. Check event website for more information.