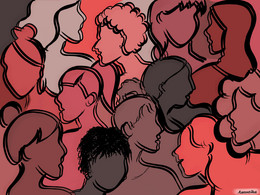 In the spirit of ideas worth spreading, TEDx is a program of local, self-organized events that bring people together to share a TED-like experience. At a TEDx event, TEDTalks video and live speakers combine to spark deep discussion and connection in a small group. These local, self-organized events are branded TEDx, where x = independently organized TED event. The TED Conference provides general guidance for the TEDx program, but individual TEDx events are self-organized (subject to certain rules and regulations).
Speakers
Speakers may not be confirmed. Check event website for more information.
EVP/ Chief Customer and Digital Officer at Albertsons Companies
Energetic executive with 20+ years of experience successfully leading and scaling strategic business units for Fortune 100 companies. Demonstrated ability to drive accelerated revenue growth and profitability expansion for industry leading brands and retail businesses. Specialties: Product Management / New Product Development, E-commerce, P&L Management, Hiring and Leading High Performance Teams, International Business Management, Brand Management, Vendor Negotiations, Retail Merchandising, Cost Reductions, Inventory Planning and Replenishment, Import Management.
Business strategist, Leadership Mentor, and Humanitarian
Dee French is a successful businesswomen and motivational speaker from New York City. Dee talks about her life story to demonstrate to people that they can make a difference in life and in addition to teaching them strategies to increase their bottomline.
Inspirational Keynote Speaker | Best-Selling Author | Executive Coach
Gloria J. Burgess is an author, speaker, and former executive in IT, human services, and philanthropy. She loves nothing more than helping others build a bridge from what was... to what is… to what can be. An expert in transformational leadership, racial justice, equity, and systems transformation, Dr. Burgess equips leaders in diverse contexts, including business, health care, law, government, arts, human services, education, and philanthropy.
Executive Director at Southeast Seattle Education Coalition
Erin works in the educational sector and advocates for students of color in the classroom.
Jana Sutherland
Fashion Consultant
Author and fashion consultant
Inspirational Keynote Speaker | Best Selling Author | Life Coach | Ethics Consultant | Storyteller-Japanese Folk Tales
Lori Tsugawa Whaley is an author and inspirational speaker on a mission to empower others to reach their God-given potential, no matter their path, heritage, or circumstances. Lori is a third generation Japanese-American and a descendant of the samurai warrior.
Program Director at Young Women Empowered
Reagan Jackson is the Program Director for Young Women Empowered. She is also a multi genre writer, artist, activist, and international educator with an abiding love of justice, spirituality, and creating community. Reagan is passionate about providing young people with the opportunity to experience something new. To that end she has taken over two hundred youth abroad to Japan, Guatemala, and Mexico respectively. She is an award winning journalist and columnist for the Seattle Globalist. Her other published works include three collections of poetry: God, Hair, Love, and America, Love and Guatemala, and Summoning Unicorns and two children's book Coco LaSwish A Fish From A Different Rainbow and Coco LaSwish: When Rainbows Go Blue. Check out her podcast at: http://thedeependfriends.libsyn.com
Director of Diversity, Equity & Inclusion
Rebecca Perrault has spent the last 15 years helping organizations harness the true power of the individual. She is currently the Global Diversity and Inclusion Leader for PROunlimited where she is responsible for partnering with leaders to develop impactful diversity and inclusion strategies both internally and with its clients worldwide. Her work directly impacts the diversity and inclusion of the contingent workforce, a rapidly growing and increasingly important segment of the world economy. Before joining PROunlimited, Rebecca spent the last decade focused on increasing both diversity and inclusion within various organizations. She consulted and advised numerous clients to design data driven D&I Strategies. Prior to her D&I Consulting work, Rebecca was at Deloitte where in several progressing roles she provided human capital management consulting for Mergers & Acquisitions to Fortune 500 clients.
Global Empowerment Speaker
Shelmina is a global keynote speaker and a former IBM Vice President. She started with humble beginnings in Tanzania and was the first person in her family to obtain a college degree. She balanced her career with raising two children as a single mother. She is passionate about helping women advance in their careers. Shelmina serves on the advisory board of Girl Up, founded by the United Nations to focus on positioning girls to be leaders in the movement for gender equality. She has previously served on boards of Bellevue college, TiE-Seattle and Young Women Empowered. As a speaker and mentor she has helped thousands of women shift their career trajectory. She is now writing a book to make her insights available to woman everywhere.
Digital Media Professor | Founder of ProfessingForward
Tira J. Murray is a Digital Media and Professional Development Instructor in the Department of Journalism and Mass Communication at North Carolina Agricultural and Technical State University as well as various institutions in North Carolina. Tira's research has been recognized internationally. Her research interests include public policy, cultural representation in media, and digital media advancement. Tira's passion for higher education has led her to help millennials learn about academia as a career. She created ProfessingForward, a platform that gives insights on higher education and professional development for aspiring and current higher education professionals. Tira holds a Master's in Interactive Media from Elon University as well as a Bachelor's in Mass Communication and Spanish from Bethune-Cookman University.