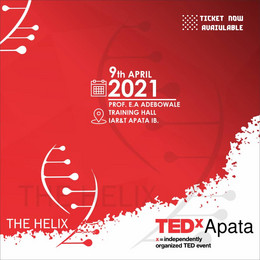 TEDxApata is a local, self-organized event that brings great minds of Apata together to share a TED-like experience. It is the second of its kind for the host community after the pioneer one was held in 2018.
Our theme for this event is 'THE HELIX' which is a symbol of resilience, adaptability, overcoming difficulty and winning. After all the shades of positivity and negativity life has thrown at us recently, businesses are just coming back to life, mental health are just stabilizing, We believe that being resilient will make embracing, living and adapting to whatever life has thrown at us -expected or otherwise - a possibility and we're on the path of building a more resilient world.
Speakers
Speakers may not be confirmed. Check event website for more information.
Emmanuel Faith
versatile human resource professional, employability skills trainer and Personal branding enthusiast.
Emmanuel, Faith is a versatile human resource professional, employability skills trainer and Personal branding enthusiast. Presently the Lead, People and Culture of one of the burgeoning fin-techs in Africa, Cowrywise, he has continuously honed his personal branding skills to position himself for strategical opportunities while accelerating his career growth. Named amongst the top 25 Nigerians to follow on LinkedIn by Dare Abinde in 2020, he has authored three eBooks, Chronicles of an intern, a self-help book on how to map out an accelerating career through internships, Lustre- a practical guide on standing out in the teeming crowd and Lagos Doesn't Sleep, a poetry chapbook about love, life and Lagos. He is an Associate of the Chartered Institute of Personnel Management (ACIPM), A career mentor at Dweebs Global, a global Non-Governmental organization and you would always find him in any capacity building and empowerment related activities.
Leadership Development Strategist
KEMI OGUNKOYA FIMC, CMC is a renowned Leadership Development Strategist, Management Consultant and author. Kemi has rich experience across industries including but not limited to; Oil & Gas (Downstream), Aviation, Financial Services, Educational Sector, SMEs and the public sectors. She has created some of the most remarkable transformations for her clients. She is an alumna of The Said Business School, University of Oxford and a member of The Forbes Business Council. She is a Certified Management Consultant, and a Masters Neuro- Linguistics Programming Practitioner certified by the INLP Centre in California, USA. She is the originator of "The Dozen Model" for raising visionary leaders, a model that has been adopted by numerous corporate organisations and political structures for effective leadership development. Kemi is the Founder of Rellies Works, a leadership consultancy firm and Co-Founder of SpeakersHQ.
Creative artist
MrWaduud is a young multidisciplinary Nigerian; he is a creative artist, a poet, a mental health advocate, and a keynote speaker known as "QING". He is currently a finalist of Obafemi Awolowo University studying 'Fine and Applied Art'. He is the founder and host of a creative community advocating for mental wellness called "QING'S JOURNAL", the community is a melting pot for creatives wanting to have productive conversations around mental health issues and an expression centre for people with mental illness in Nigeria and beyond. In 2018, he curated two of the first poetic conversational series of its kind "#DearAboutBambi & #3×YourTherapist which were co-written with over 35 writers and still counting as the series awaits continuation. MrWaduud is known to be a restless explorer as he constantly art and act as a catalyst for people's imagination to flourish with joy and a bit of wonder.
Nurudeen Bakare
Journalism
Mr. Nurudeen Bakare has distinguished himself with outstanding work ethics while he worked across three different continents of the world – He is a business software programmer and an IT expert by training. Nurudeen is an entrepreneur, an investor, a manager, a programmer, a social administrator, a customer relationship manager, and a teacher. He is an alumnus of outstanding academic records at the Federal Polytechnic Ede and the prestigious University of Ibadan, both in Nigeria. He had his Masters Degree study at the University of Gloucestershire, United Kingdom where he emerged as the first MSc student to graduate with DISTINCTION in Computing with e-Business Technology. He also won the AGD Award – an award for the best student in research.Nurudeen has won several academic, charity and professional awards, with the most recent being The Chosen Youths Award by La Roche Leadership Foundation in Nigeria.
Ola John Oluremi
Human Resource Professional
Ola holds a B.Ed degree in Guidance and Counselling, M.Ed. degree in Educational Psychology and currently studying for his Ph.D programme in Personnel Psychology from the University of Ibadan, Nigeria. He has over 15 years of experience in Human Resource Management in the Manufacturing, Trading, Financial investment, Agriculture, Management Consulting, Training and ICT industries of the economy. Ola is a proven and accomplished professional specializing in the areas of Business Leadership, Planning & Strategy, Compensation & Benefits Design and Administration, Policy Development & Administration, Change Management, Performance Management, Organizational Effectiveness, Labor & Industrial Relations. Ola has an outstanding track record of community service, advocacy and leadership.
globally acclaimed education development practitioner
Gideon Olanrewaju is one of Nigeria's finest Edtech innovators driving equitable educational opportunities and sustainable learning outcomes for millions of disadvantaged Nigerian children, leveraging innovation, collaboration and technology. He's a globally acclaimed educator with a notable track record of championing impactful educational interventions for children in rural communities, Gideon currently serves as the Chief Executive Director of Aid for Rural Education Access Initiative, a non-profit organization, that designs and implements quality alternative opportunities for out-of-school children. With a Masters' Degree in International Education and Development from the University of Sussex, his vision to revolutionize educational content delivery for millions of Nigerian children leveraging low-cost technologies has led to the development of innovative enterprises, one of which was named as one of African Union's Top 50 Education innovations 2020.
Olusola Sayeed Ayoola
Robotics and Artificial intelligence Expert
Olusola Sayeed Ayoola, PhD, MIET is the founder of Robotics and Artificial Intelligence Nigeria (RAIN). He lectures at the prestigious University of Ibadan, Nigeria where he specialises in robotics and advanced control. He holds with distinction a masters' degree in Advanced Control and Systems Engineering as well as a doctorate degree in Electrical and Electronic Engineering from the University of Manchester, UK. Olu served as a member of the robotics research group at the University of Manchester, UK between 2014 and 2019. During this period, and in partnership with Forth Engineering, UK, Olu focused on developing ground and underwater robots to support the UK's Nuclear Decommissioning programme. He also developed acoustics systems for underwater robot positioning and non-tethered communication. Olu is a member of the prestigious Institution of Engineering and Technology (IET).
Prof. Veronica Obatolu
Professor of Human Nutrition
Professor Veronica Obatolu is a Nigerian, a Professor of Human Nutrition who believes in 'eating to nourish the body' and not 'feeding the body'. She is an exceptionally proficient Research Scientist who specializes in Human Nutrition with over 30 years of experience in Food and Nutrition research. She consistently ensures convincing interpretation of evidence-based research committed to aiding people to eat well and lead healthy lifestyles through community-based nutrition intervention design programmes. Presently Professor Veronica Obatolu is the first female Executive Director and CEO of the Institute of Agricultural Research and Training (IAR&T), Ibadan, Obafemi Awolowo University (OAU) over 50 years of its establishment.