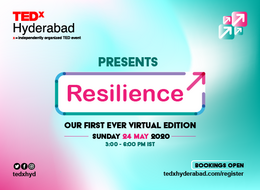 TEDxHyderabad 2020 Virtual Edition
"I can be changed by what happens to me. But I refuse to be reduced by it." ― Maya Angelou
As the world feels like it never did before, as we learn a new way of life, as the Earth heals itself, as we lose loved ones and brave hearts at times, and gain hope at others, it's our remarkable Resilience that helps us rise above it all. Our zest for life is a testimony of how much we cherish it, and how much we are willing to overcome obstacles, not just for ourselves, but for everyone around us.
To celebrate the indomitable human spirit, we invite you to the special edition of TEDxHyderabad – Resilience! A galaxy of ideas that inspire, a powerhouse of positivity that motivates and a passionate community that is committed to make this world a much better place.
Speakers
Speakers may not be confirmed. Check event website for more information.
Andrew Fleming
British Deputy High Commissioner
Andrew Fleming has made himself a familiar name in the city of Hyderabad, thanks to his wholehearted mingling and participating in the local customs and celebrations. A strong believer in the power of community, he has lent his voice and support on projects on interfaith, countering violence against women, human trafficking, child sexual abuse, fake news and youth empowerment, apart from his role as British Deputy High Commissioner Hyderabad to promote business and trade between the UK and India's Telugu region.
Krishnamurthy Subramanian
Chief Economic Adviser to the Governement of India.
Dr. Krishnamurthy Subramanian is the Chief Economic Adviser to the Govt of India. A PhD from Chicago-Booth and a top-ranking IIT-IIM alumnus, he is the author of the path-breaking Economic Survey commending Ethical Wealth Creation. By combining India's rich economic and spiritual heritage with modern economics, the Survey advocates ethical wealth creation by combining the invisible hand of the market with the hand of trust
Director of IIIT, Hyderabad
Prof P. J. Narayanan is a familiar name and face in the technology city of Hyderabad. A passionate tech-educator, he is known for his work in Computer Vision, Computer Graphics, and GPU Computing. A CUDA and INAE Fellow. "We prepare students for the last job in their careers because preparing them for the first job is too easy. What lasts till the last job is the ability to learn, and a positive attitude towards the society and their role in it.
Purab Kohli
Actor, Film Producer and Tech Entrepreneur
From Hip Hip Hurray to Out of Love, Purab Kohli has acted in an eclectic mix of movies and series. A Producer and a Tech Entrepreneur apart from being an actor, Purab has carved a niche for himself through sensitive portrayals of the roles he has chosen
South Asia Gender Activist
Dr Ranjana Kumari is a renowned and ardent activist for women's rights, having dedicated her life to empowering women across the South Asia region, and a celebrated academician with a prolific body of work in her name. A member of the Global Safety Advisory Board of Facebook and Trust and Safety Council of Twitter, she's one of the top 10 influencers for Gender Policy globally. She is the Director of Centre for Social Research as well as Chairperson of Women Power Connect
Sindhoora Yalla
Interaction Designer
Sindhoora Yalla is an Interaction Designer with a background in psychology and sociology. A great believer and practitioner of empathy, she dreams of creating and living in a cruelty-free world, for people and animals alike. Her optimism has helped her through at many crossroads in life, converting barriers into opportunities
Chief Scientist at the World Health Organization
Dr. Soumya Swaminathan is the Chief Scientist at the World Health Organization. She was previously Secretary to the Government of India for Health Research and Director General of the Indian Council of Medical Research. "Pandemics can lead to increased resilience based on how we approach it and how we could change a negative experience into something that brings us all together and build #resilience" "We are also fighting 'Infodemic' that tends to spread much more rapidly than the pandemic
Venkatramana Vijay
Cardiothoracic Surgeon and Pilot
Dr Venkatramana Vijay is as comfortable manoeuvring controls in a cockpit as he is wielding a scalpel in a surgery. Truly a frontline warrior in the face of the current pandemic, he has been flying emergency supplies all over the world in a Boeing 747, on the days he is not on his duty at the hospital saving lives as a cardiothoracic surgeon. A connoisseur of art and relics, he also collects antique cars and pre-war German motorcycles