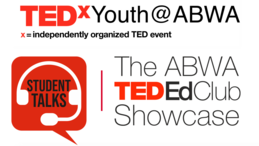 In the spirit of ideas worth spreading, TEDx is a program of local, self-organized events that bring people together to share a TED-like experience. At a TEDx event, TEDTalks video and live speakers combine to spark deep discussion and connection in a small group. These local, self-organized events are branded TEDx, where x = independently organized TED event. The TED Conference provides general guidance for the TEDx program, but individual TEDx events are self-organized (subject to certain rules and regulations).
Speakers
Speakers may not be confirmed. Check event website for more information.
Aishani Chowdhury
Student
Aishani Chowdhury is an 11th Grade student at Aditya Birla World Academy. She is the Founder & CEO of Dough & Batter, an award-winning cloud kitchen and artisanal bakery. She launched her registered micro-enterprise business during Covid19 lockdown, a phase of adversity. But this was not the first time in life she worked creatively to overcome significant challenges. Her talk at TEDxYouth@ABWA showcases her problem solving techniques and passion to persevere, underpinned by a unique philosophy of treating adversity as a game.
Anika Khanna
Student
Anika Khanna is an 11th grade student at Aditya Birla World Academy. She is extremely interested in economics and psychology, and is fascinated by anything related to human behaviour or decision making. Her talk at TEDxYouth@ABWA focuses on individual and situational explanations, and how these arguments are relevant when looking at the Stanford Prison experiment and the BBC Prison Study. She is extremely excited to share her views at TEDxYouth@ABWA!
Avan Hathi
Student
Avan Hathi is an 11th grade student at the Aditya Birla World Academy. She views the world we live in through a perspective that is often forgotten amongst the all-consuming pressures of daily life. Her talk on 'optimistic nihilism' aims to broaden ones perspective, zoom out of their own, singular existence; and view mankind as a mere speck in the existence of this vast, never ending void we call 'the universe'
Ishaan Singh
Student
Ishaan Singh is an 11th grade Student at Aditya Birla World Academy. He is extremely interested in Computer Science. He's interested in the application of technology for social good. He is the founder of Inaya Connect - a nonprofit that uses artificial intelligence and machine learning for social good. His talk at TEDxYouth@ABWA focuses on the application of Blockchain in the Education Sector and how the higher education space is primed for disruption.
Keshubh Turakhia
Student
Keshubh Turakhia is an 11th grade student at Aditya Birla World Academy. He is a sports enthusiast who likes to spend his time thinking of new business ideas that could be successful. Coincidentally, he is studying business to, one day, earn a Masters in Business Management. In his talk at TedxYouth@ABWA he discusses the booming e-sports industry and tries to change every parent's outlook to it.
Keval Shah
Student
Keval Shah is an 11th Grade student at Aditya Birla World Academy with a great interest in STEM and economics. A cycle enthusiast, he has used the COVID-19 lockdown to convert his cycle to a powerful electric cycle. At TEDxYouth@ABWA, he talked about the supply chain, covering the change in bicycle industry due to the COVID-19 lockdown, solutions to improve supply chain and the future survival strategies in the dynamic market place.
Nayana Vachharajani
Student
Nayana Vachharajani is an 11th grade student at Aditya Birla world academy. She is interested in design, art and culture. She loves delving deep into theories of language and why we think and act the way we do. She is a self-confessed daydreamer and Highly Sensitive Person, and loves all things whimsical.
Sanchay Gadia
Student
Sanchay Gadia is a student in the 11th grade, at Aditya Birla World Academy, who is extremely passionate about the field of Nanotechnology. Being a young aspirant of the STEM field, he is the CEO and Founder of a non-profit organization called Adhigam - which lays emphasis on the importance of Science and Mathematics by strengthening the foundation of underprivileged students of today to make better leaders tomorrow. His talk at TEDxYouth@ABWA called "Nanotechnology Explained" provides fascinating information about an upcoming area of research in the STEM field - an area that can change the properties of a material by changing the positions of its atoms! It may sound complicated but through his talk, Sanchay explains the basics of Nanotechnology and the implications it can have on our day-to-day lives - the fact that a lot of the contemporary technology already uses it is intriguing. Find out more by listening to him… you might just love it!
Sara Mehta
Student
Sara Mehta is an 8th grade student at Aditya Birla World Academy. She is a creativity enthusiast and loves to draw, write and read. Through her talk at TEDxYouth@ABWA, she excitedly shares why a fraction of people are left handers, how world changes for them and her thoughts on what can be done to make it an equal place for them. As a sinistral herself, Sara has been exposed to the very amusing world of left handers from her early childhood and also explains why it isn't exactly a joy ride.
Sparsh Dak
Student
Sparsh Dak is an IBDP Grade 11 student at the Aditya Birla World Academy. He is Founder & Editor-in-Chief of The Phoenixx Magazine, along with several other initiatives, and he is intrigued by English, Economics, Ethics, and their roles in society. Sparsh's talk at the TEDxYouth@ABWA focuses on cognitive behaviour and certain linguistic factors that influence human comprehension. He discusses the impacts of different features in languages, and how they may change meaning from one context to another.
Svara Kasliwal
Student
Svara Kasliwal is a 7th grade student at Aditya Birla World Academy. She is very keen on the topics based on psychology and the well being of the human body. That is including all the wonders of the human mind. Her talk at TEDxYouth@ABWA focuses on the power of positive thinking where she connects to the topic at an emotional level and uses the example of her uncle overcoming post Covid PTSD through the path of positivity.