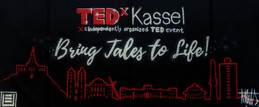 Speakers
Speakers may not be confirmed. Check event website for more information.
Alexander Katzung
Founder of North Hesse Accelerates
Alexander is from Kassel. As the ambassador of the North Hesse Accelerates program he represents the city and region at the TEDxKassel event. After having held a successful position in Hamburg, he decided to come back to his home region of North Hesse to use its potential and make it more attractive as a centre for innovation and entrepreneurship through the North Hesse Accelerates program. His strong committment to the region he lives in is driven by his liberal values of individual freedom, self-development and self-determination. For him, the development of our society and economy are closely connected and stand at the centre of his work. For Alexander, TEDx is a great initiative to spread promising ideas and concepts all over the world. It motivates him to contribute to this global sharing and learning initiative so that other people can benefit from his experience and take them to a next level in their specific context.
Armin Mesgaran
Head of INFINITY Germany
As head of INFINITY Deutschland Armin Mesgaran continuously builds up a nation-wide student initiative focusing on sustainability and social entrepreneurship. With INFINITY Armin and his team have established a platform which allows students of diverse disciplines to pursue sustainable projects entrepreneurially and learn by doing so. For him, TEDx is the ideal platform for sharing his personal cognition with motivated like-minded peers, and for learning from other visionary speakers himself. Armin's purpose in life is to improve the world we all live in every day, sometimes on a smaller daily-life scale, sometimes on a bigger scale. He continuously wants to learn in life."Social Entrepreneurship to me is the most sustainable means of social change. It positively impacts society in the long-term by being founded on an economically sustainable basis."
Dan Atkins
Founder and CEO of Busses4Homeless
Dan is a hardworking Social Entrepreneur from New Zealand living and working in London. He has built on his life experience to found the Buses 4 Homeless project which helps transform homeless people's lives in a unique and effective way.For Dan TEDx is a great platform allowing thought leaders and disrupters of their respective fields to come together and share their journeys, success stories and learnings in order to inspire a greater community. His goal in life is to create solutions for age-old problems, to challenge the status quo and to leave a strong and lasting impact in people's lives. Dan strongly believes the world needs more innovative solutions from social entrepreneurs like the ones speaking at TEDxKassel. "Being a Social Entrepreneur means you're wired in a different way; concerned first and foremost with leaving people and the world in a better place; paying it forward to future generations."
Emmanuela Shinta
Community leader, cultural and environmental activist
Emmanuela is a multi-talent: Writer, filmmaker, community leader, activist, artist, and environmentalist… For her, TEDx is the ideal platform to share her ideas and message with a wide audience form diverse backgrounds and give an insight into her native Dayak culture. Her personal goal? Emmanuela commits her life to what she believes is just and right as an entrepreneur and educator, so she won't regret anything when lying down on her death bed.
Eva Keretic
Singer, Songwriter and Climate Leader
Eva is an American singer/songwriter who has lived in Germany for most of her life and who in more ways than one, through inspiration and passion for ideas and emotions, expresses her thoughts through songs and the support of meaningful projects. In the half century of her life, Eva has mastered to embrace an experience and to create an interesting story. Whether it be in song, a speech, or trying to save the planet, she is in it with her whole heart.Since she has spent much of her life performing on stage as a singer/songwriter, the TEDx stage offers a new medium with which Eva seeks to convey her stories, insights, experiences and hopes for a more resilient future. Her advice for the creative and aspiring people in our world is to always follow and trust one's creative voice.
Franziska Weiser
Founder of Carré Mobility
Franziska Weiser is a Future Mobility Enthusiast with the desire to contribute to society. She believes that mobility – as one of our basic human needs – can help us to overcome a large variety of current hurdles.For Franziska, TEDx breaks old thought patterns and allows people to escape their daily grind. It inspires all of us to lift our minds, to learn, and most importantly to think actively. She has realized the potential of (new) mobility technologies, which she strongly believes can be a solution to many of our social problems. If adapted to people's needs, mobility could be the lever for more solidarity, better supply and more efficient use of resources. "My ideal world 50 years from now includes strong, self-enabled regional networks (cells) with functional, caring neighborhoods and direct links to locally sourcing associations and businesses creating a transparent, empowering and sustainable network – with mobility as its clue and at its core."
Johannes Schwegler
Founder and CEO of Fairventures worldwide
Johannes Schwegler is a pragmatic visionary, entrepreneur, craftsman and timber engineer. He grew up on a farm in Southern Germany and went to the tropical rain forests as a young volunteer and later as a professional. In cooperation with friends in Borneo, he developed a program for farmers to engage in forst landscape restoration. For Johannes, TEDx is a both inspiring and entertaining place for listening and learning. He is excited about the opportunity to share his story on this platform. Johannes wants to connect the dots in a complex world. He tries to create room for changes along the entire timber value chain though building lon term, interorganizational cooperation based on trust and mutual benefit. "We promote solidarity and do business in a way that benefits everyone, so that greed for profit and exploitation of nature and people will cease to exist."
John Strelecky
Bestselling author
John Strelecky is a #1 Bestselling inspirational author. His books have been translated into over forty-one languages and sold more than five million copies worldwide.They have won bestseller of the year awards five times and collectively spent more than seven hundred weeks on bestseller lists, including more than two hundred and fifty weeks in the #1 spot.John loves interacting with people seeking to live an amazing life. Whether it's speaking to fifteen thousand people in a big arena, to an audience of millions on television, or in a one-on-one conversation with fans at book signings, his goal is to make a positive difference in the lives of others. He is the Creator & inventor of the Big Five for Life ™ concept which he will be talking more about in his TEDxKassel Talk and Interview.He is the Creator & inventor of the Big Five for Life ™ concept which he will be talking more about in his TEDxKassel Talk and Interview.
Kylee Potae
Accountant and Member of the Maori Tribe
Kylee Potae comes from the bautiful country of New Zealand (Aotearoa). Culturally she is of Maori descent, the indigenous people of Aotearoa. Whilst she is an accountant, she is first and foremost a member of a wide family tribal group. She participates at TEDx for the opportunity to tell her story to a global audience. A story that can lift and/or challenge people's thinking in an attempt to make the world a better place. She is passionate about the positive impact her people have within New Zealand's business community as they are committed to a focus bigger than mere profit. Kylee strongly believes that having a balance of people, planet and profits is the ultimate goal to strive for.
Lasse Rheingans
Founder and CEO of Digital Enabler
Lasse is a media science expert. In 2017 he introduced the 5-hour working day at his company while honouring existing salaries and holiday entitlements. He believes that 'work' should neither be a question of location, nor can it really be measured in time; it's the result that truly matters. To cope with today's challenges he believes we should focus on people, their wellbeing, and their personal growth.He is commited to promoting digital and cultural change in people's minds. To successfully overcome growing social problems in this uncertain world. If all work together and exchange their ideas, he is confident that speakers like himself can offer TEDx audiences solutions to contemporary issues.Lasse is in constant pursuit of making a contribution to the change he wants to see in the world, of bringing people together and make people's life better, of being a leader or mentor his younger self would have wished for.
Linda Preil
Head of Rubber Project at Einhorn
Linda Preil is responsible for Supply Chain Management at Einhorn. Einhorn produces sustainable condoms and hygiene products while focusing on sustainable business practises and the maximization of social benefits. Linda loves dancing. Sitting quietly is not really her thing as she is always eager to explore new things and listen to people and their stories. To her, TEDx visualizes that all people can share an interesting story and that we can all learn from each other. She sees it as her purpose in life to make sure she contributes to the well-being of others – be it her own family, her neighbors or the manufacturers involved in her company's value chains. For Linda, social and cultural entrepreneurship means to appoach business differently by taking responsibility for systematic inequalities
Megan Schaible
Co-Founder and COO of Reaktor Education
Megan is an innovator, and humanist thinker from Finland. Currently, she is working in online education and AI, advocating for a human-centered approach to demystify emerging technologies for those of us who don't come from tech backgrounds. Megan is aware of the oversaturation of information and misinformation today. Her personal way of approaching this status quo: Trying to cut through the noise and helping others do the same. To her, TEDx injects life and fresh perspectives in a world full of pessimism and futility by giving people a platform to promote their 'ideas worth spreading'. She strongly believes in the impact this format can have – especially as the things that can make the biggest difference, often start in the smallest places. Although Megan is aware of the world's crushing problems at the moment, she thinks that if we dedicate ourselves to making small, mindful, intentional improvements in according to our own capacities every day, the world will become a better place.
Norbert Kunz
Founder and CEO of Social Impact
Norbert Kunz is founder and managing director of Social Impact and a true authority in the field of social entrepreneurship. From the very beginning his professional activity has been characterized by the desire to bring about positive social change. He has received numerous awards for his work, including Ashoka Fellow, Social Entrepreneur of Europe, and the Federal Cross of Merit. Ever since Norbert became familiar with the TEDx format, he has been enthusiastic about the idea of inspiring people giving concise insights into innovative topics. While he doubts there is a purpose in life as such, he himself pursues a balance between individual happiness, social interaction, and social responsibility. He would never want to have to admit to his children that he did not know and therefore did nothing so hecontributes to solving problems according to his possibilities the best he can.