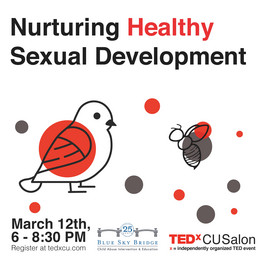 March 12, 2020 from 6-8:30pm in Eaton Humanities 135 on the campus of CU Boulder.
This training will unpack sexual development at each age from common to concerning. It also provides tips on how to start conversations, respond to behaviors, and help kids of all ages feel comfortable with their bodies, sexuality and asking questions. Participants will learn about the relationship between healthy sexuality and child sexual abuse prevention.
This is a skill-based training so get ready to share, laugh, and practice talking to kids of all ages about uncomfortable topics!
This TEDxCUSalon is done in partnership with Blue Sky Bridge.
This training will be guided by Robin Friesen-Holwell and Trish Wood.
Robin Friesen-Holwell joined Blue Sky Bridge in 2014, after working as a Family Support Advocate. Robin holds a Master's of Science in Counseling with an emphasis in Marriage, Family, and Child Therapy and has a Bachelor's Degree in Elementary Education and Psychology. Robin gives a variety of trainings about the issue of child sexual abuse, how adults can recognize it and respond appropriately, and how adults can talk to kids about their bodies. As a therapist on staff, Robin works with children and families who have experienced trauma and are on the journey of healing. Robin is a nationally certified TF-CBT (Trauma-Focused Cognitive Behavioral Therapy) therapist, is trained in EMDR (Eye Movement Desensitization and Reprocessing Therapy), and is a member of AAMFT (American Association for Marriage and Family Therapists) and APSAC (American Professional Society on the Abuse of Children).
Trish Wood is the Prevention Education Coordinator at Blue Sky Bridge. In this position, Trish oversees Blue Sky Bridge's school based education programming, training for adults who work with children, community training, and all awareness & outreach activities. Trish's love of children brought her to Blue Sky Bridge in 2016 after doing similar work in the areas of domestic violence, desegregation, and bilingual education. Trish holds an MS in Marketing and MA in Journalism from the University of Colorado and has been working in the areas of violence prevention, cause marketing and community outreach for most of her career.