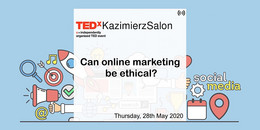 Our second TEDxKazimierzSalon event online hosted by Wioletta Dec and Richard Lucas
We have special guests who are leading experts in this field, including former TEDxKazimierz Speakers:
Ewa Wysocka, John Scherer and Paul Skah. More information about them below.
We will email an access code to those who apply for a ticket successfully via this link: https://tedxkazimierzsalononline11.eventbrite.co.uk
Our Facebook listing of this event is here www.facebook.com/events/535348737368503
This online TEDxKazimierzSalon is on the theme of whether online marketing can be ethical? If no why not, if not yes what would it look like?
Our guests will present their ideas on the topic, take questions, debate and go into breakout rooms with our participants.
Ewa, John, Paul, Richard, and Wioletta and other guests will take questions/comments from the online audience.
Ewa is Founder and CEO of Tribe 47, a leading Warsaw based Digital Marketing Agency www.linkedin.com/in/ewa-wysocka-83061b18. Ewa has over 7 years of experience in building and executing Online Funnel strategies. Before Tribe47, Ewa served as a Senior Partner, in charge of developing online marketing strategies in a top world-wide publishing company Mindvalley, which are still used until today. Ewa is also the founder of the biggest Polish online community for yoga lovers – PortalYogi and creator of digital membership program called Internetowe Studio PortalYogi. She also co-founded the initiative called Traffic & Conversion Meetup where she speaks and teaches digital marketing to entrepreneurs and professionals. More info here
John is the Founder & President at Scherer Leadership Center, and a former TEDxKazimierz Speaker. https://www.linkedin.com/in/johnjscherer As a former Combat Officer on a US Navy Destroyer, Lutheran Chaplain at Cornell University, Gestalt and Family Systems Therapist, Graduate School co-creator, author, successful change consultant and entrepreneur, John brings a unique perspective to his life and work. Business and community leaders from 42 nations have graduated from his Executive and Leadership Development Intensives. John is the creator of hundreds of articles and online media, including The Scherer Leadership Report, and is author of Work and the Human Spirit (1993) and Five Questions that Change Everything (2008). A prodigious writer, his work has been translated into 15 languages. The Stephen Covey organisation honoured John as one of America's Top 100 Thought Leaders in Personal/Leadership Development, and in 2015 the International Organization Development Network recognised him with their coveted Lifetime Achievement Award. We are fortunate to have with us one of the living experts on the deep development of leaders and the Action Researchapproach to facilitating change. More info about John here
Paul an author, Former TEDxKazimierz speaker, brand strategist, author of best selling books and entrepreneur. https://www.linkedin.com/in/paulskah, He consults for leading Polish and international companies, and is known as an expert on story telling and marketing. More info here https://paulskah.com/
Guest musicians will play their instruments for use at the online afterparty. We suggest you bring a bottle of wine, beer vodka or something non-alcoholic to drink while they play.
During the event, we will have:
Icebreakers in Zoom breakout rooms
Activities and discussion about the topics discussed
TEDxKazimierz plans for 2020 and beyond with Q&A
Community Announcements/Open Mic
Get in touch if you want to make a 1-2 minute announcement.
See you soon!
Richard Lucas, Wioletta Dec & the TEDxKazimierz Team.
If you would like to nominate an idea or speaker for our events in 2020, use this form https://goo.gl/forms/nOcvjoEleGCOB9453. We will check the application and perhaps invite your speaker to share their ideas with the world!
If you would like to be involved in TEDxKazimierz team apply here: https://forms.gle/QrbpZTQw1CzXAcNVA
GDPR notice
We will not share your data, or use it for purposes other than to process your application and communicate with you about this and future TEDxKazimierz events. If you want us to delete the information we hold about you after the event, we will take care of it.
Code of Conduct
We want people of any background to feel safe at our events, and this means that everyone who attends has to know and comply with our Code of Conduct. https://tedxkazimierz.com/en/about-us/code-of-conduct
Thanks to Małopolska for their long-standing support.