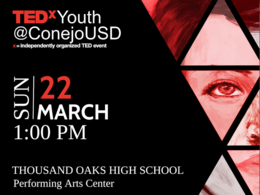 TEDxYouth@ConejoUSD is held each Spring and features outstanding local students presenting ideas, performances and experiences. The next event is March 22, 2020 at Thousand Oaks High School.
Speakers
Speakers may not be confirmed. Check event website for more information.
Angel Mendoza
Senior - Newbury Park High School
Angel Mendoza is currently a senior at Newbury Park High School. In addition to working with his parents, he also works as a baseball umpire for Newbury Park Pony Baseball and SoCal USSSA. Angel is involved with the arts at school and at home as he plays the euphonium in the Newbury Park High School Band and plays guitar and the drums during his free time. Angel is also passionate about telling other people's stories, as he has been involved with the Newbury Park High School's broadcasting program since his sophomore year and plans on continuing studying in this field after high school. During his free time he enjoys listening to music, playing the guitar, and hiking.
Anh Thu Van
Freshman - University of California at Santa Barbara
Anh Thu Van is a freshman at the University of California, Santa Barbara. She is currently double majoring in biopsychology and pharmacology and hopes to add a professional writing minor later on. Anh Thu intends to work in healthcare after college and has joined several on-campus organizations e.g. the Women's Network and Phi Delta Epsilon to aid her in her professional pursuits. Outside of school, Anh Thu enjoys creative writing and photography; her works are featured on her personal website and other collaborative blogs. Anh Thu hopes her story will resonate with any survivors in the audience, as well as encourage people to become better allies.
Charisse Chua
Senior - Westlake High School
Charisse Chua, a senior at Westlake High School on the first place champion Academic Decathlon team. Currently co-president of her choir at Westlake, she enjoys singing, especially late at night when her family is trying to sleep, playing piano, volleyball, and serving her community through various organizations and clubs. After starting a UNICEF club with her friend at school this year, she has been able to involve the community in efforts to assist children internationally, and is excited to be able to help those who need it the most. A lover of glazed donuts, popcorn, and world travel, she works at Chick-Fil-A, the latest addition to her busy schedule. She has two younger brothers, Darren, who always gets injured, and Braden, a sixth grader just starting out his middle school journey, and a dog named Pearl who is soaking up the constant attention she now gets with everyone at home. Charisse is thankful for all the support from her family, friends, and teachers she has received.
Joselyn Aguero
Junior - Thousand Oaks High School
Joselyn has always loved variety. From her identity, to the clothes she wears, to even her extracurriculars, it's never bland. Her favorite pastimes are theater and listening to music– they're her creative outlets to keep her secure. She also enjoys tutoring elementary students and spends a lot of time babysitting her little brother. In school, she is a part of the publicity committee for the Latino Connection club and in the Latino Youth Leadership group where she has been able to connect with her roots and learn new skills. Though she is unsure of her future career path, she hopes it is filled with creativity, traveling, and helping others. She is thankful for her family, best friend, and her teacher Mrs. Martinez for always being supportive and pushing her to be the best version of herself.
Nikita Rammohan
Sophomore - Thousand Oaks High School
Nikita Rammohan Sophomore- Thousand Oaks High School Nikita is a sophomore at Thousand Oaks High School. She loves to hike and try new things with her family and two dogs. She likes to play tennis and has been playing for eight years. She also loves to listen to music, but does not have a favorite song or artist. This is her first year in Thousand Oaks after moving from Bridgewater, New Jersey. Nikita is very interested in neuroscience and would love to pursue a career in medicine.
Ole Nagorsen
Sophmore - Thousand Oaks High School
Numbers fascinate Ole. He has a passion for observing all kinds of figures and charts in order to find patterns and trends. This comes partially from the long nightly conversations he has always enjoyed having with his father. His greatest interests are history and finance-related. He loves swimming, hiking, and tutoring other students.