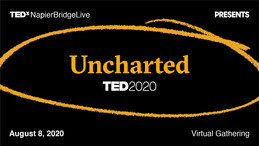 Through TEDxNapierBridgeLive, we are bringing TED 2020 virtually to Namma Chennai. Watch curated talks from the legendary conference themed "Uncharted" on Aug 8th.
About TED 2020: The future has never felt so uncertain. Our planet has more humans with more potential than at any other moment in history. The Adjacent Possible glitters with extraordinary promise. Yet there are deadly perils to be dealt with.
Political chaos? Check. Ability to edit our own genome? Check. Climate and environmental threats? Check. New technologies with unpredictable consequences? Check. At TED2020, we're inviting you on a bold voyage into uncharted territory. We can guarantee thrilling glimpses of the landscape ahead. This journey couldn't matter more.
Who are we?
TEDxNapierBridge is a platform that hosts inclusive TEDx conferences inspired by TED's commitment to ideas worth spreading. It is a conference for all kinds of minds. Our goal is to create an extraordinary event of ideas, to foster game-changing dialogue, and to inspire action that implements real change in Namma Chennai.
www.tedxnapierbridge.com | @tedxnapier