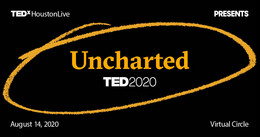 The world has shifted, and so has TED.
We need brilliant ideas and thinkers more than ever. While we can't convene in person, we will convene. Rather than a one-week conference, TED2020 is now an eight-week virtual experience — all held in the company of the TED community. Over eight weeks, TED's signature programming and activities, as well as new and unique opportunities for connection and interaction, have unfolded. This TEDxHoustonLive event will share with you highlights from those eight weeks, and convene TED Circle-style conversations to connect with the community to discuss the ideas YOU think are worth spreading.
We have an opportunity to rebuild our world in a better, fairer and more beautiful way. In line with TED2020's original theme, Uncharted, our TEDxHoustonLive event will feature some of the most thought-provoking talks from TED 2020 that are *not yet available to the public*; and we'll spark active discussions focused on the roles we all have to play in building back better.
In the weeks ahead, we invite you to continue connecting and activating around these ideas by joining us for future Core Conversations and TED Circles leading up to the COUNTDOWN in October, to deepen community relationships and, together, re-imagine what the future can be!