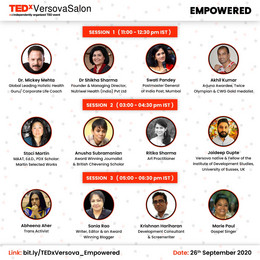 In times of COVID19, where there is a lot to be anxious about, we need to hear stories of empowerment. We have a great lineup of speakers from artists, singers, fitness enthusiasts, boxers and more.
Speakers
Speakers may not be confirmed. Check event website for more information.
Abheena Aher
Trans Activist
Abheena is an Indian transgender activist who has worked for transgender empowerment. She has worked with organizations such as The Humsafar Trust (Mumbai), Family Health International (FHI), Johns Hopkins University Centre for Communication Programme (CCP) and India HIV/AIDS Alliance.She is also an artist and the founder of Dancing Queens - a dancing group of transgender people. She is currently associated with Alliance India as Associate Director : Gender, Sexuality and Rights. She has more than two decades of experience in the HIV/AIDs sector.She has worked with various communities including men who have sex with men, transgender people, women engaged in sex work, intravenous drug users, and people living with HIV. She was also the programme manager of the Global Fund-supported programme 'Pehchan'.
Akhil Kumar
Dy.SP (Haryana Police); Presently posted as ACP Gurugram
Akhil Kumar har worked as Nation Observer, Boxing (Ministry of Youth Affairs and Sports, Government of India) from 2017-2019. He was also the member of High Powered Committee of Khelo India. One of the Panellist of the National Anti Doping Agency (NADA) from 2017-2019. He was Appointed as the Selection Committee Member for the Rajiv Gandhi Khel Ratna and Arjuna Award in 2012. He was appointed as the Selection Committee Member for the Bhim Award in 2013. He has Competed One Year Regular SAI NS NIS Diploma in Sports Coaching (Boxing): Topper and A Grade.
Award Wining Journalist & British Chevening Scholar
Anusha Subramanian started her journalism career 25 years ago and has worked across some very prestigious publications including the Business Today from India Today Group. She is a two-time recipient of Press Club Red Ink National Award for excellence in journalism in 2012 and in 2017. She has been featured in "Women Inspire series of the British High Commission in 2018 and also featured in Humans of Bombay.She is a trained and certified mountaineer from Asia's premier institute Nehru Institute of Mountaineering, Uttarakhand. She is currently working towards spreading awareness about the inclusion of persons with disability in the outdoors. In Sep 2018, she led India's first inclusive climbing expedition to Mt Kilimanjaro one of the seven summits in the world to a successful summit raised funds through the climbing expedition.
Global Leading Holistic Health Guru / Corporate Life Coach
Dr Mickey Mehta is a Global leading holistic health guru and corporate life coach to Billionaires, top Bollywood super stars, top Supermodels (Miss World/Miss Universe), top Politicians and members of the Maharashtra Police. He has a double honorary doctorate in holistic health and life sciences from International Medicina Alternativa, and has been a pioneer in promoting holistic health in India through radio and TV shows too. Mickey has been the first expert voice bringing fitness and wellness philosophies to the masses on radio, television and print via articles and shows across the Indian sub-continent. Mickey's length and breadth of accomplishments in shaping the fitness and wellness industries in India can be rivalled by none.
Founder & Managing Director, Nutriwel Health (India) Pvt Ltd
Dr Shikha Sharma, is the founder of the Organisation Nutri-Health, which works in the preventive healthcare sector . She is a medical doctor by training from Maulana Azad Medical College, New Delhi.She has recently launched Vedique Diet app which got over 1 lac downloads in less than 4 months. The App offers free diet plans for PCOS, Weight gain, Diabetes Management, etc.Dr.Shikha has been honoured with prestigious awards like the Women Achiever Award (by FICC), Gr8 Indian Women Award in 2011, Hall of fame Award ( by her school –Modern school ), Women Achiever Award ( by Bharat Nirman Society ) , Service in preventive healthcare ( the Honourable Union Health Minister of India -Mr G. Azad ) Dr.Shikha has been written about in the Book on Entrepreneurship ( Follow Every rainbow – By Rashmi Bansal) . Recently she has been awarded with Indywood Vanitha Ratna Award.
Hope Researcher and Artist.
Dr. Martin's research and teaching interests include critical hope and despair, pedagogy of hope, refugee education, psychosocial & social emotional learning, and peace-building. She is a community-based action researcher who conducts research with vulnerable populations, in particular, refugee youth, often following their lead in her work.Dr. Martin earned her Ed.D. in the Educational Leadership Doctoral Program: Curriculum and Instruction from Portland State University in 2018. She also has a MA, Art Therapy from the School of the Art of Institute of Chicago and has done post-graduate work at the University of London: Goldsmiths College. She was awarded the PSU's Adjunct Excellence Award for Instruction in 2018. She was the recipient of the 2018 Carnegie Project of the Education Doctorate (CPED) Dissertation in Practice of the Year Award and also the Louise M. Berman Fellows Award. Currently, she is a Universal Design for Learning (UDL) Fellow and Mentor.
Versova Native and Fellow of the Institute of Developmental Studies, University of Sussex
Dr Jaideep Gupte is a resident of Versova. He is also a Fellow of the Institute of Development Studies, University of Sussex, and leads the Cities and Sustainable Infrastructure Portfolio of the Global Challenges Research Fund . He is currently the Principal Investigator on 'Smart Data for Inclusive Cities' programme funded by the European Commission; a Co-Investigator of the GCRF ARISE Accountability in Urban Health Research Hub; and the Principle Investigator of the 'Governing the ungovernable' programme funded by the Gerda Henkle Stiftung. He has recently been Executive Director of the 'Mobile Training Platforms for City Police' funded by the World Justice Project. Jaideep's research has received the Global Development Network Medal for Outstanding Research, Category: Rule oft Law. He was formerly Prize Fellow of the Urban Design Research Institute, Mumbai. Gupte has conducted primary research in South Asia and sub-Saharan Africa.
Development Consultant and Screenwriter
Krishnan Hariharan is a development sector specialist with a focus on building partnerships/collaboration and also with a focus on communications.His most recent role was as Associate director at DASRA and Project Lead for the Bill and Melinda Gates Foundation's (BMGF) Water and Sanitation program, a 3-year grant to foster collaboration and partnerships among the partners in the BMGF portfolio. Krishnan previously worked for 7 years on the Gates foundations' flagship India HIV program, Avahan - a 10 year, USD 600-million-dollar HIV program. He comes with over 18 years of experience in both the private sector and development sector. Krishnan also has worked in the Film world where he was part of the script writing team for two movies : English Vinglish (premiered at the Toronto Film festival in 2012) and Dear Zindagi (starring Shah Rukh Khan.
Marie Paul
Gospel Singer
Marie Paul, a popular and highly recognized voice in the singing circuit of Mumbai was one of the lead singers in the acclaimed French opera "Fakir of Benares" directed by the renowned, award winning film director Muzaffar Ali. She has also performed with legendary singer Abida Parveen at the sufi concert 'Jahan e Khusrau' in Delhi. A versatile singer ---- from opera to jazz, gospel and pop, Marie started her singing journey in Mumbai with the Stop-Gaps Choral Ensemble. She has been part of many fund raising concerts like Celebrate Bandra, Kala Ghoda, Navjeet and kripa foundations. She has added her unique brand of soulfulness and solemnity to many celebrity weddings and leads a popular choir called the 'Grace Notes, that sing at weddings and memorials . On a lighter note we are in the business of patch and despatch……..and the undertaker has us on speed dial !!!!
Ritika Sharma
Art Practitioner
Ritika Sharma is an art practitioner, keenly observing the mechanisms of day-to-day life in order to explore and scrutinize the animated local spaces, objects and everyday practices through paintings, drawings and installations.
Writer, Editor and an Award Winning Blogger
Sonia Rao is a writer, editor, writing coach and an award-winning blogger. Her fiction has appeared and is forthcoming in many prestigious anthologies such as Voices Old & New and Jest Like That amongst others. Her first novel The Magician debuted in August last year to rave reviews. She has also ventured into crime fiction with her second book A Diary Of Crime Stories. As NaNoWriMo's Municipal Liaison for all-India and founder of the Wrimo India group on Facebook, Sonia has motivated thousands of people in India to write a novel every November since 2011. She has also curated and edited the first Wrimo India Anthology, Vengeance—A Sting In Every Tale. Sonia is an active participant in the ALM of her lane and also contributes her voluntary services for their quarterly newsletter. Sonia likes to believe she is 'high-minded' but strangely, her fave hobby is thinking up torture devices for those autorickshawallahs who consider the roads to be their personal spittoon. Who knew?
Swati Pandey
Postmaster General of India Post
Ms Swati Pandey is an Indian Postal Service Officer since 1997; is presently working as the Postmaster General of India Post, Mumbai and authoritative head of all the 229 post offices in Mumbai city & suburb, including Mumbai GPO. She is also a fantastic Polyglot speaking more than six languages. She has the unique capacity of learning a new language in minimum time. Ms Pandey is a poet, a trekker, a fitness freak, a yoga practitioner, a motivational speaker and an avid traveler with a traveling experience of more than fifty countries.