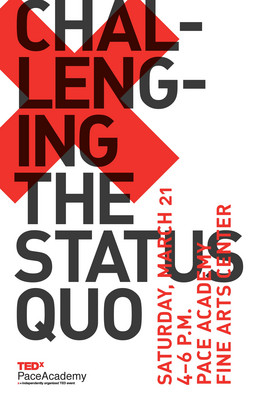 In Adam Grant's "Originals: How Non-Conformists Move the World," Grant discusses originality vs. conformity and shares his findings of how to think creatively and originally, and there is an overarching theme of going against the grain. Inspired by Grant's "Originals: How Non-Conformists Move the World," we hold this TEDx conference to inspire our community to go against the grain and institute positive change.
Speakers
Speakers may not be confirmed. Check event website for more information.
Amalia Haviv
Student Speaker
TBD
Poet, Speaker, Actor, and Author
Carlos Andrés Gómez is a Colombian American poet, speaker, actor, and author of Fractures, winner of the Felix Pollak Prize in Poetry, Hijito, winner of the Broken River Prize and a #1 SPD bestseller, and the memoir Man Up: Reimagining Modern Manhood, released by Penguin Random House. A star of HBO's Def Poetry Jam, TV One's Verses and Flow, and Spike Lee's #1 box office movie Inside Man with Denzel Washington, Carlos is widely known for his viral poems, "Where are you really from?" and "What Latino Looks Like," which have garnered millions of views online. Winner of the Atlanta Review International Poetry Prize and the Sandy Crimmins National Prize for Poetry, he partnered with John Legend on Senior Orientation, a program to counteract bullying and champion inclusive masculinity among high school students. Carlos is a proud Latinx and father.
Carly Appel
Student Speaker
TBD
Jack Brown
Student Speaker
Jack is a 17-year-old Junior here at Pace Academy. He spends his time writing poetry, including spoken word performance, creating art, and practicing with his weightlifting team. He has been at Pace since 3rd grade, and is excited and honored to represent and speak at Pace today. He wants to thank Mr. Kaufman and Michael for hosting the event and the audience for showing up ready to empathize and be educated.
Kargil Behl
Student Speaker
Kargil joined Pace in Pre-First always expecting to be a lifer, yet after fourth grade, his parents (seemingly out of nowhere) relocated to India with him and his sister. In eighth grade, he returned to Pace and has been here ever since. Math has always come most natural to him than any other subject and learning about historical events has recently fascinated him. Kargil compete with the math team, runs almost every day for track and cross country, recreationally plays the guitar, and researches about current events in Model United Nations
Kristina Smith
TBD
TBD
Megan Hardesty
Student Speaker
TBD
Michael Fu
Student Speaker
Michael Fu is a senior at Pace Academy.
Troy Baker
TBD
TBD