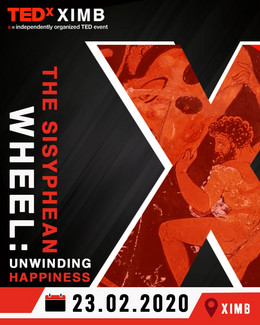 In the spirit of ideas worth spreading, TEDx is a program of local, self-organized events that bring people together to share a TED-like experience. At a TEDx event, TEDTalks video and live speakers combine to spark deep discussion and connection in a small group. These local, self-organized events are branded TEDx, where x = independently organized TED event. The TED Conference provides general guidance for the TEDx program, but individual TEDx events are self-organized (subject to certain rules and regulations).
Speakers
Speakers may not be confirmed. Check event website for more information.
Amartya Bhattacharyya
Filmmaker, Author, and Artist
A filmmaker, author, and artist, Amartya Bhattacharyya is famous for Runanubandha( The he without him) (2018), The Lost Idea (2018) and Mercy of God (2019). His notable work has been awarded the Silver Lotus for the best cinematography in non-feature film at the 63rd National Film Awards for a documentary Benaras- The unexplored attachments. He himself describes his films as "psychodrama" and his second feature film Khyanikaa- The lost Idea was screened in the Indian Panorama section 48th International Film festival of India, 2017. Apart from filmmaking, he is also an avid writer, actor, editor, recitation artist, painter, lyricist, and photographer. His artworks are mostly surreal, thematically dark and psychoanalytic in nature. He has also authored the books Ekush (21)' and 'Shatarupa' which are compilations of his poetries on love, death and the dark sides of human nature.
Anil Pradhan
Founder, IPSFRI (School of Rural Innovation)
With his unique approach to education, a quest for innovation and a choice to serve his local community, Anil Pradhan, is aptly a "Rancho". He is one of the revolutionary educationalists at the Navonmesh Prasar Foundation. Aimed at imparting the joy of science, technology and innovation to young rural students for free, the school is first of its kind in Odisha, which focuses on STEM education. Prior to this, Pradhan was involved in a plethora of projects such as designing a satellite to monitor the Hirakud Dam and designing a robot with the ability to climb electric poles and fix basic problems. He has won the 2018 National Youth Icon Award, Best Speaker Award (Youth Category) awarded by International Youth Fellowship, South Korea, Winner of XCMG Apprentice Program, China (selected among the best 5 Engineers across the world), and International Education Innovator Award 2019 by Global Education and Training Institute' are few of the numerous awards and titles to his credit.
Anirban Roy Choudhury
Founder, Forever Poetry
An exception in today's fast-paced world, Anirban Roy Choudhury is a true artist. Beginning as an apprentice, he traveled and tattooed, did murals and wrote poems. The founder of Forever Poetry, a Tattoo Studio in Kolkata, he developed it as an alternative space for poets, musicians, artists, playwrights and like-minded dreamers to express themselves. For him, tattooing is a unity of ethics and aesthetics. One of the few tattoo artists in the country who experiments with inkblots and watercolor technique, juxtaposing it with intricate geometric patterns, art, for him, evokes tranquility. Living in a materialistic world, he seeks out harmony, poise, and clarity. A rarity in today's world, he infuses warmth and love with minimalism, precision & skill in his art.
Arun Bothra
CEO, CESU; Chairman-cum-MD Odisha State Road Transport Corporation
A Kathin Seva Medal awardee for working in the deep and perilous Naxal affected areas, Mr Arun Bothra has worked as IG Crime, IG Railways, IG Economic Offence, and IG Special Task Force. He has cracked many important cases such as the recent parcel bomb case, which has been made into an Odia and Telugu movie starring Atul Kulkarni. Apart from working in such treacherous conditions straight out of action movies, Mr Bothra's flair for literature has also been a formative part of his illustrious career. He is a regular contributor to widely read newspapers such as The Indian Express, The Times of India, and Rajasthan Patrika. Recently, he was appointed as CEO-CESU, Odisha, where he has brought about instrumental changes in the way a utility organization functions.
Fif Fernandes
Co-Founder, MediClown Academy
A clown is one who takes the ordinary and makes it absolutely absurd. Therapeutic clowning is increasingly becoming a part of patient care. Fif Fernandes, Co-founder of the MediClown Academy, is a practitioner of medical clowning, working on humanizing the medical profession. She believes that hospitals need not be gloomy, they can be infused with laughter and gaiety. Raising awareness about the fact that physical and mental health go hand in hand, she seeks to fill this gap through medical clowning. Through medical clowning, she transforms spaces, moods, and allows for healthy expression of unpleasant feelings
Jodi Sankha
Cultural Event
Jodi Sankha is a presentation of rural music along with Badya and Nrutya. The most special part is the harmony of the conch and the physical movements of the artists. This dance form is highly auspicious and is performed at religious functions, marriages, and other processions.
Mohan Kannan
Lead Vocalist, Agnee
We've all heard that we need a stable job, and our passion can be our hobby. For some of us, that isn't enough. Mohan Kannan, an alumnus of our very own XIMB, is one such individual. Having grown up around musicians, he couldn't really help but fall in love with music. His moment of epiphany arose during a jamming session when he decided that he was done with corporate life and that music as a hobby was not enough. Music had to be his sole commitment. Other than being the lead vocalist of the rock band Agnee, he has also dabbled with playback singing for Bollywood and some ad jingles. He believes in storytelling through the lyrics rather than simply showing off vocal histrionics. Being true to his art, his passion, his music is truly what defines him.
Neelima Mishra
Environmentalist and Founder, Ceiba Green Solutions
A passionate environmentalist, Neelima Mishra is living proof that pursuit of one's dream and passion is truly the way to succeed. Leaving behind a comfy job after a remarkable experience with the World Wildlife Fund for Nature, she was hooked. Working towards sustainability and conservation, she is a full-time consultant to the Government of Odisha on monitoring & evaluation of government schemes and scaling up of evidence-based programs. She was recently part of the Climate Force Arctic Expedition; the only one from Odisha among 80 people from all over the world. She also creates awareness about the harms of single-use plastic in schools and for corporates. Post Fani, she is working towards implementing rainwater harvesting and a biogas unit by running pillar-to-post for subsidies and implementation support. She works with Ceiba Green Solutions that deal with waste management. She was also a recipient of Edex 40 under 40 list of EcoSapiens by The New Indian Express in 2019.
Organizing team
Adarsh Shenoy

Marketing/Communications

Akash Senapati

Curation

Anurag Mohanty

Curation

Aritra Mitra

Production

Barath Kumar

Operations

Bharatendu Panda

Production

Rebecca Yesuvadian

Marketing/Communications

Sarita Biswal

Partnerships/Sponsorship

Srijat Agarwal

Marketing/Communications

Suman Saurabh Mohanty

Production