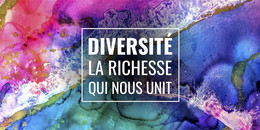 Découvrez des idées et des histoires pour mieux faire émerger les similitudes qui nous rendent humains.
Montréal se définit souvent par sa diversité de cultures, groupes et identités. Mais qu'est-ce que tout cela signifie pour nous ? Le 18 février 2020, nous vous invitons à réfléchir à la véritable signification de la diversité et l'inclusion dans un espace qui voit au delà des frontières, des définitions et du monde tel que nous le connaissons.
Lors d'une soirée intime au Musée des beaux-arts de Montréal, ce TEDxMontréalSalon présentera des idées et des histoires qui mettent en avant nos différences pour mieux faire émerger les similitudes qui nous rendent humains.
Veuillez noter que toutes les conférences seront en français.
__________
Montreal is often defined by its makeup of a multitude of global cultures, groups and identities. But what does all of this mean to us? On the evening of February 18th, 2020, we invite you to ponder the true meaning of diversity and inclusion in a context that transcends borders, definitions, and space as we know it.
During an intimate evening at the Montreal Museum of Fine Arts, this TEDxMontréalSalon will showcase ideas and stories that look deeper into what differentiates us, for the purpose of finding the similarities that make us human.
Please note that the event will be in French.
Speakers
Speakers may not be confirmed. Check event website for more information.
Canadian scholar, award-winning author and translator.
Chantal Ringuet is a Canadian award-winning author, scholar and translator whose work focuses on Yiddish literature and culture, Leonard Cohen and creative writing. She has published extensively on Jewish culture and literature. She is the co-editor of Les révolutions de Leonard Cohen, which received a 2017 Canadian Jewish Literary Award. In 2015, as a YIVO Fellow in New York, she discovered Marc Chagall's early autobiography in the archives and translated it with Pierre Anctil into French (Mon univers. Autobiographie, Fides, 2017). She has been Scholar-in-Residence at the Hadassah-Brandeis Institute (Brandeis University) and literary translator in residence at the Banff Centre for Arts and Creativity. In 2019, she has inaugurated the Gröndalshouse writer's residence at Reykjavik UNESCO City of Literature.
Artist
Originally from Guadeloupe, Eddy Firmin studied at the École Supérieure d'Art du Havre and at the Martinique Regional Institute of Visual Arts and he holds a PhD in Arts Studies from UQAM. The path which brought him to Canada began with an international series of artist residencies (Japan, Spain, France, Caribbean, Canada). Aimed at both exploring and making sense of his plural identities, Eddy has never ceased, in over 20 years of practical and theoretical practice, to push the transcultural and transnational limits of his culture. Through a methodology called Bossale, Eddy outlines his process to decolonize the collective imaginary: this visual and textual tool allows him to bring together and relate a vast set of stories to recreate intimate relationships that had been lost as per cultural traumatism.
Innu poet and First Nations Community Development Advisor at EVOQ
Maya Cousineau Mollen, of Innu descent, was adopted, on the will of her Innu mother, by a Quebecois family. She started to write poetry at the age of 14 and her first collection of poems, Bréviaire du matricule 082, was published in fall 2019. With over 22 years of experience in the communities of the First Nations, she is now Inuit and First Nations Community Development Advisor for the architectural company EVOQ. Through its various projects, EVOQ encourages Inuit and First Nations people to reappropriate their cultural and historical identities and express them via the poetry of architecture. Maya has also been co-chair of the Montreal Indigenous Community Network and she volunteers with the Wolfpack Street Patrol, which brings together Quebecois and First Nations volunteers to bring support to homeless people. She is one of the signatories and allies for the Kanata debate. In December 2019, Ariane Mnouchkine invited her to join a writing retreat at the Théâtre du Soleil (Paris).