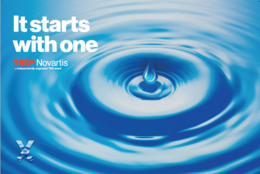 At Novartis, we're on a journey to build a culture that is inspired, curious and unbossed so that we truly unleash the power of our people to deliver more for patients. Because we know that there's no such thing as organizational change, only personal change, we want to encourage associates to think differently and share ideas that might inspire action in themselves and those around them...and what better way to do that than through the TED platform? In 2020, we are hosting two independently organized, internal TEDxNovartis events that are now fully virtual due to COVID-19. Our first event series takes place July 13-17, 2020, where we'll have 10 TEDxNovartis speakers who will reach a global Novartis audience.
Speakers
Speakers may not be confirmed. Check event website for more information.
Andrea Hadjikyriacou
Postdoctoral Scholar
Andrea's talk is titled: Smashing stereotypes in science
Annika Swenson
Executive Director of MSLs
Annika's talk is titled: The lessons of legacy
Arihant Baid
Head Finance Core
Arihant's talk is titled: How I used YouTube to reach and teach students at no cost
Ben Grossman
Associate Director of Regional Accounts, Colorado
Ben's talk is titled: 10,000 pills, a journey to find balance
Eric Gibson
Global Head Biostat and Pharmacometrics, Novartis
Eric's talk is titled: Unmasking the silent killers of replication to uncover the true strength of evidence
Hugo Arellano-Santoyo
Postdoctoral Scholar
Hugo's talk is titled: Drug delivery in the age of the microbiome
John Sun
Global Program Lead
John's talk is titled: Is niceness a liability?
Julie Riga
Lead Capability Building Head
Julie's talk is titled: Staying on course
Michaela Horvat Orugovecki
Director Program Management, Product Development
Michaela's talk is titled: Forged in fire; how I got my superpowers
Saliha Akhtar
Strategic Development Director
Saliha's talk is titled: Diversifying clinical trials in the US