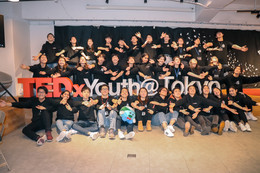 In the spirit of ideas worth spreading, TEDx is a program of local, self-organized events that bring people together to share a TED-like experience. At a TEDx event, TEDTalks video and live speakers combine to spark deep discussion and connection in a small group. These local, self-organized events are branded TEDx, where x = independently organized TED event. The TED Conference provides general guidance for the TEDx program, but individual TEDx events are self-organized (subject to certain rules and regulations).
Speakers
Speakers may not be confirmed. Check event website for more information.
Smartphone Application Engineer
Winner of Application-koushien 2018 / Gold Award on Unity Interhigh 2018 / certificated as a Super-Creator on Mitou-Jr in 2019 Before I started creating apps, I was studying computer algorithms through competitive programming. When I was 15, I realized how fun it is to work with the graphics world and the programming world at the same time. Since then, I started creating a smartphone game called "abecobe".
Teacher and YouTuber
Born in 1989.11.19 living in Tokyo. I have been an English teacher for over 10 years and posting some videos on YouTube. I worked at some prep schools such as Waseda Academy. Now I found my own English school.
Shafi Tashdeed
High School Student
Shafi is a 16 year old high school student. This speaker moved to Japan and had difficulty trying to get people to like him. This took him down a hole of research on the psychological part of first impressions so that he could improve himself. In his talk, he talks about how he has cracked the code and shares what he has learnt over the years about first impressions.