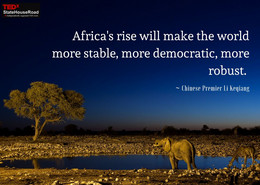 In the spirit of ideas worth spreading, TEDx is a program of local, self-organized events that bring people together to share a TED-like experience. At a TEDx event, TEDTalks video and live speakers combine to spark deep discussion and connection in a small group. These local, self-organized events are branded TEDx, where x = independently organized TED event. The TED Conference provides general guidance for the TEDx program, but individual TEDx events are self-organized (subject to certain rules and regulations).
Speakers
Speakers may not be confirmed. Check event website for more information.
Mental Health Practitioner
Bernice N. Nderitu is an independent consultant with eleven-years-experience in mental health and psychosocial support and child protection. Her academic background is: Bachelor of Arts degree in Psychology (Daystar University), a Master of Arts degree in Child Development (Daystar University), and a Doctorate in Clinical Psychology (Candidate, United States International University-Africa). She is passionate about providing early intervention services, community mental health, and gathering evidence to inform policy and practice. She advocates for mental health services to be accessible and affordable to all. Bernice has a deep appreciation for African history and culture and is driven to empower Africans and persons of African descent. She is energized by nature and the expressive arts.
Dayan Masinde
Relationship and Marriage Counsellor
Dayan Masinde is a relationship and marriage counsellor who helps individuals heal and understand themselves and walks with men and women towards building strong relationships and families through practical steps and support. Together with his wife Akello Oliech, he has written numerous books including MOTO MOTO COUPLE, MANHOOD SERIES, WOMANHOOD SERIES, GOOD SEX BAD SEX and MY PRAYER STRATEGY, a 60 day prayer guide for couples. As a couple, they also impact lives through Facebook Groups and Pages tailored for relationships. One called SINGLE & SAVED with over 140,000 members that prepares singles for marriage and helps them find themselves and maximize their singlehood, and MARRIED & SAVED for the married. Dayan uses online media and broadcast media partnering with SWITCH TV, Citizen TV, NTV and Standard Media Group to present fresh and relevant content to deal with today's relationship with self, spouse, partner, children and society.
Entrepreneur, Optimist, Disability inclusion champion.
Elly is an entrepreneur and a disability advocacy champion. Having acquired a physical disability in his early twenties, Elly has learned to overcome adversity and is keen to offer hope. Elly ambulates using a wheelchair which has opened him to see obstacles in the community making him passionate about disability inclusion and an avid advocate for persons with disability. Elly speaks to different groups and individuals on matters accessibility, inclusion and the dignity of persons with disability. He is a former head of department for persons with disability at CITAM valley road. He has previously been privileged to sit at the UN's world disability day organizing committee and work with the KYES-USAID program as a TOT and a disability mobilizer.
Farmer / Co-founder Fin-tech start-up.
Finn is a Kenyan, Agriculturist, Environmentalist, history buff, blue sky thinker. Having worked in Sierra Leone and Zambia and East Africa in both the commercial and aid sectors. He has been fortunate to be exposed and enjoyed friendships amongst many African cultures.
Financial Services Proffessional
Japheth Musau is a financial services proffessional with a passion for knowledge sharing and leadership development. He believes that ordinary people can achieve extraordinary things through the power of words. This belief inspired him to become a member of Toastmasters International. He is a Division Director in Toastmasters District 114P (East Africa) where his role is to help clubs to thrive and achieve excellence. His role also includes growing the number of clubs within the division. Japheth is dedicated to helping aspiring speakers to achieve their dreams through the Eagles' Wings Speakers Bureau. He is a much sought after speech coach and writer. Japheth is a regular radio and TV commentator on Financial Intelligence and business leadership topics. Japheth's parents were 1st generation business owners from whom he learned the philosophy of money, business and finance from a very young age. This influenced his decision to study accounting, economics, and international trade.
Film Scholar
A passionate lover of Film, Animation and Theatre, who is pursuing a Doctorate in Film Studies. One of her favourite plays she watched at the Kenya National Theatre is Sarafina in 2019. A Film Scholar who aims at making films that deal with societal issues and offer solutions. She is a mentor, film trainer and has spoken in various forums countrywide. Her passion is equipping young minds with the ability to tell stories through Film and collaborating with other filmmakers to make films. Her dream is to see African stories being told by Kenyan Filmmakers.
Creative communicator, educator, speaker & activist
Lilly Bekele-Piper is an education & communication strategist, speaker and activist and is the Executive Producer and host of the Up/Root podcast. She holds a BA in Speech Communication from Wake Forest University and a Masters of Education from Harvard. She has led technical teams in 14 countries as a consultant for leading multinational organizations and is currently a Senior Communications Strategist at the World Bank. Up/Root is a global podcast on identity and culture that elevates stories of joy, resilience and justice in the region, continent and diaspora. Up/Root curates lives podcast events throughout Nairobi and in 2019, produced two episodes with UNICEF in Kakuma Refugee Camp. Lilly is a frequent speaker in Nairobi, at Lavington Vineyard Church and was selected to address thousands of creative entrepreneurs at Alt Summit in California, USA in March. Her greatest joy and privilege is parenting Selah, Solomon, Silas and Saron with Ben, her college love of 20 years.
Counselling Psychologist
Mackrine is experienced in product management and general management having worked in various capacities at Safaricom Plc for over 18 years and having been Chairperson of the Safaricom Investment Cooperative for eight years. As a counselling psychologist affiliated to Nawiri Centre for Health and Wellness, Mackrine applies her knowledge to champion the promotion of mental wellness. Her key focus is the prevention of mental illness, reduction of stigma and promotion of timely intervention. The full appreciation of the importance, application and value of psychology is lagging behind in the Kenyan space. Its her desire that through her involvement together with others in the field, they will be able to expand this scope. That they will make it possible for the increased appreciation of positive psychology, that more of those in need of therapy will appreciate the existence of their need, that they'll seek timely intervention and to obtain early relief from their distress.
Marketing and Communications Enthusiast.
Mary Gitari is a Marketing Communications enthusiast dedicated to working with entrepreneurs to monitize their ideas. She has a background in communication and is trained to derive tangible insights from complex business strategies to amplify key messages that increase visibility and credibility for organizations. Having spent over 15 years as a PR practioner, Mary has a knack for educating consumers about products and services in simple ways that build trust. Her particular expertise is her ability to connect with people and encourage collaborative thinking to achieve overall objectives. An entrepreneur since 2010, Mary has been running a PR Advisory firm called Brand Spark PR, where she has successfully implemented route to market campaigns for over 100 International blue-chip companies and local SMEs across 11 sectors. Mary is a wife and a mother of 3 boys. She is also a mentor at professional and social fronts through active engagement in the community.
Clinical Psychologist and Clinical Programs Leader.
Mary works at True North Society, where she supports Military veterans to re-integrate into society after their service. She holds a Bachelor's degree from Montclair State University, New Jersey, United States and a Master's Degree from United States International University (USIU- Africa). She has been practicing psychology for over 10 years. In 2019 she supported civilians affected by the terrorist attack at 14 Riverside Nairobi. Mary has worked with victims of torture and war trauma from our neighboring countries of Rwanda, Burundi, South Sudan, Ethiopia, Somalia, Democratic Republic of Congo and Uganda. She has held a managerial and supervisory position of trauma counselors in the northern areas of Kenya. In this capacity she was also a trainer who provided needs based trainings for personnel from various organizations such as UNHCR and Red Cross.
Trainer, Life Coach, and Public Speaker
Sheba Njagi is the Head of Training and Communications at Centonomy Limited. Her purpose is to catalyze people towards growth and transformation while in their pursuit to live abundantly and create wealth. To accomplish her purpose, she serves as a coach for individuals and entrepreneurs who need an accountability partner and support system while in their journey to achieve their personal and business goals. She is also a trainer and speaker at various workshops and events and you'll find her sessions are interactive, practical, applicable and empowering. Sheba is also an entrepreneur who has served and continues to serve in various boards in Kenya such as the Event Managers Association of Kenya, ECHAD Investment Company Limited and AIESEC - USIU. She was awarded the IDIN Scholarship for the Global Social and Sustainable Enterprise program by Colorado State University. She is the Founder of a vibrant Integrated Marketing Services Agency called Roarke & Bartley in Kenya.
Consultant Psychologist and Research Mentor
Wangari has 14 years' experience in designing and implementing Psychology and Research programs. Her niche is empowering people with disabilities/special needs and their caregivers, particularly the Deaf. She is a founder member of Afrika Hai, where she uses expressive arts to co-produce knowledge in local communities and to restore African indigenous healing knowledge ways. She founded a program called Study Smart, which provides mental health and wellness support for researchers. She earned a global award at the American Psychological Association 2018 Convention on a research titled: Barriers to Mental Health Access for Deaf Adults in Kenya: A Review. She is a candidate of Doctor of Psychology, PsyD, Clinical Psychology, at United States International University-Africa (USIU-Africa), where she is also a Doctoral Teaching and Research Assistant. She was a founder of the USIU-Africa Disability Policy and the Sign Language Club.