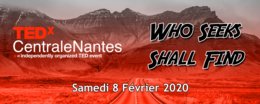 In the spirit of ideas worth spreading, TEDx is a program of local, self-organized events that bring people together to share a TED-like experience. At a TEDx event, TEDTalks video and live speakers combine to spark deep discussion and connection in a small group. These local, self-organized events are branded TEDx, where x = independently organized TED event. The TED Conference provides general guidance for the TEDx program, but individual TEDx events are self-organized (subject to certain rules and regulations).
Speakers
Speakers may not be confirmed. Check event website for more information.
Antoine Fournier
Ingénieur agronome
Ingenieur agronome et agrégé en SVT à l'Ecole Normale Supérieure de Lyon, Antoine Fournier est un passionné de transmission du savoir. Son activité principale : la création de contenus de vulgarisation sur Youtube via sa chaîne Biosfear, dans laquelle il aborde de nombreux sujets scientifiques. Son domaine : la biologie et la géologie très largement, avec un intérêt particulier pour l'écologie. Antoine Fournier s'est donné une mission : briser les idées reçues et les croyances communes.
Éric Alard
Ancien sportif de haut niveau et entraîneur
Ancien sportif de haut niveau ayant gagné une médaille d'or en tant qu'entraîneur de l'équipe suisse à Sotchi en 2014, il s'est maintenant reconverti en manager-coach-conférencier. Fondateur de deux sociétés de conseil, il aime établir des parallèles entre le sport et le monde de l'entreprise. C'est ce qu'il se chargera de faire lors de son talk sur l'art de rendre un objectif réalisable et de le réaliser notamment grâce à la persévérance et l'assiduité, des valeurs primordiales dans les deux domaines qu'il aime tant lier.
Thomas Cabaret
Autodidacte scientifique
Cet ingénieur informaticien « touche à tout » se définit comme un autodidacte scientifique, se passionnant pour les rouages de la recherche et de la publication scientifique. Passionné de mathématiques, physique, informatique et de casse-tête en tout genre il tient la chaine de vulgarisation scientifique avancée Passe science avec près de 40 000 abonnés. Il nous parlera d'« échecs » scientifiques notables : des recherches avec des résultats inattendus et surtout éloignés de la prédiction initiale.
Viviane Lalande
Vulgarisateure scientifique
Avec près de 170 000 abonnés, elle tient la chaîne Youtube de vulgarisation scientifique Scilabus, chaîne « où l'on se laisse guider par la curiosité ». Originaire du sud de la France et vivant au Québec, Viviane possède un PhD en biomécanique de la colonne vertébrale obtenue à l'École Polytechnique de Montréal. Premier prix du jury du concours « Ma Thèse en 180 secondes » en 2012 et chroniqueuse pour l'émission « moteur de recherche » à Radio Canada, elle viendra nous parler de physique.
Wassim Bourbia
Élève ingénieur
« De la réussite par l'échec » aborde la notion de sérendipité et propose une méthode pour gagner en créativité à travers l'expérience. Dans ce talk, Wassim partage son histoire : comment un jeune des quartiers populaires qui n'avait pas les codes a pu rejoindre le parcours professionnel qu'il lui permettrait de trouver le sens de sa vie.