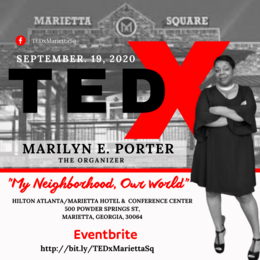 TEDxMariettaSquare is a gathering of voices that will speak to conditions that occur locally, but can have a global effect. Examples such as; environmental issues, family, economic issues, art and entertainment. https://www.facebook.com/TEDxMariettaSq/
Speakers
Speakers may not be confirmed. Check event website for more information.
Host of The Anna Szabo Show podcast.
Anna Szabo is an award-winning author, Christian speaker, poet, artist, blogger, and a podcast host of The Anna Szabo Show. She is the founder of Online Discipleship For Women, a ministry committed to helping alleviate suicide among women globally by sharing hope in Christ at OnlineDiscipleshipForWomen.com After enduring violence during her early life, Anna emigrated from Russia to AMERICA in 2008 hoping to live her happily-ever-after with her real-life Prince Charming. She was abused by Prince Charming and rescued from him by the police in 2009. She was then homeless, taught herself English in 18 months listening to Frank Sinatra, and graduated with an MBA from GSU in 2013. That year, her award-winning book was also published, "Turn Your Dreams And Wants Into Achievable SMART Goals!"
Accountant
Bernadette is an accomplished entrepreneur, skilled accounting professional, published author, and distinguished public speaker with deep experience in business development, business training, forensic accounting, strategic planning, and financial management. She is a focused, goal-oriented, and enthusiastic relationship builder with a keen eye for details.
Attorney
Ellakisha O'Kelley was born and raised in Albany, NY. She attended the University at Albany where she was initially accepted into the top nationally ranked School of Criminal Justice program while competing as an athlete on the track team. After breaking all the program's sprint & hurdle records, earning Division II All-American honors three times and conference champion six times, she transferred to the University of South Carolina (UofSC) to finish up her last two years. C
Jessica Frazier
Sex Trafficking Advocate
Jessica Frazier is the Founder and Executive Director of Straight Street Life Center, Inc. Straight Street's mission is to Make a Difference (Jude 1:22) … by informing the public and intervening in the sex trade of minors. Jessica Frazier is no stranger to 'the Life', having been exploited at fourteen. She uses both her personal and professional experiences over a span of twenty-five years, working with youth in; detention centers, psychiatric hospitals and group homes. Straight Street Life Center offers an Awareness Initiative to inform the public and promote community involvement concerning Domestic Minor Sex Trafficking. Jessica Frazier is a Certified Adolescent Life Coach with a Bachelor in Business Administration.
Rebecca Boskovic
YouTuber
Leader, Writer, Coach, YouTuber, Business Woman, Servant, and Beacon for those who are lost, Rebecca Boskovic believes that at the end of the day, we are the only ones responsible for our own happiness. By developing a growth mindset, setting our goals for the long game, and engaging our free will, we set ourselves up for a life of empowerment and healthy self-love. In addition to loving her family, Rebecca's passion is to lead women who are chained to their pasts through self-hate to walk into the sunshine, feel the warm sand between their toes and experience joy. She believes that when a woman likes the person in the mirror, her world and that of everyone whose life she touches, becomes a more beautiful place to live. The owner and head coach of The Fittest Me, a personal training and subscription fitness business.
Shelly Koren Skeen
Consultant
Shelly Skeen is a builder and a fixer, with natural abilities to navigate in crisis. In her journey, she started by organizing faith-based startups with multiple leaders that were great visionaries, but lacked organization. This ignited Shelly as a resourceful consultant, while working her way through college, to faith-based organizations and budding alumni entrepreneurs with operational and funding concerns for organic growth. This is her specialty; to identify a need, focus a team around solving it, create and execute a plan to fill that need. She connects the mission with the resources needed to pay for the solution. In her element, she facilitates and conducts 'how-to' courses for a myriad of clients. Her greatest joy is writing critiques and updating policy to ensure the work is done right.
Founder of URBAN CEO Network
Taurea is originally from Hampton, VA and a graduate of the BEST HBCU in the land Hampton University. She is the author of more than 15+ books with the latest two books being "A Six Figure Vision" & "How Not to Be a Broke Author". Her talents and vision have put her many on media outlets like ABC, Fox, CBS and more! In 2009, she founded Show Your Success Co. where she has helped more than 5000+ entrepreneurs to primarily write books designed to grow their businesses and build at least 3 streams of income. In 2019, she expanded her business to a monthly membership called the Book Profits Club. During that year, she also became the founder of URBAN CEO Network which is a non-profit organization whose mission is to help empower and educate entrepreneurs from the Urban Community in a non-intimidating way. Her life's mission is to impact the lives of 20,000,000 Men & Women in Mind, Body and Soul.
Yoeshikoe Nicole Creer
Philanthropist
Yoeshikoe Creer resides in Atlanta Georgia with her husband and together they have 6 children. Yoeshikoe is a philanthropist, 9-time Inspirational Published Author, Motivational Speaker, Mindfulness Coach and Entrepreneur in which she has been committed to for over 16 years. For the last two years Yoeshikoe has been running her own Independent Production Company called Six Kids Productions in which she is a Screenwriter and Producer. Before starting her own production company Yoeshikoe worked as a Production Assistant for major studios and networks. She got her start in the film industry by doing extra and background work, she fell in love with set life and enjoys working in the film industry. For over 17 years Yoeshikoe continues to partner with creditable agencies to house and care for trafficked victims, disabled veterans and children, immigrants and refugees. Yoeshikoe also mentors college students who aspire to be published authors, travel writers, bloggers and screenplay writers.