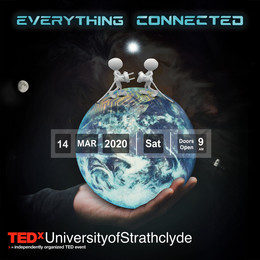 We are connected to others and it's becoming more transparent that we are connected to each other. What positive change can we create from this? What are the biggest challenges facing us as our lives are becoming more intertwined and our individual impact becomes clearer?
Our 2020 event will explore this idea within the areas of Technology, Entertainment & Design and inspire you on a day of discovery and talks!
TEDxUniversityofStrathclyde brings together idea generators, experts, leaders and instigators of change who transform attitudes to bring about a systematic transformation within people's lives.
Speakers
Speakers may not be confirmed. Check event website for more information.
Ali Abbas
Ali Abbas is Loyalty Manager at Abu Issa Holding, a Qatar-based international holding company that operates and develops international and locally-incepted retail concepts. He leads a team responsible for Loyalty Management, Customer Experience Management, Customer Relationship Management and Customer Service for Abu Issa Holding. Prior to this, he was a Business Development Specialist and Senior Marketing Officer for Privilege Club, Qatar Airways' award-winning loyalty program where he carried out program research and development, new algorithmic metrics to measure impact and engagement, as well as incepted new methods of partnerships with numerous industries. Ali holds a Bachelor of Science degree from Carnegie Mellon University.
Andrei T. Evulet
Dr Andrei Evulet is the CTO and President of Jetoptera, Inc. His expertise is in Aerospace Engineering, with particular focus on Vertical Take Off and Landing (VTOL), where he introduced his invention, the Fluidic Propulsive System (FPS). Dr Evulet's current role includes R&D and deployment of the FPS technology to V/STOL capable cargo and manned aircraft. He graduated from the University of Manchester in 1992, with an BEng in Aeronautical Engineering. After earning a MSc from the Polytechnic University of Bucharest in Romania, he started his PhD programme at Rutgers University in 1997, which he completed three years later. He spent over 25 years in R&D, including 14 years in Technology Groups at GE's Global Research, Oil and Gas and Aviation divisions. At his previous position with GE Aviation, he was the Technology Integration Leader for the GE9X engine, the largest turbofan in the world, which powers the Boeing 777X airplane. He has 32 US and International patents. He left GE Aviation in 2015 to start Jetoptera, Inc. with the goal of building useful VTOL platforms that can carry significant payloads, are fast, and eventually flying cars that can give helicopters a run for their money. Andrei is married with two children and lives in Seattle.
Chethan Kote
Chethan Kote is Quality Assurance Manager at Castle Precision Engineering. He leads a team of quality personnel who are responsible for overall quality of the products and processes. Chethan joined Castle in 2011 as an intern and progressing through ranks he has worked as project manager and supply chain manager prior to heading the quality in his current role. Chethan has a bachelor's degree in computer science, master's in supply chain and operations management and currently studying for his PhD in business management. Chethan is married and lives in Glasgow with his wife and 2-year-old boy.
David Leighton
David Leighton is Founder and Director of Front Street Consulting, advising UK Government and other organisations on a range of issues including Brexit, free ports and international trade. Prior to establishing Front Street, David was Group Head of Corporate Affairs and Marketing at Associated British Ports, operator of 21 ports around Britain handling one quarter of the UK's seaborne trade. Under David's leadership, a worldwide survey of 280 real asset businesses ranked ABP number one transport company in Europe and eighth globally for environment, social and governance performance, achieving a 90% score for stakeholder engagement. David is a passionate advocate for policies, investment and infrastructure development capable of expanding international trade and prosperity. David is originally from County Durham and a proud north-easterner.
John Vickers
John is the Chief Executive of Blue Abyss. A passionate scuba diver, who learnt to swim at 18 months old in Liberia, he has a love of both our oceans and outer space. His earliest TV memories include (at around six years of age) The Day the Earth Stood Still, various Apollo launches, and the Apollo/Soyuz link up in 1975. Influenced by those early space clips on TV and the marine equivalent of Sir David Attenborough, Jacques Cousteau, he learnt to SCUBA dive in the army where he also qualified as an instructor. Spotting the connection between diving and exploring both on and off this planet, he remains excited by the exploration still to be done in the world's oceans as well as humanity's quest to colonise Low Earth Orbit, our Moon and beyond. Curiosity remains a key motivator alongside travel, to mostly hot countries. Having left a career in the City, John created the outline and vision for Blue Abyss, which he founded in October 2014, as the world's largest aquatic-based marine-to-space R&D and training facility and will be the world's first commercial astronaut training centre. One year later, with a colleague, set up SeaSpace Research – to compliment Blue Abyss by facilitating research projects on behalf of SMEs. John is married with two children and lives in Essex.
Mirco Coccoli
Mirco Coccoli is CEO of MPD Partners, a Private Equity boutique operating and investing in European SMEs. In 2017 and 2018 MPD Partners have been at the head of Digital Mill, a DOING company, until signing the sale to Capgemini: the return to investors more than 800% in a 18 months' time span. In 2019 Mirco, and his MPD Partners team, launched MPD SME Capital One, a Private Equity vehicle with an unprecedented collegiate decision process requiring shareholders to validate SME acquisitions. Mirco is an Investment Manager experienced in developed and emerging countries. Physicist by education, in 2007, he left the position as HC Coordinator of the Large Hadron Collider, LHC, at CERN, to join Reyl & Cie to help manage an equity hedge fund with 200M EUR invested; in 2 years his help facilitated increasing to EUR 500M. In 2009 he joined BCV to help manage CHF 500M equity funds where he was able to increase 4% per year relative return, by mastering risk and with over 100'000 equities trades. He studied Physics in Milan and Berkeley, Quant Portfolio Management in Geneva and holds the Diploma in Financial Strategy at the Said Business School of the University of Oxford. Mirco Currently teaches Investments and Corporate Strategy in the MBA program of IFM University in Geneva.
Olivia Cooper
Olivia is a Consultant Lawyer with an extensive knowledge in Private Wealth and Family Office. She is an expert in the establishment and development of Single Family Offices and Private Wealth strategies acting for international and UK families. Olivia provides practical, comprehensive and efficient global solutions for generational planning, helping her clients to develop a one family ethos.
Sam Harris
Samuel Harris is the CEO of Syncify and a serial entrepreneur,adventurer and an advocate for ethical technology. He builds ideas to help humans by combining his background in evolutionary psychology, tech and radical experiments in living. He studied Biology and Psychology at the University of Bristol and has since ran several businesses in logistics, AI, marketing, environment and adventure. He trades his time for knowledge, connections and fun and refuses to take a normal job despite what his mum tells him.
Strathclyde Indian Dancers
This stunning performance by Bhairavi Prasad Kaniyal, Keerthana Rajusundaram and Amrutha Pattath Saseendran shows a unique blend of traditional cultural dance with a modern twist in the music. This highlights the evolution of dance catering to ever changing taste of modern demography and encourages wider participation amongst millennials.