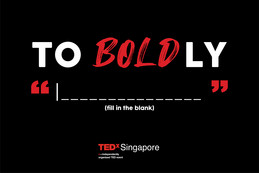 In 2020, we've experienced an unprecedented shift in our way of life into what seems to be our new normal. Despite these challenges, we believe that our community has the grit and courage to live boldly.
Tune in to our live event on 20th March 2021 (Sat) and listen to our speakers share how they boldly dream, build, believe, go, and live. Together, we're unpacking the notion of living boldly - to break barriers, embrace change, live your dream, and build a city of tomorrow.
We've been dreaming big to push the limits of our usual community event. So, this year where you cannot come to us, we're bringing TEDxSingapore to you! Get exclusive access to a live stream of our first digital event and have a unique experience just as special as the real thing. With performances, group activities, games, exchanges with our uplifting speakers, and much more, you can have a full TEDxperience without even having to step out your door.
Ticket sales are now live on Klook (http://bit.ly/tedxsg-toboldly) in limited quantity, and here's what you can expect:
Host your very own TEDx watch party from the comfort of your own home
Draw inspiration and ideas worth spreading from the speakers
Partake in exclusive "Ask Me Anything" sessions with the speakers
Receive a special TEDx Host party bag, limited to the buyers of the first 200 tickets only!
Participate in community activities at satellite installations
Enjoy captivating live performances put on by our talented artists
Speakers
Speakers may not be confirmed. Check event website for more information.