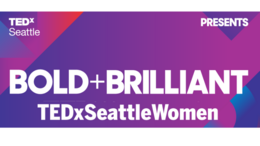 TEDxSeattleWomen is a once-a-year event that combines compelling live speaker presentations with empowering video content from our favorite talks from the national TEDWomen conference.
Join us for this event held in conjunction with the national TEDWomen conference. We will explore ideas worth spreading under this year's theme of "Bold+Brilliant." The event will be held in a beautiful vineyard in Woodinville on Thursday, December 5th, where together we'll learn, inspire and grow.
Following the speakers' talks, we'll have plenty of time to enjoy appetizers and wine at the acclaimed Chateau St. Michelle. Minors may attend; IDs will be checked.
Doors open at 1:15pm and the program will begin at 2:00pm Afterwards there will be an informal reception beginning around 6:15pm and we will wind-down at 7:30pm.