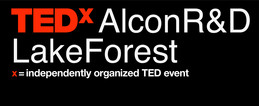 On December 3, 2019, Alcon Research and Development (R&D) in Lake Forest, California is hosting the first TEDx event.
The goal of TED and Alcon R&D is to inspire ideas into action! The TEDxAlconR&D event aims to provide a platform for those wishing to hear from innovative thinkers, both from within Alcon as well as from outside our organization. This is an opportunity to inspire the Alcon community and for us to connect with the identifying attributes of our blueprint: Innovation, Courage, Integrity, Collaboration, Quality, Performance and People.

"Ideas Empowered" is the TEDxAlconR&DLakeForest theme. As a pilot project, in collaboration with TED Talks, we hope to improve employee engagement, encourage ourselves to think differently and to be open to new ideas stimulated through thought-provoking topics.
Through the exceptional leadership and work ethic of our Alcon volunteers, we have the privilege of running this FIRST independently organized TEDx event in Lake Forest, California.
Speakers
Speakers may not be confirmed. Check event website for more information.
Singing Steel Enthusiast
Born and raised in Southern California, Colin's intense interest in music started at an early age. Weaned on a mix of BB King, the Beatles, and Beethoven, he was destined to a life of eclectic musical taste. Classically trained on the cello, Colin slowly grew weary of jumping through the hoops of institutionalized western music but then he discovered the handpan and embarked on a journey that would dramatically change his everyday life. Known worldwide in the handpan community for his instrument, the Aether is considered one of the top hand pans in the world and significantly advanced the art form through a technique called hydro-forming, which has made it easier to shape handpan shells. For more information visit:http://www.cfoulke.com/
Eric Lee
Alcon, Director of R&D, Surgical Consumables
Eric Lee is a Mechanical Engineer in Surgical R&D. He has been with Alcon for 18 years exclusively in Alcon's Research and Development organization. Growing up in Hong Kong, a densely populated urban city, exposure to the outdoor activities is limited. Since moving to the United States, he was introduced to various Great Outdoor activities such as Skiing, Mountain Biking, Camping and Hiking, by his loving wife and in-laws. Since joining Alcon in 2001, he has supported and led a variety of product launches ranging from single use consumables to surgical systems. He has also been an active advocate and participant in the evolution of the Alcon Product Development Process (APDP), as we adapt to new global regulatory compliance requirements, at the same time make Alcon's development cycle to be more nimble and efficient for product releases.
Holly Grammer
Alcon, VP R&D Projects, Surgical Franchise
An Ironman triathlon is considered to be one of the most difficult one-day endurance events in the world. The Ironman is a 2.4 mile swim, 112 mile bike and a 26.2 mile run that must be completed within 17 hours. Holly's been competing in the sport for over 20 years with the dream of one day competing in the Ironman World Championship in Kailua-Kona, Hawai'i. The question she gets asked the most is why do an Ironman? Months of training culminate to a singular focus that will push your physical and mental boundaries with emotions ranging from excitement to anxiety and sometimes even fear; it's race day! Crossing the finish line at an Ironman is never a given. Holly's dream of competing in Hawai'i became a reality in 2014, as athlete 1035 she will take you along the epic 140.6 mile journey and explain why it's important to get out of your comfort zone and her response to why do an Ironman is why not!
Jared Shaw
Alcon, Global Director for CAS Training Documentation & Clinical R&D Liaison
Jared's eclectic background has given him the unique perspective that challenges must be approached from more than one point of view and effective communication is paramount. Jared graduated from Rhema Bible Training College in 1992 & from Webster University in 2005 with a BA in Psychology minoring in Business & Audio Production. He helped pioneer Lifeline Radio as its Director of Operations, co-writer, and co-producer & has managed the service departments for both Spectra Precision Lasers & JS International. Jared entered the medical industry in 2005 at Surgical Direct Inc., a St. Louis startup that now spans 14 states. He joined Alcon's LenSx Lasers in 2012 as a CAS & in 2013 as U.S. LenSx CAS Support Trainer. As an out of the box thinker, Jared has a deep desire to solve problems using a Systems Theory approach. He hopes to reveal that if we fail to recognize our own discipline's linguistic trappings, both we ourselves personally & Alcon as whole may be hindered from progressing.
Sarah Bartel
Alcon, Sr Production Supervisor
Sarah grew up in Southeast Texas with a love for dance and performance, which came to fruition during a memorable time on her high school drill team. She stepped away from dancing to pursue an engineering career, earning a degree in chemical engineering from Georgia Tech. She joined Alcon immediately after graduation with a keen interest in the medical device industry and worked in various quality roles to support all platforms at Johns Creek Manufacturing. Now a part of the RADAR program on her first assignment supervising Photonics lines at the Irvine Manufacturing site, Sarah is passionate about the way we relate to each other in the workplace and empowering others through sharing personal experience and values.
Uma Chandrashekhar
Alcon, Global Info Product Security Officer, Cybersecurity
Uma is a leader driven by imagination, passion and persistence who finds innovative ways to solve business problems. She enjoys building strong relationships that foster creativity and growth. Whether it was launching new products, building new programs from scratch, Uma has never turned down a challenge. She has led the launch of new R&D products, creation and implementation of global industry security standards and practices across all product lines in global Fortune 500 corporations. Uma represented the U.S. delegation in ISO 27000 Information Security Standards and served as co-editor for ISO/IEC 27003, and ITU standards. Uma holds patents in security, privacy, network operations, and reliability. She is a distinguished fellow of the Ponemon Institute and is CISSP, CRISC, CISM, CISA, and PMP certified. Experience has taught Uma that when everything seems black or white, it is time to look for the grey - devising new options because after all, there might just be a better way.
Vikas Patel
Alcon, Project Manager,PPM Surgical
When Vikas graduated with Biomedical Engineering degree, he was anxious to start developing innovative medical devices, however he quickly realized that he was being overwhelmed with multiple priorities. His days were filled with responding to people's needs through email and doing shallow work which resulted in things taking a lot longer to complete. He decided to study the topic of focus over multitasking through an experiment. He will show the astonished results that he found illustrating how critical it is for us as knowledge workers to focus so that we can develop rare skills that are needed to innovate quickly. He has also successfully tried out some techniques that can help us stay focused while reducing stress. These techniques have not only helped him perform better at work but has improved his personal life.