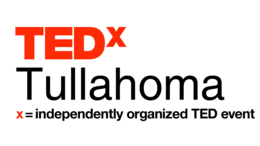 In the spirit of ideas worth spreading, TEDx is a program of local, self-organized events that bring people together to share a TED-like experience. At a TEDx event, TEDTalks video and live speakers combine to spark deep discussion and connection in a small group. These local, self-organized events are branded TEDx, where x = independently organized TED event. The TED Conference provides general guidance for the TEDx program, but individual TEDx events are self-organized (subject to certain rules and regulations).
Speakers
Speakers may not be confirmed. Check event website for more information.
Chris Crumbly
Director of Space and Defense
Chris Crumbly is the Senior Director for Space and Defense Programs at the University of Tennessee Space Institute. Mr. Crumbly also serves as the National Aerospace Solutions Technical Director at AEDC. Prior to accepting the UTSI appointment he served as Executive Director of the technical nonprofit Von Braun Center for Science and Innovation (VCSI). After a 25-year career at the National Aeronautics and Space Administration, Mr. Crumbly retired and entered the business community as the Vice President for Business Development, Civil and Commercial Space at Teledyne Brown Engineering. While at NASA, Mr. Crumbly managed the Space Launch System Program's Spacecraft/Payload Integration and Evolution Office, located at NASA's Marshall Space Flight Center in Huntsville. In addition to serving in management positions at Marshall, he also served as Special Assistant to NASA's Deputy Administrator and Senior Space Policy Analyst at the White House Office of Science and Technology Policy.
Puppeteer
Ed May began his love of puppetry at 5 years old performing for family with his Ernie puppet. Resisting the admonishment to "get a real job," he has been a professional puppeteer for over 30 years. One of his joys in life is writing "puppeteer" in the Occupation blank on his IRS forms. During his career, Ed has performed on projects for The Jim Henson Company, Sesame Workshop and NBC, among others. In addition to performing in feature films, television series, commercials and videos, Ed toured nationally with a live puppet theatre company as lead puppeteer, director, and road manager. Ed has also toured with Walking with Dinosaurs, the Arena Spectacular throughout North America, Europe, Japan, New Zealand, Australia and Southeast Asia. In 2011, he and his wife Robin created Runaway Puppet Theater, a puppet theater company touring regionally. Believing the old adage, "If you can read, you can do anything," they present timeless tales with a twist to educate as well as entertain.
Arts Activist and Conservationist
Matt Willey is the creator of The Good of the Hive, a company at the intersection of art and planetary health. In 2008, he had an experience with one honey bee that would alter the direction of his life forever. This experience eventually set him on a personal mission to hand-paint 50,000 individual honey bees—the number necessary for a healthy thriving hive—around the world. Matt has painted 26 murals and 5,250+ bees in buzzing hives at Smithsonian's National Zoo in Washington DC, Dag Hammarskjold Plaza in NYC, Burt's Bees Global HQ, schools, farms and community buildings. He has collaborated with the World Council of Peoples for the United Nations and NYC Parks' Art in the Parks Public Art Program. He has presented at the United Nations, the FAO, Smithsonian, the Planetary Health Alliance Meeting in Edinburgh, MIT, Duke University, Georgetown University, the German and French Embassies and beyond. He has a BFA from the School of the Museum of Fine Arts, Boston and Tufts University.
Executive Director of the Tennessee Whiskey Trail
Sara Beth Urban is the Executive Director of the Tennessee Distillers Guild working with distilleries statewide to manage and grow the industry as well as to promote the Tennessee Whiskey Trail. Her career in management and marketing began at Historic Rock Castle, a nonprofit house museum in Hendersonville, Tennessee, where she served as the Executive Director and worked alongside her staff and board to raise the profile of the museum and establish unique experiences for visitors. From there, she took a position with the Tennessee Department of Tourist Development to serve as the Middle Tennessee Division Manager. In this role, she assisted the forty counties in her division with the marketing and development of their tourism assets to promote the state as a global destination for music, food, and one-of-a-kind experiences. She left the State after three-and-a-half years and began working for the Guild in October 2019.
Music Industry Executive
Stephanie Hudacek is the founder and president of Soundly Music, a multi-genre music, marketing and distribution company, and Soundly Digital, a creative marketing agency based in Nashville. With a decade and a half of direct industry experience, Stephanie has directly lived many of the aspects of the business from engineering in the studio to touring with artists on the road around the world. Stephanie has a deep passion for driving independent artists towards sustainable and long-term rewarding music careers.
Steven Hovater
Preaching and Outreach Minister at the Church of Christ
Steven Hovater is the preaching and outreach minister at the Church of Christ at Cedar Lane in Tullahoma, Tennessee. His work is focused on helping the church follow the way of Jesus, finding ways to encourage the flourishing of life in our community. Steven and his wife Kelly are raising four beautiful and outrageous kids, and they spend their time exploring the beauty and wonder of creation. They are particularly acquainted with Tullahoma's soccer fields. Steven holds an MDiv from The Harding School of Theology and a DMin from Columbia Theological Seminary. He loves to explore questions about God's mission in the world, and looking for ways that Jesus's followers can put his teachings into practice—particularly the bit about loving their neighbors.
Tamara Milford
Student
Tamara Milford grew up in Chicago before moving to Nashville with her mother and siblings. Due to the unexpected death of her mother, Tamara and her siblings entered foster care when she was a teenager. When she was 18 years old, an incredibly caring and supportive family adopted Tamara and a brother giving them a forever home. Tamara graduated from high school with top grades and attended college at Middle Tennessee State University (MTSU). While at MTSU, Tamara was a member in the Lamda Sigma Honors Society, on the Mock Trial Team and competed in the Miss America Pageants. She graduated college early at the age of 20 and worked as a preschool teacher and a juvenile detention officer after graduation. Tamara currently works at State Farm Insurance Agency as a claims associate in the injury department. She also started mortuary school getting her Embalming and Funeral Director License with the goal of opening up her own funeral home.