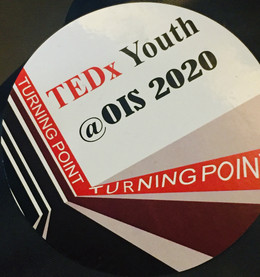 In the spirit of ideas worth spreading, TEDxYouth@OIS 2020 proudly presents our theme this year: Turning Point.
A turning point is a specific, significant moment when something begins to change.
A Day of Ideas and Connections.
TEDxYouth@OIS this year aims to help you shift your perspective, explore what's possible, find your potential and learn something new. We would showcase inspirational ideas and personal tales from world changers and achievers, who recognised the 'turning points' of their lives. They would share their beautiful, intimate and uplifting stories of challenge, commitment, courage to show how they defied the conventional paths to turn around the society towards progress, peace and prosperity.
Speakers
Speakers may not be confirmed. Check event website for more information.
Aashana Daru
Student Speaker
IB Year 2 student of Oberoi International School and a literature and art aficionado, this speaker is very well-versed in the arts of writing and curating. In 2016, the thought of stepping on a scale would send chills down her spine and trigger anxiety and stress. Fast forward today, she has realised that the fight for a certain number on the scale can start to hold way more meaning than it should. Aashana through her experience would recommend to everyone, especially teenage students to rewire their minds about not obsessing over weight loss and instead replace it with non-standard body positivity, self perception and healthy lifestyle. She has one lesson that she hopes you take away from her talk––you'll just have to wait to hear it.
Dr. Suyash Patankar
Plastic & Cosmetic Surgeon
Dr. Patankar, a Gold Medal from the University of Bombay, with a specialisation in LASER surgery from USA, is a recipient of 'Best Research' award from the Association of Plastic Surgeons of India. Plastic surgery is one of those subjects that almost everybody gets stirred up about. The mere potential to alter your appearance, and maybe your destiny, raises difficult questions. Is plastic surgery life enhancing? Is our obsession with appearance a new sickness—or a perennial human concern that has taken many forms?. Is it a way of revealing—or perhaps concealing—the "real" self? Is there any moral distinction between different costs to do different jobs? What is plastic surgery—a simple act of self-help or an incredible tangle of contradictions that reflect the complexity of modern culture? Dr. Patankar's talk answers these questions, whether changing face...changes fate and identity.
National Award Winning Filmmaker
Vibha Bakshi, an Honorary Doctorate from Boston University. A filmmaker who strives to find new ways that educate, entertain & inspire change around her. She worked as a business reporter for CNBC (India) where she identified her inclination towards stories dealing with social issues and thereafter, found her passion to create impactful and lasting stories. Vibha Bakshi's talk aims to convey the true spirit of 'masculinity' using her own creation, Son Rise, as a constant reference. Son Rise is a gender rights documentary that follows the stories of mundane men from Haryana, India's seat of patriarchy, doing the extraordinary in the struggle for women's rights and gender justice. She reiterates the fact that Gender Inequality, Gender Violence or Gender Bias are not Women's Issues and rather Human Rights Issues that need to be resolved by humanity, as a whole. Can these glimmers of a changing paradigm in Son Rise be the 'Turning Point' we have been looking for?
Ceramic Engineer and Cofounder of IdeaGurukul
Pankaj Garg, a graduate in Ceramics Technology and an Alumni of IIM Ahmedabad has worked with Tata and Bayer's Asia Pacific. Pankaj was Business Director - South Asia with Bain group before starting IdeaGurukul Consulting in early 2019. He has received the prestigious JRD-QV Award from Mr. Ratan Tata, for 'Tata Business Excellence Model' and also awarded by Vibrant Gujarat, Government of Gujarat for his presentation on 'Polymers in the Electrical Industry - Past, Present & Future' in 2016. Pankaj shares his learnings to support sustainability and enthusiastically advocate the initiatives of Circular Economy to prevent landfills and environment degradation.
Chief Commercial Officer, Vistara (TATA-SIA Airlines)
Sanjiv joined Vistara, a Tata - Singapore Airlines JV, as its Chief Strategy and Commercial Officer in March 2016, and has played a pivotal role in its growth from 9 aircraft and 40 flights a day back then, to 38 aircraft and over 200 flights a day today.Prior to Vistara, Sanjiv led SpiceJet, India's second largest LCC, through its unprecedented turnaround as its COO and de facto CEO from November 2013 until October 2015. He is a thought leader in the industry and is a sought after speaker and panellist in various industry events and on college campuses, as well as input provider towards government policies. He received MBA in 1996 from Wharton (University of Pennsylvania), and his BA in 1990 Computer Science and Government from Dartmouth College.
Siddhant Karnick
Indian Television and Film Actor
Siddhant Karnick is a dynamic & professional artist, with over a decade's experience in various genres of art. He has worked on content driven projects, he has done theatre, modelling, and voice overs Siddhant has been extremely dynamic and creative in selecting work of different concepts and has executed each marvellously, gaining critical and popular acclaim. Popularly known as 'The Motorcycle Monk' Siddhant in his talk will about his journey on the motorcycle , which was one of the biggest 'turning points' of his life. It describes how he simultaneously almost lost his life and had an epiphany at 240 Km/hr; that death can be a Motivator for life.
Architect and Urban Planner
Smruti is an Architect and practicing Urban Planner specialising in urban informal settlements, referred as 'slums'. She has followed her calling from her formative age to work for the development sector to improve the habitats of the poor. She works with two large social movements, National Slum Dwellers Federation and Mahila Milan with SPARC, together known as "the Indian Alliance", India's largest NGO. Smruti believes in "real" practical solutions for informal settlements. Her work extends to Asia and Africa with (SDI) Slum Dwellers International, across 33 countries. creating new innovative solutions that works for people in the local context, are affordable, scalable and replicable. She has worked with various universities National and International to sensitise academia and train young to-be professionals to work with challenging realities in Informal settlements.
Sneha Masurkar
Student Speaker & Professional Kathak Dancer
Sneha's grace and harmoniousness charms everyone. Having danced in the Bollywood movie Kalank and in the TV show Bade Acche, she's broken her way into the industry at only 17 years of age. After representing the Indian Consulate in Dubai and Abu Dhabi, and performing at numerous world famous locations––House of Lords, Nehru Center, ArtsDepot, NCPA––it is inferable what she will be talking about: dance. Sneha would like to share how Kathak was contemptuously referred to as "Nautch" in the past and fell into disrepute. Though it was performed in temple courtyards for wealthy landlords, it was denigrated as the vulgar dance of prostitutes to how it has today gained respect and popularity. Sneha will be talking about the importance of Kathak not just in her life, but globally and culturally. With a live demonstration, this talk is bound to shift your perspective about this art form and hopefully, even make you consider learning it.