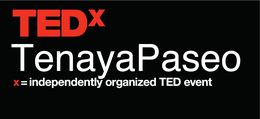 Have you ever know you were meant to make a massive positive impact in the world?
TEDxTenayaPaseo is all about amazing human beings being the catalyst for change that is making a massive positive impact on the world around us!
Join us for the once in a lifetime opportunity to hear the stories of people who took a leap of faith and showed the world what can happen when you believe, fiercely, in yourself and others!
Speakers
Speakers may not be confirmed. Check event website for more information.
Adriel Roman
Award-Winning Filmmaker and Musician
Adriel Roman, a young Award-Winning Filmmaker, spends his life encaptivated by creativity. Known for his dark minded content and vulnerable honesty-- he aims to leave every viewer, whether for his Art or his Speech; changed in perspective.
Amy Mewborn
CEO, Author, and Operations and Strategy Expert.
She spent 15 years in finance working with company leaders with Ford, Chuck E Cheese, and Vinturi Wine Aerator. She left her lucrative finance career in 2010 to launch two San Diego fitness studios. She wrote the franchise manuals for one of the large fitness franchises. Today she teaches women how to build a life and business they love through lifestyle design and business automation. Amy is the best-selling author of "The Great Escape, The Successful Woman's Guide to Escaping The 9 to 5". She has spoken on large stages and has been featured by CBS, KUSI, Fox, Huffington Post, Business Insider, Inspired Coach, EO Fire, and many more. She is currently writing her next book, "It's Ok to Change, Building a Life You Love in an Ever Changing World".
Betty Brink
Author of "The Main Meal: The New Perspective on Weight Loss"
Betty Brink is an expert on the mental and emotional aspects of dieting and body image. She is the author of "The Main Meal: The New Perspective on Weight Loss." In seminars, speeches, and consultations, she demonstrates practical methods to quiet the diet chatter, and to empower yourself to make conscious choices in diet, in life, and in relationships. Refusing to conform to the norm of diet and exercise plans, these weekly meetings help create new dimensions in your attitude toward beauty, your own body, and your self-esteem. Betty blogs about the things that make up the "Main Meal" of her life: the things that bring her joy and inspire her to feel grateful.
Cat Cohen
Co-Founder of Cohen Coaching
Catherine is the co-founder of Cohen Coaching with her late husband, Barry. Entrepreneur, speaker, podcast host, and author. For 25 years, she was all these with her husband at her side until he unexpectedly died. As a new widow, Catherine is determined to move forward with no regrets and help others do the same. Catherine is also a Sci-Fi fan, (Star Wars more than Star Trek) a Billy Joel fan (don't get her started), and attempted piano lessons in her youth. She also loves reading everything from Arthurian fiction to business books and a lot in between. She is not a fan of romance novels. Even though she is a bigger Star Wars fan, Catherine had the United Federation of Planets logo put onto the train of her wedding dress in honor of her late husband.
Chaz Perez
Transformation Speaker
For more than twenty years and spanning three continents, Chaz Perez has created everlasting defining moments for audiences through his messages and work in the nonprofit sector. His leadership and speaking touched the lives of terrorists, slave traders, orphans, addicts, students, and leaders of many different spheres of influence in the world. Some people talk about changing the world. Chaz is living it through what he calls "servant-leadership!" He is a man obsessed with watching things grow. His insatiable curiosity has led him to some dangerous and beautiful situations in the world and has created an arsenal of endless intriguing stories for him to tell. His unique style of story-blending creates a new experience which his listeners can draw power from and bring forth change . Chaz Perez is a culture transformation speaker. He speaks on topics such as Turning Pain into Passion, Leaders Manifest Curiosity, and Be Before Do.
Denise Thomas
Creator of Cracking the Code to Free College.
Denise is an international best selling author, TedX speaker, & creator of Cracking the Code to Free College. Parents hire her to put their kids through college debt free by using other people's money. Her mission is to inspire, educate, and equip parents who take an active role supporting their children to live a life of financial freedom. Using her proprietary strategy Denise's 2 homeschooled kids attended college on 17 scholarships totaling $199,000 for 4 years debt free with cash left over. "College doesn't have to be a debt sentence."
Dr. Ali Lankerani
Clinical Neuroscientist
Dr. Ali Lankerani, a clinical neuroscientist, is affectionately known by his patients as Dr. L, The Parent Whisperer. Dr. L is internationally published best-selling author, speaker and coach; Was twice-voted as one of America's Top Doctors; Host of the TV channel 'Role Model Maker', and ran an award-winning private practice helping kids with Autism Spectrum Disorders. He currently runs online programs that support parents and their children, and encourages healthy development, and growing relationships. Dr. L enjoys being the active father of his two Amazing Kids and proudly serves as the founder of Amazing Parents' Network. His mission is to promote brain-based healthcare options to support parents and their children to foster their optimum potential and their quest for personal fulfillment. You can find him regularly speaking at a variety of venues on health, lifestyle, and personal as well as child development.
Dr. Manon Bolliger
Naturopathic Medical Doctor
As a Naturopathic Medical Doctor for 30 years, Dr. Manon Bolliger focuses on reconnecting people to their body, overcoming internal conflict and taking ownership of their choices in health. She is a best-selling author of "What Patients Don't Say if Doctors Don't Ask" and "A Healer in Every Household- Simple Solutions for Stress." She is the founder and CEO of Bowen College, where she has trained over 2500 healthcare practitioners in BowenFirst™ Therapy and her Listen Principles, a patient-centred approach to empowered health.
Jackie Simmons
Founder of Teen Suicide Prevention Society
Jackie likes for things to make sense and she's your advocate for a better life. Jackie's the creator of Your Path from Self-Sabotage to Self-Empowerment: How to Make Money While Making Massive Difference in the World. The mission that drives Jackie's life is to make suicide, especially teen suicide, a thing of the past. When you work with Jackie, she'll invite you to discover what's true and what's not true for you. She'll offer you a different perspective and help you spot the elephant in the room that's creating self-sabotage in your life. Together you'll turn that elephant into your path to self-empowerment. Jackie's a multiple best-selling author, Radio Show Host, Business Coach, and Mission-Driven Mentor
Josh C. Kline
Founder and CEO of HaveNeed
Josh is a 3X startup founder and Primetime Emmy Award-winning technologist. Josh has led social impact startup have|need since 2017 with the goal of leveling the playing field for people in need around the globe. Josh started his career in film and TV production before co-founding production tech startup Sample Digital, where he oversaw the development of, patented and brought to market Digital Dailies®, revolutionizing the review and approval process in the film and television production industry, and for which he was awarded a 2013 Primetime Emmy Engineering Award. From April 2014 to March 2017 Josh served as Head of Media & Entertainment at Box.com, the Silicon Valley-based cloud content management company. Josh has also provided strategic consulting services to clients including Microsoft, Avid, Factual, Fujitsu and MediaBridge Capital Advisors. Josh is an alumnus of USC's School of Planning & Development.
Kimberly Crowe
Serial Entrepenuer
Kimberly is an award-winning international inspirational public speaker, best-selling author, audiobook producer, six-time entrepreneur. Kimberly is the mother of two and an adventure seeker, who has hiked sections of the Pacific Crest Trail, navigated Class IV rapids with one of Costa Rica's female Olympic medal-winning whitewater champions, sailed down the coast of Mexico on a 42-foot Yankee Clipper, and traversed 200 miles on horseback through Canada's Jasper National Park. Her motto is "live life out loud" Kimberly is passionate about the value of being able to shift your beliefs by shifting your perspective and enabling it most quickly with geographic travel. Kimberly believes that the wider the perspective, the less narrowminded the person. And the value of having less narrowminded leaders can unlock new possibilities for connection and understanding and empathy around the world.
Kimberly Faith
Motivational Speaker
Kimberly Faith prides herself on being the UNbrand, and blazes her own trail by way of a playful life experience. As a graduate from the School of Mistakes and Tragedies, Kimberly Faith has been able to connect the dots between her experiences and her purpose. She challenges societal norms and trends, and inspires her audiences to look within and challenge their own personal limitations and beliefs in a fun, yet powerful way. All while fostering an environment of unity and safety. Her talks are designed to take each audience member to new places within their mind and heart, resulting in deeper transformation and ultimately - greater joy and fulfillment.
Lucas Mattiello
Internationally Renowned Communications Trainer
You wouldn't expect someone diagnosed with an anxiety condition to become a Public Speaking trainer, but that's what Lucas did. He specializes in helping Entrepreneurs overcome the fear of public speaking so they speak with confidence both on stage and on video. Lucas is an internationally renowned communications trainer that has been featured in Forbes, is a best selling author, and is a TEDx Speaking Coach
Megan Fenyoe
Founder of "I am Enough" Movement
Megan Fenyoe is an Air Force Veteran, Licensed Clinical Mental Health Therapist (LCSW), Speaker and Trainer, Host of The Blonde Bombshell Podcast and I Am Enough TV, Founder and CEO of the international I AM ENOUGH movement™ a 501c3 Non-Profit Organization and Freedom Haven. She is an Amazon Best Selling Author and recently published her book You Are Enough: 5 Steps To Move From Struggle To Strength. She has been featured on SiriusXM Radio including the Jenny McCarthy show and over 300 TV/Radio Shows and podcasts. Working as a Mental Health Therapist for the past 15 years, Megan is considered an expert in her field. Her area of expertise is the mind and the way it affects behavior and well-being. Through coaching, leadership, consulting and speaking engagements, Megan has helped hundreds of people accurately assess their challenges and identify ways they can change - capitalizing on the strengths they already have while building new ones.
Melodee Meyer
Entrepenuer
"Melodee wants to live in a world filled with thriving, socially conscious businesses, zoom calls that come with dark chocolate and wrinkle creams that actually work. As a entrepreneur and coach for over 3 decades, she has worked in the fitness, television and travel sectors with companies such as Amazon, Musicmatch, Gear.com, CBS's Survivor, Globe Pequot Press, MTV, UPN, The Outdoor Channel, Sprint, One Travel, Amadeus, Competitor Magazine, Retired.com, eDiets and more. Melodee is an international speaker, bestselling author and 6th degree blackbelt inducted into the Martial Arts Hall of Fame as Entrepreneur of the Year for 2020. When she's not writing or creating courses to help mission-driven entrepreneurs grow their online business, you can find her whipping up something yummy to feed her family and friends, plastering IG with silly selfies or walking her dog Fletch at his favorite beach."
Michael Tranmer
#1 International Bestselling author of Satori Ananda, and Professional Engineer
Michael Tranmer is the #1 International Bestselling author of satori ananda – awaken to happiness, a memoir about his conscious awakening after hitting rock bottom. As a professional engineer, Michael works in the highly specialized field of coastal engineering, where he designs and builds infrastructure along the British Columbia coast. Michael embodies and speaks on Transcendent Leadership; helping engineers become expert communicators and powerful leaders. Michael lives and plays in Vancouver, British Columbia. He connects all his teachings with his experience adventuring in the backcountry and along the coast.
Mike Wolf
Real Estate Investor
"Mike Wolf is a real estate investor, international speaker, philanthropist, and world traveler. He's helped people from around the globe to create financial and time freedom for themselves so that they can enjoy their lives and focus on what's important to them. Mike has been featured on all the major TV networks, dozens of podcasts, Sirius XM Radio, and in print media as well. He believes everyone should do what they love every day every day. He encourages people to seek out happiness and fulfillment and to make a difference on this planet."
Mitchell Levy
Global Credibility Expert
Global Credibility Expert, Mitchell Levy, is a human whose purpose in life is to serve those who want to be seen as credible and win the war against those in Dubious Nation. Mitchell has interviewed over 500 thought leaders from across the world on their credibility. This led him to uncover amazing insights on what credibility really is and why it's important in today's world, making him the go-to expert on credibility. Mitchell has been a Silicon-Valley based Thought Leadership Evangelist for 25 years, has been chairman of the board of a NASDAQ-listed company, and is a TEDx/Commencement speaker. He is also an International bestselling author of over 60 books and has created twenty businesses in Silicon Valley including four publishing companies that have published over 750 books.
Nancy Benitez
Relationship Coach
Nancy is a men's coach who is passionate about helping influential high achievers stop wasting their time, energy, and money on dating the wrong women and helps them understand and attract quality women who see their value beyond what's in their wallet. In addition, she teaches men the simple effective tools they need in order to achieve and maintain a healthy, active mind and body, full of stamina, energy, and strength which leads them to greater performance in the boardroom and the bedroom. She does all of this by combining her expertise in personal development, personal training, nutrition, and a woman's perspective to help men attract the lasting love they crave and the health they deserve.
Natasha Todorovic-Cowan
CEO & Founder of Spiral Dynamics & NVC Consulting
Natasha Todorovic-Cowan has more than 25 years of experience applying and teaching her proprietary Spiral Dynamics® cultural DNA survey, leadership assessments, and change readiness index to predict hurdles to human transformation, performance/productivity, and connection. Rooted in 70 years of research, application, and development, Natasha has delivered over 200 Spiral Dynamics® certification programs in 14+ countries, on 5 continents, with over 100,000 assessments deployed to thousands of professionals. Previously hidden in the data of psychosocial development, a common pattern within people from over 50 different countries is emerging. It is the very real phenomenon of human invisibility – people unseen to other people, and often hidden to those closest to them!
Raquel Sharper
Founder of The Sharper Way
Raquel Sharper is an international self empowerment speaker, mentor and creator and founder of The Sharper Way! Raquel began her career as an IT Consultant for fortune 500 companies. Over a period of 10 years, Ms. Sharper cultivated her business acumen and became proficient in dealing with diverse groups as well as complex business affairs. The corporate world only allowed her one stream of income and took lots of her time. She wanted a better way and lifestyle. Raquel then made a decision to study wealth and started to explore strategies to generate multiple streams of income. This was how the Sharper Way was created. The Sharper Way worked in 2006 and is very relevant today especially since our new world has so much uncertainty. She now follows her passion as a self empowerment speaker and influencer. She has worked with Tony Robbins and Robert Kiyosaki's organizations and has worked with Les Brown and Kevin Harrington from ABC's hit show Shark Tank.
Robert Drysdale
Brazilian Jiu-Jitsu Champion and Undefeated MMA Fighter.
Born in the US from a Brazilian mother and American father, and having spent his life between these two countries, Robert Drysdale remains the only person not born in Brazil to have ever won both the IBJJF and ADCC World-Championships, the two most prestigious tournaments in all of Jiu-Jitsu. He has been referred to by Vice Magazine as "America's Jiu-Jitsu Super Hero". Furthermore, he has also cultivated a career in MMA, both as a fighter and as a coach having trained 5 UFC champions. Robert also holds a Bachelor's degree in History as well as a long-held passion for this discipline. Recently he was able to combine these two passions and produce a documentary about the history of BJJ and MMA in Brazil as well as write a book on the topic. He lives in Las Vegas, Nevada where he teaches Brazilian Jiu-Jitsu and MMA. He is also the co-founder of the international team Zenith Jiu-Jitsu and is the father of two girls.
Steve Kader
Clinical Hypnotherapist and Comedian
Since his honorable discharge from the US Army military police Corp, Steve Kader has been working in the Mind-care field, authoring more than a dozen books on self development. He works with clients on a wide variety of issues, including smoking cessation, weight loss, and stress management. Having also fallen in love with the Entertainment business, he is currently working as a Comedian on the Vegas Strip. Steve paints his talks with a Comedic brush and even incorporates Magic, Music and Mentalism. His on-stage energy is contagious.
Susan Johnson
Mental Health Advocate
Susan graduated from Drake University with a B.A. in Sociology. Since her diagnosis of Bipolar 1 in 1995, Susan's true passion in life is to help break the stigma of living with a mental illness and bring hope to those living with one. She is an accomplished inspirational speaker and guest blogger for a mental health magazine. She received the award for Best Blogger for Healthline.com in 2017 and appeared in the 2018 "This Is Me" article in BP Hope Magazine. Susan's writing also appears in" The Catholic Exchange." Susan co-leads a mental health group at her church and currently works with special education students as an Instructional Assistant for a school district in Nevada. Susan is a member of an author community in Las Vegas. She enjoys hiking, baking, traveling, yoga, spending time with her Goddaughter, and trips to the ocean. Susan is originally from Thousand Oaks, CA. She now makes her home in fabulous Las Vegas with her husband, Gary, and Siberian cat, Angel-Ann.
Victoria Kennedy
CEO of Victorious PR
Victoria Kennedy is a well-respected authority in public relations. She is the CEO of Victorious PR, an agency that gets entrepreneurs and internet marketers into the biggest publications in the world, including Instagram and Facebook verification. Because of her expertise in marketing, she has been a trusted speaker and contributor to such organizations as Entrepreneur Magazine, Inman News, Forbes, and Yahoo Finance.In addition to running a successful PR & Marketing agency, she also has given talks, workshops, and has worked as a trusted consultant for Entrepreneurs, C-level executives, and top marketers and influencers. She has been featured in over 200 publications and podcasts both nationally and internationally.In addition to her marketing expertise, Victoria is a #1 selling classical-crossover singer and has sung with the likes of Andrea Bocelli, as well as toured all over Europe with her music.