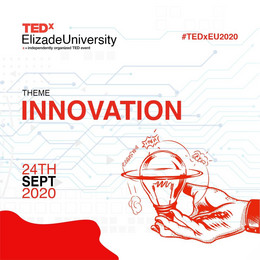 In the spirit of ideas worth spreading, TEDx is a program of local, self-organized events that bring people together to share a TED-like experience. At a TEDx event, TEDTalks video and live speakers combine to spark deep discussion and connection in a small group. These local, self-organized events are branded TEDx, where x = independently organized TED event. The TED Conference provides general guidance for the TEDx program, but individual TEDx events are self-organized (subject to certain rules and regulations).
Speakers
Speakers may not be confirmed. Check event website for more information.
CEO GasUrgently
Abisola Animasahun is the CEO of Gas Urgently, an Abuja based Gas delivery firm that delivers gas to homes, restaurants and hotels. Her delivery service helped thousands of Abuja residents to survive the Corona pandemic by supplying them with cooking Gas throughout the lockdown period. Her Gas delivery business started with a Chief Ade-Ojo grant winning proposal which she submitted as a final year student of Elizade University. The project is inspired by SDG Goals 7 on affordable and clean energy as well as Goal 13 on Climate Action. Her Dream is to help Nigeria end Gas flaring, supply Liquefied Petroleum Gas across Africa, thereby contributing to a Low Carbon Economy and reducing Green House Effect
Ashok Alur
Agricultural Scientist
Prof. Alur has a PhD in Agriculture with 20+ years of experience in Agriculture, Higher Education, International Cooperation, Natural Resources Management etc. He has held different positions in Swiss Agency for Development-Cooperation,International Crops Research Institute for the Semi Arid Tropics & Horticultural University & also served as Vice Chancellor of BESTIU(Andhra Pradesh).Presently he is the Director-Centre of Excellence for Farmer Producer Organizations. He is recipient of many prestigious awards including, Honors from ICRISAT for his contributions to reduce poverty,malnutrition,environmental-degradation;Honorary Recognition(FCRI-Thailand); Honorary-Credential(China); Honors from Government of Mozambique&Swaziland;SarvottamSeva-Award,ScienceCommunicators-Award and Independence Day Honour from Government of Karnataka. He has served as Honorary Expert for the Food Security Programs of Mozambique & Swaziland, Regional-Committee of UNDP-GEF; Israel Technology Committee etc
DianaAbasi Iquo
Poet and Writer
Iquo DianaAbasi writes prose, poetry and scripts for radio and screen. Her book, Efo Riro and Other Stories was released in January 2020 An avid student of human nature, Iquo's writing explores social themes, pain, love, womanhood and trials of the griots of this age. Her first collection of poems, Symphony of Becoming, was shortlisted for the NLNG Nigeria prize for literature, and the ANA poetry prize; both in 2013. It has also been shortlisted for the Wole Soyinka Prize for Literature.
CEO, Bluebook Cities
Co-founder and Ceo of Bluebook Cities, Dryden Brown and his partner, Charlie Callinan are working on the emergence of Smart Cities with particular interest in Charter City development, across the world.
Entrepreneur
Iyinoluwa Aboyeji is an entrepreneur in the public interest. He is passionate about partnering with missionary talent and capital to build an African future. He spent the last few years as the CEO of Flutterwave, a business building payments technology and infrastructure to connect Africa to the global economy. Over those years, he led the company to become one of the fastest growing payments technology businesses of all-time processing over $2 billion across over 50 million transaction with annual revenues of millions of dollars a year. Iyinoluwa is also the co-founder of Andela - Africa's largest engineering organization with over 1000 software engineers which has received investment from Mark Zuckerberg and Google Ventures amongst others. He is a World Economic Forum Young Global Leader, a Forbes 30 under 30 honoree and a member of Nigeria's Industrial Policy and Competitiveness Advisory Council.
Policy Advocate
Olumayowa Okediran is the Managing Director of African Liberty, a founding partner at the War Room Associates, he sits on the council and serves as West Africa Policy Fellow at South Africa's top political and economic think-tank, the South African Institute of Race Relations. He is the Director of International Programs at Students For Liberty. His views on politics and economics have been translated into 16 languages including French, Spanish, Czech, Portuguese, Serbian, Macedonian, Greek, Khmer and Vietnamese and he frequently gives lectures at seminars around the world. Olumayowa completed postgraduate studies in Humanitarian and Refugee Studies at the University of Ibadan and holds professional certifications in Financial Journalism from the Gordon Institute of Business Science, University of Pretoria and in Strategic Foresight from the University of Houston.
Economist and Migration Researcher
Omolola Olarinde is an Economics Lecturer and Researcher at Elizade University.
University Administrator
Omololu Adegbenro is the Registrar of Elizade University, Ilara-Mokin, Ondo State, Nigeria.
Engineer and Entrepreneur
Tam Alex is an engineer and entrepreneur. He develops and operates off grid renewable energy based systems in unserved and underserved communities in Nigeria. He is on a mission to provide clean and affordable electricity to 1 million households and businesses in Nigeria by 2028.
Innovator
Tilak is an alumni of VIT University. He completed his Masters in Technology in Mechatronics and PGPM from Indian Institute of E-Commerce. Tilak is an innovation and product marketing professional who has contributed to the development and launch of various connected(IoT) products and SaaS offerings - Wireless Lighting controls, Telemedicine, Wireless switches (DC), Video Door Phones, Telehealth Wearables etc., for large corporates and start-ups. Tilak has been recognized by the Ministry of agriculture for his design of open vending solutions and has been awarded for its development. Minimalist and Essentialist by nature, Tilak's goal is to ensure that he contributes to a sustainable, accountable, efficient greener world with essential products and services. He contributes to the development of essential sustainable digital products with minimal carbon footprint and maximized impact. He is currently working on IoT solutions specific to Wearables, Digital Ceilings and LVDC.
Enviromental Scientist
Olayinka Osuolale is an award winning Microbiologist and Lecturer at Elizade University. As a technology enthusiast and researcher, he seeks innovative approaches to solve human health and environmental challenges.