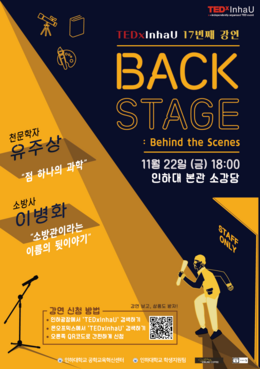 Our society tends to focus on people who make it to the front page or the ones who make great achievements. However, those who work on "backstage" never get to see the spotlight, not even a glimpse of light. What if our society pay attention to the ones working behind the scenes, it would be wonderful experience to both speakers and audiences.
Speakers
Speakers may not be confirmed. Check event website for more information.
Firefighter + Painter
Byung-Hwa Lee Firefighter encourages the communication between firefighters and citizens by painting which is his major in college. He has been recognized as a good painter that he partipates in painting work on a vehicle used to promote firefighting. He even runs a series of webtoone titled "Firehouse stories that citizens don't know" on Incheon Firehouse Facebook
Astronomer
Ju-sang You serves as a director of Hwacheon-Joseon Obervatory and director of the Korea Astronomy & Space Science Museum Association.
Organizing team
DONGHYEON KIM

Marketing/Communications

Geon Hu Hong

Marketing/Communications

Hwi Jae Lee

Marketing/Communications

Hyunju Jeong

Marketing/Communications

Hyunkyung Lee

Marketing/Communications

Jang Hyewon

Partnerships/Sponsorship

Jiwon Heo

Curation

Kyeong Bo Yu

Partnerships/Sponsorship

Seulbi Lee

Partnerships/Sponsorship

seulgi Kim

Operations

Seungyeon Lee

Marketing/Communications

Soljee Han

Operations

Sunjae Lee

Curation

Yongsu Kim

Production

Youngji Cho

Curation