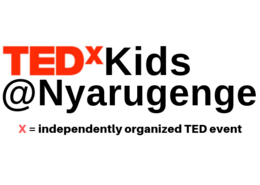 In the spirit of ideas worth spreading, TEDx is a program of local, self-organized events that bring people together to share a TED-like experience. At a TEDx event, TEDTalks video and live speakers combine to spark deep discussion and connection in a small group. These local, self-organized events are branded TEDx, where x = independently organized TED event. The TED Conference provides general guidance for the TEDx program, but individual TEDx events are self-organized (subject to certain rules and regulations).
Speakers
Speakers may not be confirmed. Check event website for more information.
Bosco Nyirikwizerwa
Singer/Song composer/Student
Bosco aged 18 spoke under a talk titled "Empowering Disabled Children"
Iyle Ongerusenge
Refugee Child
iyle gave a powerful talk under title " Refugee children with disabilities if assisted the future is bright".
Mucunguzi Izere Joselyne
Human rights Activist
Mucunguzi Izere aged 19 spoke on the title called " Be the change you want to see, take responsibility"
Nzobe Nilita Imani
Student/Singer/Artist
Nikita Nzobe spoke to a talk titled "Change from the Child "
Oona umutoni
Student
Oona gave a talk under title Life after domestic violence
Patrick Bigirimana
Child Leader/Dancer
Patrick gave a talk called "From Street child to a leader"
Rutangwa Sugira Lorie
Public Speaker
Lorie Sugira gave a talk called "Big lies of small lives"
Shema David
artist/Student
David is a young boy aged 10 years who spok a speech titled "How i become a superpower"