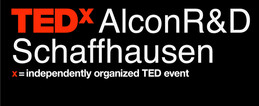 On November 22, 2019, Alcon Research and Development (R&D) in Schaffhausen, Switzerland is hosting the first TEDx event.
The goal of TED and Alcon R&D is to inspire ideas into action! The TEDxAlconR&D event aims to provide a platform for those wishing to hear from innovative thinkers, both from within Alcon as well as from outside our organization. This is an opportunity to inspire the Alcon community and for us to connect with the identifying attributes of our blueprint: Innovation, Courage, Integrity, Collaboration, Quality, Performance and People.

"Ideas Empowered" is the TEDxAlconR&DSchaffhausen theme. As a pilot project, in collaboration with TED Talks, we hope to improve employee engagement, encourage ourselves to think differently and to be open to new ideas stimulated through thought-provoking topics.
Through the exceptional leadership and work ethic of our Alcon volunteers, we have the privilege of running this FIRST independently organized TEDx event in Schaffhausen.
Speakers
Speakers may not be confirmed. Check event website for more information.
Alexandra Mandoki
Collaboration & Innovation magician
After 20 years at blue chip companies in international leadership roles she founded Sparks Guide that specializes in team facilitation and innovation consulting. She is a guest lecturer at the University of Applied Sciences & Arts Lucerne and at the Business and Hotel Management School in Lucerne. Alexandra has a Master of Sciences Degree, is a Proteus Alumna from the London Business School and has a CAS in Business Strategy from HSG. She is a certified facilitator of LEGO® SERIOUS PLAY® method and a Design Thinking practitioner. Her motto: 'The sky is not the limit
Daniel Barthelmes, Director, Department of Ophthalmology, University Hospital Zurich & Chair of Ophthalmology, University of Zurich Head, Clinical Neurosciences / Head and Neck Disease, University Hospital Zurich
MD, PhD, executive MBA, FEBO, FMH Ophthalmology & Ophthalmic Surgery
After his specialty training in Switzerland, Dr. Barthelmes moved to Sydney (Australia). Besides his PhD in basic research on vascular stem cells at The University of Sydney, Dr. Barthelmes also did a clinical fellowship in vitreoretinal surgery and was closely involved in the Fight Retinal Blindness Project (FRB!). He was the first Swiss participant in the European Leadership Development Program, finished the executive MBA program at the University of Zurich in March 2018 and was appointed Director of the Department of Ophthalmology at the University Hospital Zurich and Chair of Ophthalmology at the University of Zurich in August 2018.
Freddie Spotser
Alcon, Sr. Scientist II, PCD - Microbiology 01
Frederica (Freddie) Spotser is the Eye Bank Specialist at Alcon. She previously worked for several organ/tissue and eye donation agencies. As the person who currently facilitates the use of human eye tissue for research from eye banks, Freddie realizes eye bank personnel are the critical component to the process; but the true VIPs have always been donors and donor families. Her perspective changed when she shifted from obtaining tissue for transplant to obtaining it for research. She learned that donation for scientific research has the potential to touch many more lives than the individual, the family and the community impacted by the gift of donation for transplantation. While there is no direct link between the donor and an individual as in transplantation, a research donor's impact is boundless and a single donation can have an immeasurable effect on the advancement of eye health through treatments, devices, and products.
Niels Abt
Alcon, Associate Director, Research & Development
Niels manages Alcon Grieshaber's Research and Development team in Switzerland, which specializes in the development of microsurgical hand instruments. With this comes the heritage to further push innovation at a company known for instruments made to perfection for more than a century. Niels is a trained mechanic, with a degree in Mechanical Engineering and a Master of Advanced Studies in Medical Physics. He holds more than 15 patents, lectured at international congresses and was able to experience several times how an instrument developed by him was used for the first time in an operation.In addition to these very fulfilling experiences, there were setbacks which he approached in unconventional ways. It is precisely the up and downs, this interplay that fascinates him about nature.The ability to enjoy good weather as much as rough weather, which is why he drives to work with his motorbike even in freezing temperatures.
Tamas Budai
Alcon, Area Product Manager, Surgical Retina, EMEA
Tamas grew up in Hungary; he has completed his education in Budapest and holds a Master of Science degree in Molecular Biology. He has joined Alcon in 2009, and as a Sales Professional, Tamas spent 7+ years in various roles connecting with customers and Health Care Professionals from the field of ophthalmology on a daily basis. He has won the Alcon EMEA President's Club Award 2016, and driven by his passion to make a difference, he has moved to Switzerland with his family and joined the Alcon EMEA Surgical Retina Marketing Team. As a marketer, he has led and participated in various projects within the Surgical Franchise fostering cross-functional collaboration, including successful medical device product launches and customer education programs. Most recently, Tamas was the SPOC (Single Point of Contact) Lead for EMEA Surgical in rolling out the new Veeva Vault System for Promotional Material Review and Approval Process.