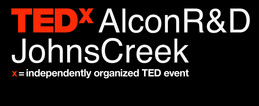 On November 20, 2019, Alcon Research and Development (R&D) in Johns Creek,Georgia is hosting the first TEDx event.
The goal of TED and Alcon R&D is to inspire ideas into action! The TEDxAlconR&D event aims to provide a platform for those wishing to hear from innovative thinkers, both from within Alcon as well as from outside our organization. This is an opportunity to inspire the Alcon community and for us to connect with the identifying attributes of our blueprint: Innovation, Courage, Integrity, Collaboration, Quality, Performance and People.

"Ideas Empowered" is the TEDxAlconR&DJohnsCreek theme. As a pilot project, in collaboration with TED Talks, we hope to improve employee engagement, encourage ourselves to think differently and to be open to new ideas stimulated through thought-provoking topics.
Through the exceptional leadership and work ethic of our Alcon volunteers, we have the privilege of running this FIRST independently organized TEDx event in Johns Creek, Georgia.
Speakers
Speakers may not be confirmed. Check event website for more information.
Ben Sullivan : Using AI to Tame the Increased Complexity of Manufacturing
Alcon, Technical Steward; MS&T Data Analytics
Ben has been combining data analytics and ophthalmic product development and manufacturing his entire career. For Ben, pulling insights from data has always been paramount in guiding decisions. He has spent about 10 years in various research and development environments, doing process and measurement system development. He was also a key member to several research and development project teams. In late 2014, Ben moved to the highly automated manufacturing environment of contact lens production and was given first-hand experience in the nearly incomprehensible rate of information creation of the modern era. After several years of grassroots efforts, he was able to kick off a pilot program within Alcon's Manufacturing organization to create AI-based applications to improve output, cost and quality.
Carolina Kunnen : Wooden Shoes Underneath The Hot Sun
Alcon, Sr CDMA Project Lead, Vision Care
At 24, Carolina moved to Ghana to setup The Optical Foundation's first project, providing eye care for children and educating Ghanaian Optometry students. Starting from scratch, Carolina built her foundation to a mature organization with the aim to make eye care accessible in Ghana through comprehensive eye exams, education, and research. Carolina grew up in the east of the Netherlands and completed her degrees in Optometry and Orthoptics. She worked in a contact lens specialty clinical practice for more than 7 years. Yet, her curiosity drove her to Australia to earn her PhD at the Brien Holden Vision Institute / University of New South Wales. After her PhD, Carolina held a Research Assistant Professor position at the University of Houston. Carolina is a program committee member of the Netherlands Contact lens Congress (NCC) and leads their NCC conducting research initiatives. Carolina joined Alcon in December 2017.
Joan Buccigrossi : Allies
Alcon, Head Global Diversity & Inclusion, Global Commercial & Innovation
Joan began her career as a teacher, but soon realized that the standardized educational system did not work well for every child. Her attempt to make changes were met with bureaucratic roadblocks. Years later, she served as the principal at a progress school, where all children were encouraged to learn and grow at their own pace. Eventually, Joan asked herself what she would do if she could do anything she wanted. Her love of theater and photography translated into film production, and she became an international film producer. She won a CINE Award for a TV series teaching entrepreneurial skills in post-communist Hungary. Fascinated by the impact of social dynamics on people and organizations, Joan moved from film to organizational development. She earned a PhD in Human and Organizational Systems. Before joining Alcon, Joan was the head of Diversity and Inclusion for Kellogg's and Rockwell Automation. She has a passion for helping people and companies reach their full potential.
Michael Young : HOST
Alcon, Head of Human Resources, JCM & Distribution HR
Michael Young's passion has been to connect with people by connecting to the hearts and minds of all those that he encounters. As a child Michael always knew he wanted to be an Educator, he chose the corporate route where he finds fulfillment in Human Resources by connecting people with opportunity. From his days in High School to now he has directed camp programs for Inner City Youth, served on boards for institutions that focus on education, and taught at Vacation Bible School. In the corporate world, after developing talent in support of several departments across several industries, Michael began working with Alcon in 2016. Today Michael is the HR Site Head for John's Creek where he continues to connect opportunity to Alcon's vast talent pool to serve our patients to See Brilliantly.
Patrick Chappell
Singer, Composer and Producer
My name is Patrick Chappell; 'Chappell' also being my artistic name. I was born in Athens, Georgia and entertaining has been a part of my life from an early age. For example, I was involved in singing & dancing performances for all the classes during 2nd & 3rd grade and then started playing saxophone in 5th grade. I continued performing and participated in talent shows through my teens years & ultimately the singing & saxophone ended up getting me a scholarship to Truett McConnell College. I moved to Atlanta after college & performed in several local bands of all genres. This eventually took me to Europe to pursue my dream as a singer/songwriter and producer. I have performed and/or worked with some of the top DJ producers on the largest stages in the world, such as at Dance Valley, Mystery Land, Tomorrow Land & Extreme with DJ's Gregor Salto to name a few. With more than 50 releases throughout Europe and top songs including Your Friend, Please Me, We Get High and Make You Move.
Richard Breitkopf
Alcon, Principal Scientist, R&D Research Formulation
Rich grew up in Northern New Jersey and completed his BS in Chemistry at Wesleyan University and PhD at Tufts University. Following his PhD studies, he worked in the battery and fuel cell industry for eight years before coming to Alcon in 2007. For the past twelve years he has worked in process chemistry having supported the commercialization of 14 products including both cosmetic lenses and new silicone hydrogel technologies. His entry into the medical device industry from another industrial R&D area was a great learning experience from the standpoint of company culture, product development and quality assurance. The learning process not only required standard SOP training, but interpersonal interactions with different stakeholders across several departments. He is passionate about new technologies and leveraging collaborations within the company.
Sarah Bartel
Alcon, Sr. Production Supervisor, Irvine
Sarah grew up in Southeast Texas with a love for dance and performance, which came to fruition during a memorable time on her high school drill team. She stepped away from dancing to pursue an engineering career, earning a degree in chemical engineering from Georgia Tech. She joined Alcon immediately after graduation with a keen interest in the medical device industry and worked in various quality roles to support all platforms at Johns Creek Manufacturing. Now a member of the RADAR program on her first assignment in Irvine, California, Sarah is passionate about the way we relate to each other in the workplace and empowering others through sharing personal experience and values.
Yang Zheng
Alcon, Senior Scientist II, R&D Research Formulation
Yang likes to experiment with new ideas in every aspect of his life: new ideas at work as a Senior Scientist developing novel materials for smart contact lens and 3D printing; new ideas at home as a violinist/guitarist/songwriter composing music and developing new performances; and sometimes, new pranks at parties tricking his best friends. He believes that great opportunities lie in the smallest ideas which might seem unworthy, strange or even crazy and we tend to overlook the importance of these ideas. He will share his story playing the violin since four years old and show how experimenting with a controversial idea has reshaped his performance style and resulted in a sense of fulfilment.