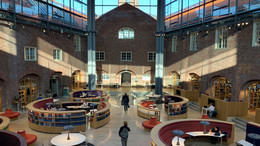 In the spirit of ideas worth spreading, TEDx is a program of local, self-organized events that bring people together to share a TED-like experience. At a TEDx event, TEDTalks video and live speakers combine to spark deep discussion and connection in a small group. These local, self-organized events are branded TEDx, where x = independently organized TED event. The TED Conference provides general guidance for the TEDx program, but individual TEDx events are self-organized (subject to certain rules and regulations).
Speakers
Speakers may not be confirmed. Check event website for more information.
Loove Broms
Researcher at Strategic Sustainability Studies, KTH and Associate Professor in Interactive Design, Konstfack
Loove works in the project "Beyond Efficiency", where they look at the design of things and the built environment, and how certain unsustainable norms and values are reproduced and reinforced through the artificial. What is hidden and what is allowed to become central parts in how we create meaning in our everyday lifes? Can we, trough design, create new meaningful experiences that is also sustainable?
Rebecka Engström
PhD candidate at the unit of Energy Systems Analysis at KTH. She is also the founder of the climate initiative Stormvarning.
Rebecka investigates how strategies to increase sustainability within a city impacts resource uses beyond those intended, within and outside that cities. This builds on integrated Climate-Land use-Energy-Water-strategies modelling and aims to develop approaches for local decision-makers to assess these indirect effects.
Sverker Sörlin
Professor in environmental history at KTH
Sverker Sörlin is interested in large-scale historical transformations and what determines whether they will be successful. He is especially interested in the necessary, but so far barely started major transition to a carbon free society. He is an expert on the science and politics of climate change and has written a book on the Anthropocene (in paperback 2018), and co-authored a book on The Environment -- A History of the Idea (2018). His motto: "We are not doomed!"