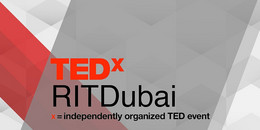 In the spirit of sharing new ideas, discoveries & theories, TEDxRITDubai, an independently organized TED event, is hosting its 5th TEDx event! This year, our theme is "The Bigger Question". We are constantly trying to find the answer to thousands of questions in our day-to-day lives, but how often do we step back to question and re-evaluate the bigger picture? At TEDxRITDubai2021, we gather our community to uncover the bigger question in the areas of our lives that we often forget to question.
Speakers
Speakers may not be confirmed. Check event website for more information.
David Mammano
CEO
During the past 25 years, I have started seven businesses from scratch & now use those experiences to help others to with their entrepreneurial dreams. I'm also a three-time Inc. Magazine 5000 Growth Company winner, a TEDx speaker, an adjunct professor at the University of Rochester, & the author of business & college planning books. I'm a graduate of the University at Buffalo & also a graduate of the MIT Entrepreneurial Master's Program, an executive education program offered through the Entrepreneurs' Organization (EO). I'm also a board member for the Western NY Make-A-Wish Foundation & a local board member for Junior Achievement. My most recent book "Crash & Learn: Lessons in Business" quickly rose to the top of the Amazon best seller lists. Other books include "Make Love in the Workplace" & "101 Things You Can Do to Become an Outstanding Young Adult." As a prolific speaker, I am an internationally requested speaker at entrepreneurial, business, sales, and higher education events.
Speaker
Frankie C. Wilson Jr. is an award-winning syndicated radio show host, speaker, entrepreneur & behavior psychology professional from Dallas, Texas. In addition to being an international speaker, he works on the executive board for several media & content companies. Nominated as Philanthropist of the Year in the City of Dallas, for his efforts with the Giving Project 501c3. He currently works as a behavior professional & student via the Chicago School of Professional Psychology & an Applied Behavior Analysis clinic in Dallas, Texas. He is a member of Alpha Phi Alpha Fraternity Inc. & Phi Mu Alpha Sinfonia. He has a Bachelor's in Mass Media Communications, an MBA in Executive Management & Finance & a Masters in Divinity. I am co-principle of a media and communications agency & founder of The Giving Project 501c3, which creates opportunities for people to give & help others in private. I have a Masters in Business Administration & a Masters in Divinity.
Marah Marei
Student
I am Marah a 15 years old girl who moved from her town to a strange city with strangers who are different, they kept telling her what to do (somethings she didn't want to do) but she realized that she should take her own decisions by herself, which affected her life greatly…
Matthew A. Gilbert
Teacher, Researcher, and Trainer.
I am a teacher, researcher, and trainer with more than 25 years of experience writing, speaking, and consulting. Guided by the motto "learn continuously, live generatively" I develop courses for delivery in person, via blended learning, and online. Leveraging active learning strategies, I facilitate corporate training for entrepreneurs, Fortune 500 employee, and government officials. My research interests include artificial intelligence (AI), blockchain, digital economy, digital marketing, educational technology, entrepreneurship education, global virtual teams, innovation, internet of things (IoT), and the sharing economy. A lifelong learner, I am studying for a PhD in Business Administration with the Bryan School of Business and Economics at the University of North Carolina, Greensboro. When asked why teaching and research are my tenure I explain, "Education empowers me to influence individuals and impact organizations while improving myself in the process."
Nayab Rafiq
CEO/Founder of Pinnacle Middle East
I moved to Dubai at the age of 21 and subsequently traveled extensively as part of my work, creating conferences that feature insightful thought leaders sharing their perspectives on a wide range of topics. This exposure along with my curiosity to explore and understand the world around me has enabled me to have a broad fusion of ideas, some of which I would love to share in this upcoming TEDx event.
Rohit Bassi
Global Conference Speaker
His listeners say he is "passionate, charming and most of all he speaks from the heart. He can move crowds so that the crowds can move mountains." Rohit Bassi helps in developing leadership communication through mindfulness. Resulting in leaders being able to lead with courage, clarity, conviction and compassion. Thus, embracing conflicts, enriching relationships & tapping into emotional wisdom. In this manner mastering your communication to cultivate and elevate success. When communication is not mindful, you sabotage work, relationships & life. Higher ability to speak and deep listening uplifts all aspects of your life. You become more persuasive and influential, with greater ease eliminate conflicts & listen without prejudice. As a world-leading speaker, educator and motivator he does this by helping you to explore the eightfold path. It helps in mental and emotional development thus strengthens your mind. He is known as the "Communication Wizard" or the "Mystic of Compassion".
Sara Al Awadhi
Associate at Hunton Andrews Kurth LLP
Sara is an attorney well-versed in working across diverse cultures and legal systems. She works at an international law firm (across the firm's London, Tokyo, and Los Angeles offices) to advise governments and private sector clients on matters ranging from corporate M&A transactions to financing large multi-million US$ infrastructure projects across North America, Europe, Africa, Asia, and the Middle East. She is passionate about mentoring young women and advocating for gender equality, women empowerment, and inclusion. Frequently, Sara engages in professional speaking presentations on such topics as diversity, women empowerment, law, and education.