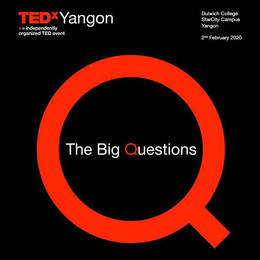 TEDxYangon 2020 will be held on 2 February 2020 at the Dulwich College Yangon (Star City Campus). Under the theme of 'The Big Questions', our event will take on a TEDSummit format where there will be 15 talks along with choices to attend some of the 20 workshop sessions that will be held.
Tickets are now on sale at Myanpwel - https://tinyurl.com/tygahve, with each ticket priced at MMK 100,000 which covers the day's talks, activities, food, gifts, and more importantly, to support the TEDx effort and community.
Speakers
Speakers may not be confirmed. Check event website for more information.
Alakesh Chetia
Silicon Valley Refugee, Entrepreneur & Meditator
Alakesh Chetia is an engineer turned entrepreneur and Vipassana meditator. After building successful businesses in Silicon Valley, California over a span of 25 years and getting fired twice from companies that valued profit over people, Alakesh came to Myanmar to build a business that will serve the unserved. His fondness for Myanmar began when he learned Vipassana meditation as taught in Myanmar. After his first visit to the country in 2015 and learning that 70% of the country's population had no access to electricity, he decided to do something about it. He is passionate about poverty alleviation and women empowerment. In his talk, he will illustrate why Myanmar must choose its own path and not follow the West blindly, seizing the opportunity to leapfrog into the future in the electricity sector.
Artist, Writer, Comic Actor
Htein Lin is an artist, writer and former comic actor. Having spent almost seven years in jail, he has developed artistic practices using available materials at hand. The inspiration for his work includes Buddhism and human rights. To reveal his story about being in the jail, he created the installation "A Show Hands". He has also highlighted discriminatory attitudes towards Burmese women through his work titled "Skirting the Issue". In 2018, he curated a significant exhibition of Burmese artists. In 2019, his installation 'Recently Departed' was involved in the conceptual art show of a major exhibition touring Southeast Asia.
Htet Akar
Traditional Musician, Entrepreneur
Htet Arkar grew up in a fine arts environment with a family of musicians. During the 2000s, he competed in a national competition, the Myanmar Traditional Cultural Arts and Performances, where he was awarded 21 gold medals. He is a Master of Arts, specialising in music candidate at the Yangon National University of Arts and Culture (NUAC). He has participated and performed in international and ASEAN festivals. He currently manages music events as a Music Director and promotes Myanmar music in collaboration with local and international musicians. He also delivers lectures on Myanmar music and Myanmar Hsaing Waing as a music instructor in Thailand and China Universities and lecturer at ILBC and Music for One (INGO). He is trying to promote Myanmar's traditional music to the world.
Soil Warrior
Inda is one of the three co-founders of Bokashi Myanmar which promotes the message that organic waste is not trash. He conducts training and educational sessions for students, gardeners, hotels, schools, NGOs and companies to highlight the importance of soil and food waste recycling. He graduated with a Bachelors Degree in Buddhism Studies, and attended further studies in Nature and Farming and Effective Microorganisms (EM) Technology organized by Asia Pacific Natural Agriculture Network.
Khin Su Sandi Myint
Online Community Builder
Khin Su Sandi Myint (Sarah) graduated with a Bachelor Degree in English, and has attended further studies in Liberal Arts and Sciences at Parami Institute. A self-motivated Burmese Indian raised in Aunglan Township, she found that there were many barriers for girls to achieve their dreams while she was finding her own road map. She is an active supporter of gender equality and has participated in events such as the Vagina Monologues 2019. She is passionate to unlock the layers of social taboos towards girls in order to bring a change. She is now working as the online community builder at Myanmar Youth Empowerment Opportunities (MYEO).
Khin-Sandi Lwin
Leadership Facilitator
After 35 years with the United Nations working in over 10 countries with 3 assignments as Representative, KhinSandi Lwin is pursuing her passion for fostering gender equality. She applies a gendered leadership development approach for women and men drawn from experience as a senior manager and from management and leadership trainings she received. She has conducted leadership retreats since 2004. She is a national of Myanmar with a MSc in International Development from Johns Hopkins University (1983) and a BSc in International Politics from Georgetown University (1979), Washington DC, USA.
Mike Phone Myint
Digital Transformation Enthusiast
Mike Phone Myint has been obsessed with computers and technology since young and learned his first programming language in his early teens. He is known to be the "fixer" by his peers and friends; he loves to solve problems of various sizes, from printer jams to customer experience journey of digital loan applications. Mike has the idealistic goal of transforming Myanmar to be a better country – using digital and technology. He's always seen passionately talking about good governance, project management, cybersecurity, digital strategy and leadership – whether be it at a conference or networking sessions by British Chambers of Commerce Myanmar, where he volunteers as a board director.
Motourlogue Diaries
Overland Adventurers
Sai Zom Pha (Zom) Born in Taunggyi, Shan State, Myanmar, Sai Zom Pha is a media and design practitioner specializing in TV broadcasting and digital media design. During his free time, he helps run his family café in Taunggyi, takes care of his cats, and customizes his motorbikes. Zom was the Host and Organiser of the first Distinguished Gentleman's Ride in Taunggyi in 2017 and the 2nd event in Bagan, Myanmar. Aung Kyaw Win (Ozz) Born in Yangon, Myanmar, Aung Kyaw Win is a designer and entrepreneur by profession but a sailor, boxer and a dog dad during his free time. Ozz is an avid rare motorbike collector and was the co-organiser of The Distinguished Gentleman's Ride in Bagan, Myanmar 2018, a worldwide motorcycle event raising awareness for prostate cancer and men's mental health.
Gamer, Game Designer, History Buff
Naing Lin Kyaw is an intellectually curious gamer as well as a game designer. He graduated from the Myanmar Maritime University specializing in Marine Engineering. He looks up to figures such as John Green & Neil deGrasse Tyson who have inspired him to love art, science, math and history. He co-founded a board game publishing company, Burmah Games, and is currently making a card game set in the alternate history timeline of Yangon. He is using a combination of history, science, engineering, and philosophy to bring unique gaming experiences to everyone.
Nyein Chan Aung
Industrial Designer, Design Researcher and Artist
Nyein Chan Aung has been designing products professionally since 2005 and has won over 12 major design awards for products in aerospace, healthcare and camping. In 2018, Nyein completed his PhD in Industrial Design. His work looked into improving the in-flight sleep of economy class passengers through the design of the aircraft cabin. Nyein is currently a Senior Design Researcher at Monash University's Design Health Collab, where he oversees the design of high-impact healthcare services and products. Nyein has a particular interest in the relationship between creative professionals, created things, and the world.
Nyunt Nyunt Ho
Engineer, Writer, Changemaker
Nyunt Nyunt Ho is an engineer, writer and changemaker. She was born and raised in Myanmar and graduated from the University of Yangon with B.S. Chemistry and later earned her MBA from the University of Phoenix. She has been working at Seagate Technology since 1997 in the US, and is a R&D engineer and a brand ambassador. She spends her free time writing educational articles for women and girls in Myanmar. She has published three self-care books for young women and girls in the Myanmar language. She wrote contents for Myanmar's very first mobile app for women Maymay App and Nyunt is also a regular writer for Dr. Ziwaka Magazine. Nyunt is very interested in other cultures, loves traveling around the world, and taking wildlife photography.
Social Influencer
Phyo Phyo Aung is an established social influencer with a strong following of her Facebook page named 'Food For your Brain', where she shares content about her two passions of business and psychology. A successful businesswoman and entrepreneur, Phyo has spoken at public events about topics such as self-awareness, mental health and women's empowerment. She founded Chance Myanmar which is an online education platform to provide the best online soft skill training in Myanmar. She is currently the Head Instructor of Chance Myanmar Online Training Series and spearheads its operations in Myanmar.
Counselling Psychologist
Su Zar Mon is Co-founder of Reach Out Myanmar psychological and consultancy services that aims to provide affordable and accessible quality mental health services in Myanmar. Driven by her passion to serve humanity, she took the first step to become a counselling psychologist in (2009). With the training that she received from internationally recognized institutes in Thailand and the US, Su has devoted over a decade of her life to promoting the psychosocial well-being of Myanmar people. Su worked as a counselor, freelance consultant, facilitator and trainer for a variety of International and local NGOs, UN agencies, and companies in Myanmar, Thailand and Cambodia. She also puts a lot of energy in educating communities about mental health via different media channels.
Polymath
Having grown up in isolationist Myanmar, Thiri Thant Mon is a keen observer of Myanmar's opening to the world and is passionate about education, empowerment and the transition of Myanmar into a vibrant member of the global community. An investment banker by profession, she is the Founding Managing Partner of Sandanila Capital and was previously with Morgan Stanley, Capital One and Yoma Strategic Holdings. She also supports a number of initiatives including Turquoise Mountain, the Yangon Heritage Trust and the British Chamber of Commerce Myanmar as a volunteer board member. Thiri is also proud to be the organiser and lead curator of TEDxYangon.
Wilson John Barbon
Ruralist
Wilson has more than 20 years of experience in rural development. He is passionate about people-centered, locally-managed and transformative approaches to addressing issues of rural people. He is currently the Country Director of the International Institute of Rural Reconstruction (IIRR) in Myanmar. He is Filipino but has been working in Myanmar since 2014. He grew up in a southern city of Davao in the Philippines. After graduating with a Biology degree, he went on to work for a local non-profit in southern Philippines for 10 years working with farmers, fishers and rural women, organizing and building their capacities to engage government and businesses. He also worked with small-scale fishers in the islands of Bohol, central Philippines to develop and implement programs for sustainable fisheries and habitat protection.