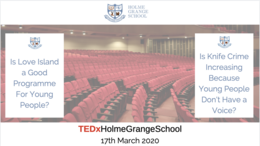 The TV Programme Love Island
This will explore one pupils 'learning' from the TV series Love Island. Although some people would argue that the TV programme is superficial this talk would show the positive impacts the programme could have if viewed in the right mind set.
Themes: Girl and boy code - does it exist
The basis of a good relationship
Signs to look for in a bad relationship
How to handle conflict in a mature manner
Peer pressure and pack mentality
Looks versus the inner person
Is Knife Crime a Problem as Young People Have No Voice
This will look at some of the statistics on youth crime and explore the various reasons why these types of crimes might be happening.
Speakers
Speakers may not be confirmed. Check event website for more information.
Isabel Bain
Isabel is a pupil at Holme Grange School.