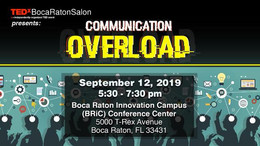 Thanks to digital devices, the world we live in is more connected than ever before. Every day is a constant juggling of googling, posting, tweeting, snapping, texting and/or emailing. In fact, the average adult spends more than 11-hours a day consuming media. Children and teens spend more than 7-hours a day looking at their screens; and every year that stat is rising. Research shows too much screen time can have lasting consequences on the brain. With so much information at our fingertips 24/7, have we inadvertently created a society that is overworked and overwhelmed? Are we living in a generation that is addicted to communication? What are the implications and where do we go from here?
Join our group of curated experts September 12 at the Boca Raton Innovation Campus as they speak about Communication Overload, observations and implications.
Speakers
Speakers may not be confirmed. Check event website for more information.
Dr. Aviva Legatt
Ed.D. Field Of Study in Higher Education
An executive coach, professor, and college consultant, Dr. Aviva Legatt's mission is to provide coaching, training, and resources that empower every generation's achievers to lead authentically. Serving as Affiliated Faculty at the University of Pennsylvania in Organizational Dynamics and Knowledge @ Wharton High School, Dr. Legatt's courses on Diversity & Inclusion and Effective Collaboration have been taken by thousands of Coursera learners and recognized by Poets & Quants as a "Best Business Course." Dr. Legatt's clients use her Ivy League admissions committee experience and all-around college expertise to build their profile for top tier colleges while optimizing their leadership, building insider connections, and creating stretch goals. As a Forbes Senior Contributor, which recognizes the top 2% of Forbes Contributors, Dr. Legatt has had the honor of covering current higher education issues and interviewing U.S. leaders.
Dr. Elan Barenholtz
Co-Director of the Machine Perception and Cognitive Robotics (MPCR) Lab at FAU
Dr. Elan Barenholtz is the Co-Director of the Machine Perception and Cognitive Robotics (MPCR) Lab at FAU. Since 2015, the MPCR has engaged hundreds of people across academic levels, scientific disciplines and industries in the new field of deep learning artificial intelligence and its many applications. Elan began his career as an experimental psychologist, investigating human perception from a behavioral/cognitive-science perspective. The remarkable recent success of artificial neural networks—computer simulations of brain computation that learn—convinced him that an important piece of the puzzle of the brain had been discovered. He co-founded the MPCR to develop theories and applications of broad brain properties—such as perception, attention, curiosity and creativity— and test them embedded in robotic agents and applied to real-world problems. Elan earned his Ph.D. in Experimental Psychology/Cognitive Science at Rutgers University and postdoctoral study at Brown University.
Jessica Merrell
Social Entrepreneur, 81-c
In her marketing career, Jessica led campaigns for some of the world's leading brands. As an entrepreneur, she has successfully grown companies by creating teams & processes that maximize value through increased efficiency. Jessica is a member of Entrepreneur's Organization and an ambassador for Women's Entrepreneur Day, an international campaign celebrated at the United Nations. She participates annually at the UN discussing topics around the Sustainable Development Goals and how blockchain technology & global-minded entrepreneurs can accelerate the time to reach these goals. As a philanthropist, she focuses her efforts on the Merrell Family Foundation where they are working to create a society that prioritizes brain health across generations and treats mental illness like any other medical illness. She believes that significant impact is made in the world by creating, inspiring and leading teams of passionate people who are willing to lend their skills & time to make a difference.
Steve Nudelberg
Sales Trainer, OnTheBall Ventures
Steve Nudelberg is an Author, Expert Sales Trainer, Biz Dev Expert, and Serial Entrepreneur. His core philosophy is to ignite individuals and teams by enhancing their awareness about small, yet, powerful changes they can make to instantly sharpen individual performance. Steve's specialty within organizations centers on creating daily sales processes, sales acceleration and development, Social Selling, The Art of Building Relationships, Storytelling to make conversations engaging, and Pipeline Development.