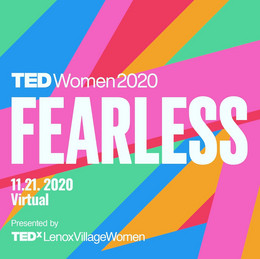 In the spirit of ideas worth spreading, TEDx is a program of local, self-organized events that bring people together to share a TED-like experience. At a TEDx event, TEDTalks video and live speakers combine to spark deep discussion and connection in a small group. These local, self-organized events are branded TEDx, where x = independently organized TED event. The TED Conference provides general guidance for the TEDx program, but individual TEDx events are self-organized (subject to certain rules and regulations).
Speakers
Speakers may not be confirmed. Check event website for more information.
Public Speaker
Arica Robinson is a passionate lover of life. She is also a mother of four, a teacher, a wife, and a follower of Jesus. Sharing her stories and encouraging others is a role she enjoys through public speaking and teaching. Find her podcasts at aricarobinson.com.
Founder & CEO, Career Thrivers
Brittany Cole is a speaker, coach and consultant that is passionate about equipping leaders to cultivate an inclusive culture where diverse talent believe they belong. As a former sales and marketing leader, Brittany has experienced how intentional leadership development increases colleague engagement, accelerates career achievements and drives business results. In addition to her corporate achievements, Brittany founded Career Thrivers, which is a leadership development firm that partners with organizations to engage, develop and retain diverse talent through targeted leadership development. Brittany studied Political Science and Communications at The University of Tennessee, Knoxville and earned a certification in Strategies for Building and Leading Diverse Organizations from The Harvard Kennedy School of Public Policy. Brittany also serves as a mentor with Pathway Women's Business Center, Marketing Director for NSN Nashville and speaker coach for TEDxNashville.
Caniya Jones
High School Senior
Upcoming Senior at West Creek High School planning to do dual enrollment to get a head start in college. Plans to go to college for Audio Video Production. Currently working in customer service at Little Caesars. Planing to play basketball for her third year this season.
Aspiring NASA Aerospace Engineer & Play Like A Girl! Ambassador
Ten year old Carwyn Wilson was born in New Orleans, La and has always had a little extra spice in her personality! She now calls Middle Tennessee home where she's a 5th grader with aspirations to become an aerospace engineer for NASA. Carwyn has been intrigued by science and technology since she was an infant. She is enamored with the stars and often questions what lies beyond the sky. Carwyn is also a creative who enjoys dance, painting, interior design, and fashion. In 2019 her art was featured at the Frist Museum. She says that in addition to being an engineer at NASA, she also wants to design fashionable, yet space friendly suits for the astronauts. As an ambassador for Play Like a Girl Carwyn has learned that no dream is too crazy, no goal is unattainable and no star beyond her reach. As the daughter of a Marine Corps veteran, Carwyn has a great appreciation for her country, her culture, and her community.
Student, Nonprofit Leader, and Humanitarian
Harrison Barnes is an 18-year-old rising sophomore at Belmont Abbey College in Belmont, North Carolina. Diagnosed with Sensory Processing Dysfunction and High Functioning Autism as a toddler, Harrison struggled to find an outlet for his energy and abilities until he found BMX Racing. On his bike, Harrison found a means of coping with the world around him and his life took a dramatic turn for the better. One day, Harrison noticed that there were a relatively small number of children he knew who regularly rode bicycles. Harrison decided he wanted to do something about that and his organization, GearUp, was formed. Harrison believes that riding a bike is a way to bridge social and cultural gaps, build self-esteem and develop character. Harrison is one of the first young adults with an Autistic Spectrum Disorder to be recruited as a scholarship athlete and is studying to one day become an occupational therapist.
Executive Director of Futuro
Jennifer Novo is a dedicated champion of diversity. For seventeen years, Jennifer worked closely with diverse students both inside and outside the classroom. Her experiences in academic enrichment, retention, student success and student life give her the unique ability to connect with people. While on campus, her passion and leadership for student success spearheaded multiple initiatives to enhance learning and campus diversity. As a facilitator, Jennifer uses her workshops as a hub for learning, growth, and development. She is an advocate and promotes learning through positive reinforcement. She understands that each individual learns differently and tailors her lectures and workshops to the unique personalities and abilities of the group. Jennifer embraces diversity and the sharing of ideas. Her philosophy is to promote open communication with a balance of respectful engagement and honest conversation.
Julia Schemmer
Author & Host of Darling Live
I am currently studying Communications and Media at Wilmington University. With my professional background in the entertainment industry and my passion for volunteering, I hope to make a difference by helping connect nonprofit organizations to the entertainment industry through public relations, partnerships, and marketing initiatives. I am an entertainment reporter based in Los Angeles, California, and my writing has been featured on the Los Angeles Times, MTV, Huffington Post, and USA Today. I also host a weekly talk show on Instagram Live called Darling Live (@darling.live), where I interview various influencers in arts, culture, news, and politics.
Data Scientist & Analyst
Kavya lives in the world of analytics. She completed her undergraduate degree in mathematics to help her push data-driven decisions in the workplace. Kavya views the solution to any problem through the lens of math. She started her analytics career working in healthcare on an operations improvement and engineering team. There she worked on improving the operational flow of clinics using pooled time series analysis. This is where she learned the true value to effectively communicating to colleges, clients, and managers due to her project scoop covering 5 different clinics. Kavya works for an insurance company on the strategy and analytics team where she monitors the health of different products and initiatives along with writing predictive algorithms through the use of mathematical models, programming languages and statistics. Because Kavya works with numbers on a daily basis she has learned to effectively communicate complex actions driving by machine learning math methodologies.
8th Grade Student
Makayla Mullins is a 13-year old, rising 8th grader at Rose Park Middle Magnet. She is a Salama Urban Ministries Youth Ambassador
US Paralympic National Swim Team Member, Internationally Classified S9/SB8/SM9
MeiMei grew up in Georgia after being adopted from China at 18 months. She was born with Proximal Femoral Focal Deficiency (PFFD) of her right leg and has had several surgeries on that leg. She is an above the knee amputee. Began swimming at the age of 5 with Coach Fred Lamback. Daughter of Michael and Kelley White. Has two older siblings, Keegan and Mackenzie. She joined the Athens Bulldog Swim Club in May of 2020. Social media handles/links: Facebook: https://www.facebook.com/MeiMeiWhiteUSA/ Twitter: https://twitter.com/MeiMeiWhiteUSA Instagram: https://www.instagram.com/meimeiwhiteusa/
Penny Arwood
Hello! My name is Penny Arwood and I am a recent graduate from UTC with a degree in communications and would love to be considered for your team! I currently have interning and professional experience from Morning Pointe Senior Living's corporate office, Tennessee Suicide Prevention Network, and A.D. Engineering. In these positions, I have done social media, website updates, small media writing, and administrative work. I have six years of work experience in retail, food service, and customer service, so I know what it takes to go above and beyond to create happy clients. My high school and college careers were riddled with leadership positions including hospitality coordinator for the Baptist Collegiate Ministries, spirit and sportsmanship leader for robotics, and currently head worship leader at White Oak Baptist Church's Access Campus. I love being part of a team and, where the need arises, I love leading and encouraging people to be the best they can be. Finally, I am a fast and dedicated learner. I am detail oriented, motivated, and not afraid to ask for help to achieve whatever is needed or necessary. I would love to hear from you if you have a position in the Chattanooga/ Hixson area and think I could be a good fit! I am always available by email at parwood96@gmail.com or by phone at (615)574-1106. I hope you have a great day!
Tim Crawford
Owner of Food by TC
Born in Indianapolis, IN, Tim was raised in the Nashville area once his family moved at the age of three. He is a product of the Metro Nashville Public School system, where he attended Hume-Fogg Academic High School which is in the top 50 best high schools in the country. He graduated from there in 2009 and was an active member in the Jazz Band program during his tenure as one of the lead vocalists. Tim also was a member of the Boys and Girls clubs of Middle Tennesee from the Age of six until he graduated high school. He obtained the status of State Youth of the Year in 2009 for the State of Tennessee which is a program through the Boys and Girls Clubs of America which takes kids who grew up and had to deal with tough life situations and used those as motivating factors to make the positive choices to achieve greatness in their lives. He holds an Associate Degree from SAE Institute Nashville for Audio Engineering and Production work.
Challenged Athlete & Co-Founder of The Drifted Drum Company
Tyler Jones is many things: Class of 2020 high school graduate, cancer survivor, amputee/challenged athlete who is medalled internationally, and entrepreneur/apparel and brand designer co-founding The Drifted Drum Company, also known as "the business of encouragement". He was the 2019 Challenged Athletes Foundation male Sam Day Rising Star Award Winner and he is a frequent advocate and public speaker for cancer awareness, pediatric cancer, and disabled athletes. You can learn more about him and his platform and support his cause by visiting www.thedrifteddrum.com and following him on IG @tylergjonesy and @thedrifteddrumco.