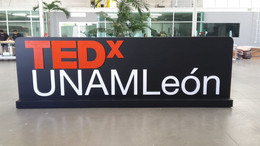 In the spirit of ideas worth spreading, TEDx is a program of local, self-organized events that bring people together to share a TED-like experience. At a TEDx event, TEDTalks video and live speakers combine to spark deep discussion and connection in a small group. These local, self-organized events are branded TEDx, where x = independently organized TED event. The TED Conference provides general guidance for the TEDx program, but individual TEDx events are self-organized (subject to certain rules and regulations).
Speakers
Speakers may not be confirmed. Check event website for more information.
Dharma Rabbit
Maestro de yoga y meditación, productor musical de profesión y apasionado del arte, las ciencias humanas y la naturaleza. Su vocación está en el cultivo de la consciencia, el altruismo y el pensamiento crítico. Es Director de Dharma Rabbit y lead trainer de Vy Vynaza Yoga.
Photographer + educator
CEO, Director y fundador del Festival de Fotografía Internacional en León (FFIEL). Docente en materias de fotografía digital, fotografía de producto, retrato y Photoshop. Posicionó el FFIEL entre los 5 mejores eventos de fotografía en México y su trabajo ha sido publicado a lado de grandes fotógrafos como el Premio Pulitzer, Maya Goded, Gerardo Montiel Klint, entre otros. Ha participado y realizado más de 30 exposiciones individuales y colectivas, nacionales e internacionales.
Javier de la Fuente
Innovative educator + author
Odontólogo de profesión, ha sido un impulsor de la innovación educativa en México. Participó como incubador del proyecto de descentralización de la UNAM que para 2011 culmina en la creación de la Escuela Nacional de Estudios Superiores Unidad León en Guanajuato. Actualmente sigue desarrollando proyectos innovadores en educación superior en la Unidad de Extensión San Miguel de Allende de la UNAM.
Mani Alikhani
Orthodontic researcher
Dr. Mani Alikhani is an innovator, scientist, clinician and educator who uses a polymath's instincts and rigorous application of translational research to develop innovative clinical approaches to severe craniofacial problems.
Pedro G. Mendoza
Business expert
Licenciado en Administración y Mercadotecnia por la Universidad Panamericana, cuenta con un posgrado en Mercadotecnia Internacional. Se consolidó en la industria alimenticia de consumo masivo, colaborando para firmas internacionales. Consultor, conferencista y académico de los programas ejecutivos del EGADE Business School del TEC de Monterrey; es escritor y miembro de la Sociedad General de Escritores de México. Su primera obra literaria es la novela "Sueños de la Ciudad" Actualmente es Director General en Magno Humano Network.
Regina Yamín
International athlete
Licenciada en Administración de Empresas por la Universidad Iberoamericana, se ha distinguido como atleta en el panorama internacional por más de dos décadas, teniendo como pilar fundamental del éxito a su familia. Desde hace 5 años cuenta con una Clínica de Rehabilitación Física. Ella se distingue por su humildad, perseverancia y generosidad, rompiendo su límites en el deporte y en su vida.
Ricardo Mitrani
Passionate dentist & speaker
Se graduó de la carrera de Cirujano Dentista en la Universidad Tecnológica de México en 1990, y una especialidad y maestría en Rehabilitación Oral en la Universidad de Washington, donde se ha desempeñado como profesor afiliado durante los últimos 20 años. Es profesor en SPEAR Education, la cual es una de las plataformas de educación continua en odontología más robustas del mundo. Autor de múltiples artículos y capítulos de libros de texto en el área de terapia interdisciplinaria. El Dr. Mitrani ha dictado más de 500 conferencias en más de 30 países por todo el mundo.
Rodolfo Ferro
Tech geek
GitHub Campus Expert en el programa internacional de GitHub Education, labora como Consultor de Tecnología en el Laboratorio de Innovación Social y Pública del Municipio de León, Asistente de Investigación CONACyT en temas de IA, realizó un Summer Intership en temas de IA + Química Cuántica en Harvard University. Premio Estatal de la Juventud Guanajuato 2018, Silver Award en iGEM 2016 y ganador del IBM Hackapalooza 2018, entre otros.