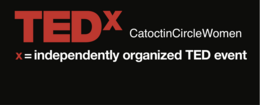 In the spirit of ideas worth spreading, TEDx is a program of local, self-organized events that bring people together to share a TED-like experience. At a TEDx event, TEDTalks video and live speakers combine to spark deep discussion and connection in a small group. These local, self-organized events are branded TEDx, where x = independently organized TED event. The TED Conference provides general guidance for the TEDx program, but individual TEDx events are self-organized (subject to certain rules and regulations).
Speakers
Speakers may not be confirmed. Check event website for more information.
Jamilla Gault
Rev. Jamilla Gault is a passionate, fearless leader on a mission to serve the community, to empower women and to help each and every person she encounters become the best version of themselves that they can possibly be. Being a wife, mother of 3 daughters, preacher, special education teacher, singer and activist Jamilla understands that there is no time to spare on ideals, people and things that are not in line with your purpose. "God has given each and every one of us a purpose in life. It is our job before we leave this earth to discover that purpose, live in it and fulfill it". She has been asked to speak, teach, lead prayer and serve all over the DC, MD, VA area and prides herself on using the gifts and talents that God almighty has bestowed upon her. Jamilla earned her Bachelors of Arts degree in Political Science at Howard University in Washington D.C. in 2002 and her Masters of Special education degree at George Mason University in 2010. Jamilla is currently in her 12th year as special education teacher for Prince William county schools, leader of the community engagement ministry of Providence Baptist church in Leesburg VA where her husband Corey Gault is Pastor. She currently resides in Fauquier county with her husband and 3 daughters: Twins Taylor and Taytum and their sister Trinity Gault.
Jennifer Cochran
Jennifer C. Cochran, LMT, CLT is the owner of Fitness Design Solutions, LLC where she works with cancer survivors to keep them moving during cancer treatment or help them get moving again when treatment is over. Getting curious about our new normal, what works and what does not is key to moving forward with confidence. Knowing when we face challenges, we can always try something different.
Malaika Simmons
Malaika Simmons is a performance mindset expert, a 2X Amazon best-selling author, 2x Toastmasters club President, philosopher, speaker, consultant, educator, coach, humanity advocate, wife and mother. Malaika is co-author of two books, including the Amazon bestselling "The Success Blueprint" with Brian Tracy, and "Entrepreneurial Elevation", a compendium of lessons and leadership from 31 purpose-driven entrepreneurs. Malaika is the creator of The Momentology MethodTM, and CEO of Momentology Media, LLC. Malaika uses The Momentology MethodTM to help executives and high performers create daily momentum and implement a plan that lets them stand out, step up and create the impactful business and life they have always wanted. Malaika used to be very "busy". Then she discovered that when you add a little brilliance to your "busy", you get balance. Manage life in moments. That's what the Momentology MethodTM is all about. Learn to accept the "now". Realize that all you need to be successful you already have within you. Many of us just need help bringing it to the surface. She uses her methodology to show you how to design a life that matters and be creative and calculating in the execution of your dreams.
Todd Buterbaugh
Executive Coach
Todd is an executive coach and trusted advisor to billionaires, high level CEOs and leaders with a world changing mission. He calls out of them and their teams their biggest dreams, helps them create a vision with meaning and purpose, and builds high impact teams to create a distinct and profitable brand. He can be reached at toddbuterbaugh.com.