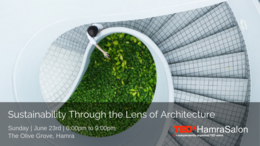 Sustainability takes many shapes and forms. Nowhere is this more evident than in architecture and design.
At this upcoming salon, we'll take a glimpse at local and global innovations that transform the way we build and create the indoor and outdoor spaces we inhabit.
Join us for an exciting conversation with a live speaker, pre-selected TED talks, performances, and bites!
Speakers
Speakers may not be confirmed. Check event website for more information.
Founder of NH-Architectes and LIFEHAUS
Nizar Haddad holds a specialized graduate degree in architecture from the Academie Libanaise des Beaux Arts (ALBA). In 2011, he founded NH-Architectes in 2011. His interest in green architecture grew to include techniques that promote a sustainable, self-sufficient dwelling. Nizar decided to develop the LIFEHAUS. In November 2016, Nizar travelled to a remote island in Indonesia where he took part in a workshop led by Earthship Biotecture to build a self-sufficient bungalow. In 2017, he created in his first prototype in his hometown, Baskinta