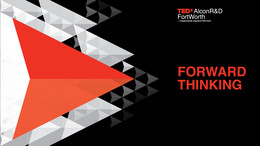 Forward Thinking is a phrase that describes one's thinking with the future in mind. Forward Thinking is this year's TEDxAlconR&D Fort Worth theme. Organized and hosted by volunteers to help inspire our colleagues to make a difference in shaping Alcon's culture and working environment.
Our 13 selected speakers are coming from different functions within Alcon, including Research and Development, MTO, Quality, Finance, Sales, Diversity and Inclusion, as well as several external speakers.They have worked 8-9 weeks to deliver the talk of their lives. This event give us the opportunity to gather, share ideas and open our minds to help unleash our potential as we move forward toward a new Alcon, solidifying the company's Values & Behaviors.
TEDxAlconR&D is on its 2nd year held at the Fort Worth campus and for the first time in our Switzerland, California and Georgia offices.
This event will be hosted by Philip McCulloch, Alcon, Principal Optical Engineer; Surgical IOL R&D and Jamie Walker, Alcon, Project Manager I R&D.
Speakers
Speakers may not be confirmed. Check event website for more information.
Ben Sullivan : Using AI to Tame the Increased Complexity of Manufacturing
Alcon, Technical Steward; MS&T Data Analytics
Ben has been combining data analytics and ophthalmic product development and manufacturing his entire career. For Ben, pulling insights from data has always been paramount in guiding decisions. He has spent about 10 years in various research and development environments, doing process and measurement system development. He was also a key member to several research and development project teams. In late 2014, Ben moved to the highly automated manufacturing environment of contact lens production and was given first-hand experience in the nearly incomprehensible rate of information creation of the modern era. After several years of grassroots efforts, he was able to kick off a pilot program within Alcon's Manufacturing organization to create AI-based applications to improve output, cost and quality.
Benjamin Grullon : Opening Up New Doors
Alcon, Sr. Business Planning & Analysis Analyst, FIN - Global BPA Mgmt Reporting
Benjamin believes in the possibility of a better world where we live smarter, conscious about the environment and eager to help each other. For him, the mentality is what set people and countries to be successful. With the right mentality, we are able to change when needed and take actions to succeed. This mentality has helped him overcome difficulties, accomplish goals and get closer to his biggest dreams (still a lot to get done, but closer every year). Has lived in 5 countries, which has immersed him in different cultures and enriched his global perspective, giving him the ability to adapt quickly. Holds a Bachelors degree in Industrial Engineering with a minor in Finance. Has been at Alcon for more than 3 years in Finance and currently helping on a project with the goal of implementing disruptive business models. Finally, leads the Alcon Young Professionals, an employee resource group he created to help Young Professionals succeed in their careers and personal lives.
Carolina Kunnen : Wooden Shoes Underneath The Hot Sun
Alcon, Sr CDMA Project Lead, CDMA Vision Care
At 24, Carolina moved to Ghana to setup The Optical Foundation's first project, providing eye care for children and educating Ghanaian Optometry students. Starting from scratch, Carolina built her foundation to a mature organization with the aim to make eye care accessible in Ghana through comprehensive eye exams, education, and research. Carolina grew up in the east of the Netherlands and completed her degrees in Optometry and Orthoptics. She worked in a contact lens specialty clinical practice for more than 7 years. Yet, her curiosity drove her to Australia to earn her PhD at the Brien Holden Vision Institute / University of New South Wales. After her PhD, Carolina held a Research Assistant Professor position at the University of Houston. Carolina is a program committee member of the Netherlands Contact lens Congress (NCC) and leads their NCC conducting research initiatives. Carolina joined Alcon in December 2017.
Chanh Cao, Kevin Nguyen Ho,Anthony Ho and Andrew Le : Lion Dance Our Wake-Up Call To Forward Thinking!
Rising Phoenix Lion Dance Association
We are a nonprofit organization that has been around for over a decade, practicing the art of modern Lion Dancing in the Dallas/Fort Worth metroplex. We strive to keep the traditional art of lion dancing through our 25+ members, consisting of high school students and young professionals. We are a young and dynamic group who aims for success and the impossible. Our team was established in October 2014 by four friends who had a passion for lion dancing. We have performed over 100 shows , traveling anywhere from all of DFW to Houston. We are Rising Phoenix Lion Dance Association.
HayLey Norman : Dream Small
Consultant
Triple major, mother of two, former Mrs. Florida, published author, recognized consultant, speaker on visionary leadership and talent development, and dreamer of small dreams. Hayley has won over 45 awards for sales and marketing performance and was recognized for her dedication to the development of others with the prestigious LEAD award. Hayley is never one to turn down a challenge, especially the ones she creates for herself. She has already accomplished several of her small dreams like appearing on a Broadway stage, Trading Spaces and The Price is Right, but her list of small dreams is never-ending. Hayley is still waiting for the perfect opportunity to hold a giant balloon in the Macy's Thanksgiving Day Parade. She is motivated to use her platform to educate and inspire, showing just how critical dreaming small is to living a life of engagement, meaning and celebration.
Jim Scott : Mindful Indulgence
Alcon, Sr. Principal Engineer, Product Design & Development
Jim is a scientist, author, speaker and former drug-free bodybuilder. Jim graduated with a Bachelor and Masters in Chemical Engineering at Virginia Tech. After powerlifting in college, his weightlifting training interest shifted to bodybuilding. In 1992, he competed in his first drug-free bodybuilding competition, and by 1995, he perfected the exercise and diet routine into the Ultimate Body Program. He spent the next 25 years continuing his passion for strength training, 5K competitions, yoga and meditation, as well as, training and inspiring others to achieve their ideal fitness level. In 2016, Jim met Kelly Crouch, and together, they refined the Ultimate Body program and renamed it, Mindful Indulgence. This program is a scientifically based approach to maintain low body fat with minimal exercise. By aligning eating patterns with the natural circadian rhythms of the hypothalamus, one can make the mind, body and spirit connection that will produce optimal health for a lifetime.
Joan Buccigrossi : Allies
Alcon, Head Global Diversity & Inclusion, Global Commercial & Innovation
Joan began her career as a teacher, but soon realized that the standardized educational system did not work well for every child. Her attempt to make changes were met with bureaucratic roadblocks. Years later, she served as the principal at a progress school, where all children were encouraged to learn and grow at their own pace. Eventually, Joan asked herself what she would do if she could do anything she wanted. Her love of theater and photography translated into film production, and she became an international film producer. She won a CINE Award for a TV series teaching entrepreneurial skills in post-communist Hungary. Fascinated by the impact of social dynamics on people and organizations, Joan moved from film to organizational development. She earned a PhD in Human and Organizational Systems. Before joining Alcon, Joan was the head of Diversity and Inclusion for Kellogg's and Rockwell Automation. She has a passion for helping people and companies reach their full potential.
Kelly Crouch : Mindful Indulgence
LMSW, MTS
Author, speaker, counselor and chaplain, Kelly instructs individuals and groups on the practice of mindful indulgence, health and well-being. Kelly has a Bachelors in psychology from UT Austin, a Master in Social Work from UTA and a Master of Theological Studies and Pastoral Counseling from Brite Divinity School at TCU. Kelly spent 20 years working as a family therapist, chaplain and hospice social worker. After meeting Jim Scott in 2016, through the study and practice of mindfulness and meditation at the Bodhi Manda Zen Center in NM, they co-created the Mindful Indulgence Program. Kelly has made it her passion to educate people on the myths surrounding traditional diet and exercise methods and free them from the struggle of yo-yo dieting and the accompanying struggle with self-esteem. Mindful Indulgence is a revolutionary approach to achieve ultimate health by developing the body, mind, and spirit connection.
Liz Champtaloup : Understanding the Subconscious Mind
Alcon, Surgical Country Training Manager, Alcon Australia
In 2002, Liz joined Alcon in Surgical Sales and Management. An unexpected fork in the road in 2012 took Liz away from Alcon and ophthalmology to study the Subconscious Mind. Her passion for understanding how we respond to life events and how this shapes our reality, led her to a career in Holistic Wellness with Quantum Psychology. Her experience with clients reinforced the simplicity and the mystery of the laws of the subconscious mind. In 2017, Liz received an opportunity to return to Alcon. She authentically shares her experience interspersed with the science of the subconscious mind. Our potential is limitless when our subconscious beliefs are aligned with our conscious goals. Liz shares how we, as individuals, as teams and as an organization can proactively align with the universal laws of the subconscious mind, enabling us to work smarter, elevating and accelerating performance on every level.
Renea Stasaski : Using Clues to Open Windows of Opportunity
Alcon, Project Head III, Surgical Projects
Renea has had a love affair with numbers for as long as she can remember. She still owns the HP programmable calculator she received in high school, and is flooded with fond memories when she unzips the large brown padded case. Her love of numbers led her to study mathematics and biomedical engineering in college and graduate school, where she built a strong foundation for critical thinking. In addition to using critical thinking skills as an engineer and leader in the medical device industry, she has taught inductive and deductive logic, fallacious reasoning and problem-solving techniques part-time throughout her professional life. On October 12, 2015, she had a life changing experience as an ophthalmic patient that gave her new insights about missed opportunities for applying these critical thinking skills.
Robert Brown : I Love Alcon; Can It Be Better?
Alcon, Principal Technician, IOL Delivery Systems 03
Robert, has proudly worked at Alcon for over 18 years, working in various groups within Research and Development. He is a passionate song writer, producer, musician and vocalist. He has shared the stage with Platinum and Grammy-award-winning artists such as Kirk Franklin, Mary Mary, and Morris Day and The Time. Robert started singing at an early age and cultivated his gift in his father's church. He also gained recognition for his contemporary vocal ability by the Dallas/Fort Worth's region's NAACP Afro-Academic, Cultural, Technological and Scientific Olympics (ACT-SO) competition, and went on to be ranked among the nation's best by competing in the ACT-SO finals. Robert currently resides in Texas with his wife Nicole and three sons, and is currently the worship leader at Encounter Church.
Roee Lazebnik : Think Before You Think
Alcon, VP, North America Medical Organization, NA CDMA
Dr. Lazebnik is a physician-executive experienced in building and leading medical affairs, clinical research, and product safety organizations in the medical device, life science, and biotechnology industries. In addition, he is the author of 100+ published manuscripts, textbook chapters, conference proceedings, whitepapers, and patents on many topics related to medical devices and biotechnology. Prior to joining Alcon, Dr. Lazebnik held a number of medical, R&D, and marketing leadership roles at Pfizer, General Electric HealthCare, and Siemens Healthcare. During this time, he led and supported many successful product launches across a large variety of medical devices, software, and pharmaceuticals across many clinical specialties. Dr. Lazebnik earned his MD from the Case Western Reserve University School of Medicine and his PhD degree in Biomedical Engineering from the Case Western Reserve University School of Engineering.
Rustin Floyd : Transformation Through Innovation
Alcon, Global Director and Head, HCP Training & Education
Rustin Floyd is passionate about creating powerful learning experiences for health care professionals and patients. Inspired by global congresses and direct customer engagement, he has identified a process to bring about change through innovation. Rustin is the Global Director of Health Care Professional Training and Education at Alcon. Working across Surgical and Vision Care business units, he has initiated and led global efforts in building customer educational platforms under Alcon's newly created brand, Alcon Experience Academy. Rustin's work with iBooks and the WaveLight Refractive Suite iPad app was recognized by Apple and featured by their enterprise solutions team. In his current role, he has launched AlconExperienceAcademy.com, showcasing over 800 educational videos and featuring global live-stream webcasts to unite ophthalmologists around the world. Most recently, Rustin has pioneered the application of virtual reality for ophthalmic training and education at Alcon.
Sooh Sauceda : Possibility Over Comfort
Alcon, Sr Engineer I R&D QA, Quality R&D Surgical
Sooh Sauceda is a Quality Engineer in Surgical Research and Development. She has been with Alcon for 18 years and has held various positions within Alcon's Research and Development and Quality organizations. Sooh was the first person in her family to obtain a college degree and become an engineer. Since a young age, she had a tendency to choose a different path than the people surrounding her or expected of her. She believes that by doing so, she was able to build courage and resilience, while learning to adapt and overcome unprecedented problems.