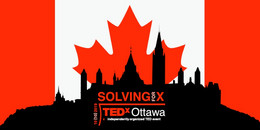 In the spirit of ideas worth spreading, TEDx is a program of local, self-organized events that bring people together to share a TED-like experience. At a TEDx event, TEDTalks video and live speakers combine to spark deep discussion and connection in a small group. These local, self-organized events are branded TEDx, where x = independently organized TED event. The TED Conference provides general guidance for the TEDx program, but individual TEDx events are self-organized (subject to certain rules and regulations).
Speakers
Speakers may not be confirmed. Check event website for more information.
Journalist and Human Rights Advocate
Amira Elghawaby is an award-winning journalist and human rights advocate. Along with frequent appearances on Canadian and international news networks, Amira has written and produced stories and commentary for CBC Radio, the Ottawa Citizen, the Toronto Star, the Literary Review of Canada, and the Globe and Mail. Amira spent five years promoting the civil liberties of Canadian Muslims as human rights officer and later, as director of communications, at the National Council of Canadian Muslims (NCCM) between 2012 to the fall of 2017. She is currently involved with several initiatives to promote civic engagement in diverse communities, including as a founding board member of the Canadian Anti-Hate Network, the Silk Road Institute and as an advisor to the Muslim Fellowship in Toronto. Amira obtained an honours degree in Journalism and Law from Carleton University in 2001.
Sustainable Initiatives Coordinator
Dan strives toward promoting sustainable initiatives for the Limestone District School Board, and is the manager of community based learning & innovation at St. Lawrence College. His concern for the environment is what drives him to take initiative in promoting sustainable solutions within the Kingston community. He continues to engage in initiatives that promote positive sustainable change throughout the Kingston community. His combined interest in sustainability, innovation, entrepreneurship, student mentorship, and community have been well integrated into his personal, academic, and professional experiences. Dan is continuously seeking new opportunities to connect with like-minded professionals who engage in sustainable & innovative initiatives within the community.
Co-founder, Second Cup Officer of the Order of Canada, Humanitarian
Frank O'Dea is a celebrated businessman who has launched and led a number of successful not-for-profits and businesses, including the Second Cup and Street Kids International. He is an inspiring speaker who shares his lessons-learned from his days of living on the streets to his receiving the Order of Canada. It is a wonderful, educational and moving story.
Guy Laflamme
Executive Director and Producer of Ottawa 2017
Guy Laflamme has been producing major events and commemorations for over 30 years. Guy is now invited as guest speaker in Asia, Europe and across North America including presentations as part of the TEDx conference series. From 2014 to 2018 he was the Executive Director and Producer of Ottawa 2017, leading the production of 12 full months and over 200 events and experiences to celebrate Canada 150th Anniversary. Ottawa 2017 was the biggest celebration in Ottawa's history, with an economic impact of over 250 million dollars and 11 million participants.
Founders Live Life Unfiltered Movement
22-year-old twin sisters Keisha and Teagan Simpson grew up struggling with body image, living up to society's unrealistic beauty expectations, and constant comparison. After they realized that the majority of young women shared the same struggles, the sisters co-founded Live Life Unfiltered (LLU); a social media movement where brave and honest young women share how social media often makes them feel insecure about their own bodies, relationships and lives. @LiveLife_Unfiltered and its hashtag, #AsSheIs, are to remind us that behind each 'perfect' photo is a young woman who shares common struggles and insecurities. LLU's #AsSheIs photo challenge has had over 1000+ participants in 14+ countries, demonstrating how willing young women are to changing how we interact with social media.
Marcus Miller began his studies in saxophone at age nine and, with the help of World Renown Saxophonist Bruce Williams (Roy Hargrove, World Saxophone Quartet), he developed a passion that put him on stage professionally at 13. With gifts extending beyond the music, he graduated from Harvard University with a degree in Mathematics. After a short stint at a multibillion dollar hedge fund he moved to New York City to pursue music. He soon developed a reputation as a versatile and virtuosic player, while studying music production and engineering under Grammy-Winning Engineer "Bassy" Bob Brockman (Notorious B.I.G, Herbie Hancock, D'Angelo).
Ottawa City Councillor
Mathieu was born and raised in Ottawa. In University he studied Human Kinetics, getting a Masters from the University of Ottawa with a diverse background in sports policy, project management, and health promotion. He was recently elected to his my third term as City Councillor for the best community in our City – Rideau-Vanier. In his role, he actively represents three distinct communities: Lowertown, Sandy Hill, and Vanier. In his 9th year on City Council, each year, Mathieu has sat on Community and Protective Services Committee which deals with the City's housing and homelessness issues. As Chair of the Board for Ottawa Community Housing and Councillor for a Ward affected by homelessness, housing is top of mind for Mathieu. OCH is the City's largest landlord with more than 15 000 units which have become a true mix of the diversity that we find in Ottawa today.
Mitchell Beer
Publisher, The Energy Mix and President, Smarter Shift
Mitchell Beer is Publisher of The Energy Mix, a thrice-weekly e-digest on climate change, energy, and carbon-free futures, and President of Smarter Shift Inc., an Ottawa-based content and communications firm. He's been involved with renewable energy and energy efficiency since 1977, with climate change since 1997. He's currently interested in ways of building wider, louder public demand for fast action on climate solutions, starting from the interests and priorities people already woke up with this morning. One of his proudest moments was building a model wind turbine out of wooden stir sticks with his then-11-year-old daughter, and improv theatre practices are often the best part of his week.
Steven Day
Founder Canadian National Counter-Terrorist Task Force Commander
eve is the founder and president of Reticle Ventures Canada Incorporated (Reticle), a premium security services consultancy, training provider and prime contractor. He is passionate about National Security and Public Safety issues and remains committed to supporting the men and women who protect our way of life. As a Special Operations Assaulter Officer and Army Military Engineer Steve was fortunate to have had a diversified career with a variety of operational deployments adding significant depth to the breadth of his experience. He is one of a select group of combat leaders that have multiple deployments conducting global operations that span the entire spectrum of conflict.