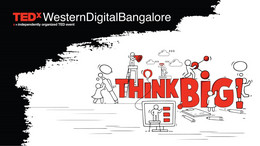 'Think Big' serves as the foundation of our culture and makes us distinct.
This is the journey of the people who challenge the status quo, dare to think beyond the limits and achieve the impossible with the spirit of "We". It is about leaders, engineers, artists, entrepreneurs and innovators who had the courage to dream big and soar high.
Think Big. Expand your horizon. Create the Future.
Speakers
Speakers may not be confirmed. Check event website for more information.
1. Steve Milligan
Visionary Leader
Steve Milligan is Chief Executive Officer of Western Digital Corporation. He assumed the role of CEO on January 2, 2013. He previously served as President and CEO of HGST. During his tenure, he led HGST through a financial and operational turnaround culminating in Western Digital's acquisition of the company in March 2012. Prior to joining HGST in 2007, Milligan was Western Digital's Senior Vice President and Chief Financial Officer. His background includes financial management positions at Dell and Price Waterhouse. He serves as Board Chairman of the Silicon Valley Leadership Group. He is also on the Board of Directors of Autodesk, Ross Stores, Inc. and The Ohio State Foundation.
Technology Leader
Dr. Siva Sivaram is an Executive Vice President at Western Digital, responsible for the company's industry-leading NAND flash memories and other memory and storage technologies. He has more than 35 years of experience in semiconductor technology and manufacturing. He was the founder and CEO of Twin Creeks Technologies, a solar panel and equipment company. He serves on the board of directors of the Global Semiconductor Alliance and the US-India Business Council. He has been on the Board Member of several start-up firms and was entrepreneur-in-residence at Crosslink Capital and XSeed Capital. He also serves on the board of Akshaya Patra, the world's largest NGO dedicated to feeding school children.
Social Enterprenuer
Atul is the Founder & CEO of The/Nudge Foundation. After 17 years of starting, scaling and turning around various businesses in some of the largest and most respected organizations globally, he decided to start The/Nudge Foundation to fulfill his passion of working on inequality and social issues facing India. Atul is now serving both The/Nudge and GiveIndia as their CEO. Atul was previously responsible for global sales, marketing, business-development and operations of InMobi, as its global Chief Business Officer. Over his 5-year stint at InMobi, Atul helped scale the organisation from a small start-up to a global leader in mobile advertising, with operations in 20+ countries. Atul also served on the Board of Mobile Marketing Association. Prior to InMobi, Atul was the Head of Mobile Business for Japan & Asia-Pacific at Google. Atul has been named in the #40underForty list by The Economic Times in 2017.
4. Jo Aggarwal
Technology Innovator
Jo (Jyotsana) Aggarwal is the creator of Wysa, an empathetic AI coach for emotional wellbeing. Wysa is a leader in its field, with over a million users across 30 countries and has won the NHS Impact Award in 2019 for its work in adolescent mental health. Jo has been the Managing Director of Pearson Learning Solutions in the UK and a part of the founding team of Silatech, a non-profit focused on youth empowerment in conflict zones in the Arab world. Her work on mobile employability post Arab-spring helped connect over a million-young people to skills and jobs, and won the Silver at the Stevie Awards, as well as the Global Telecom Business Innovation award in 2013. She is a Fellow of the Royal Society of Arts, and an advisor to employability startups Edureka and Aspiring Minds. She has also served as an expert advisor to McKinsey & Co and National Skills Development Council.
Design Thinker
Jay, abbreviated to JD, is a Design thinker, doer, evangelist and speaker. He has journeyed across multiple specializations within Design, worked in multiple geography, built teams, products, brands and communities. For over half a decade, he set the foundations and grew the UX practice at Adobe India - covering a diverse spectrum of Adobe products and digital platforms. He has led the Design group at Flipkart and has been a Designer-in-residence at a VC. As SVP of Ux at MakeMyTrip - JD leads the Experience Design Charter for India's largest online Travel agency, including GoIbibo. His love of travel especially helps! He is the founder/curator of the DesignUp Conference - called "The Definitive Design-In-Tech Conference" and listed amongst the "most exciting Design events worldwide".
Acclaimed Artist
Murari Sharan Gupta, the Managing Trustee of Samam, is devoted disciple of the renowned Pt. Birju Mharaj and an acclaimed artist in his own right. He began his journey in dance very early in life, and today a brilliant performer, creative choreographer and dedicated teacher. For the past two decades, Murari has been learning, performing and perfecting his art. He has performed at renowned dance festivals of India and has a steady repertoire of performances of various dance ballets and solo dance recitals both India and abroad. Sri Murari is a versatile artiste, who is also adept in the folk dances of India, Kalaripayattu & Contemporary dance. He is also an accomplished tabla and pakhawaj player. His objective is to promote various facets of dance among enthusiasts and students. Pursuing his dream of perpetuating the rich culture heritage of India, he established Samam in 2006.