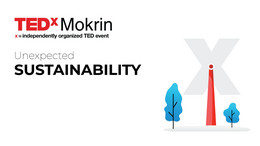 Living in the age of abundance, sustainability becomes a responsibility. What are the most unexpected pockets of sustainability that can be reexplored today? This year, TEDxMokrin will be discovering the unlikely crossovers between sustainability and business, arts, migrations, sports, ecology, science and other fields. Third year in a row TEDxMokrin is looking into how to bring out value from and into its community, focusing on present and future issues.
Speakers
Speakers may not be confirmed. Check event website for more information.
Aleksandar Popović
Arhitekta, multimedijski umetnik
Aleksandar Popović je po obrazovanju arhitekta, po profesiji multimedijski umetnik, tehničar opšte prakse i kulturni radnik. Funkcionisao je u nekoliko umetničkih i arhitektonskih kolektiva da bi se kao jedan od osnivača ustalio u Karkatagu. Godine 2015. Karkatag oformljuje otvorenu radionicu Praksa makerspace i pridružuje se zajednici Magacina koja je tad bila u krizi i pod pretnjom izbacivanja iz prostora. Aleksandar se paralelno uključuje u rad NKSS-a (Nezavisne kulturne scene Srbije) gde trenutno obavlja funkciju predsednika upravnog odbora.
Bogdan Mrša
Student of Fashion Design
Bogdan Mrša is a student of Fashion Design at the Metropolitan University in Belgrade, where he has moved from his hometown of Novi Sad after studying graphic design at the Secondary Technical School "Mileva Marić-Einstein". He has done extensive research on the topic of sustainable fashion, followed by his first sustainable collection named The Malnourished, which was awarded the NOIZZ Fashion Award Boris Trivan at the Belgrade Fashion Week 2019. This year has been big for Bogdan, since he has also received two more awards at the Serbia Fashion Week: FTDC-Fashion Talent Design Competition and The European Fashion Union - Milano Fashion Week 2020.
Milica Čalija
Entrepreneur, business mentor, speaker, writer, and an activist
Milica Čalija is an entrepreneur, business mentor, speaker, writer, and an activist. She is the co-founder and managing director of cookie production "Anđeli", a company that makes part of the society by employing women from different vulnerable groups, and has an almost zero waste production process. Since October 2018 Milica takes part in different initiatives of the Swedish Institute, aiming to strengthen bonds and share experiences in the Western Balkan region, and to demonstrate local initiatives with global potential. Milica believes that if we start the change that we want to see, we can inspire so many other individuals to do the same.
Momčilo Antonijević
Novinar, urednik, narodni travar
Momčilo Antonijević, novinar, urednik, kulturolog, narodni travar i gerila baštovan, rođen je u Užicu 1980. Diplomirao je novinarstvo na Fakultetu političkih nauka u Beogradu 2004, a četiri godine kasnije i magistrirao na istom fakultetu na katedri za Teoriju kulture. Pet godina bio je saradnik u nastavi na tom predmetu. Piše za nekoliko novina i portala. Autor je bloga i youtube kanala Snaga bilja. Biljke sakuplja od 13. godine. Kuva od 19. Ozbiljno putuje od 21, a 2018. objavio je zbirku putopisa Kako sam postao putnik i prestao da budem turista. Živi, radi i sadi u Beogradu.
Nemanja Potrebić
Geograf, avanturista
Nemanja Potrebić, zvanjem i znanjem master geograf, idealima i uverenjima učitelj, prirodnjak, avanturista, revolucionar, kolekcionar ruskih pedagoških izdanja, aktivista. Rođen je 1987. godine i od detinjstva živi i raste u gradu, iz kojeg često beži u selo podno Svrljiških planina, gde je od malih nogu inficiran prirodom, geografijom, botanikom. Učeći o bilju od bilja, o životu iz života, o pedagogiji od ruskih pedagoga i filozofa, izrastao je u radoznalog buntovnika, svuda omiljenog učenika/prijatelja/učitelja/vođu, spremnog da aktivizmom i znanjima menja bar lokalnu sredinu, ako ne i svet. Trenutno radi u vrtiću, gde svojom ličnošću i znanjima vaspitava i obrazuje ekološki osvešćenu decu koja i u samom srcu grada znaju kako da se vrate prirodi. Pored toga, vodi prirodnjački klub Via Serbia, u okviru kojeg realizuje prirodnjačke ture po Srbiji i Kubi (što otkriva njegovu revolucionarnu stranu, kao i nadimak "Če" koji nosi od srednjoškolskih dana).
Sabina Kerić
Osnivačica Ekonaut-a, autorka projekata "Zelena Mreža" i "BeeConnected"
Sabina Kerić dolazi iz udruženja građana i socijalnog preduzeća Ekonaut (Zdravac - Ekonaut) Kroz svoj rad bavi se traženjem rešenja koja poboljšavaju otvorene prostore koristeći kao glavne elemente prirodu, kulturu i igru. Radi na projektima u području zelene infrastrukture i biološke raznolikosti, podizanju standarda u urbanoj ekologiji i pejzažnoj arhitekturi, koristeći se principima održivosti i učešća zajednice u procesu planiranja i dizajniranja. Trenutno je autor i kordinator na projektima: "Zelena mreža" - start-up koji povezuje hortikulturu i pejzažnu arhitekturu putem IT rešenja i "BeeConnected" - očuvanje biodiverziteta kroz baštovanstvo i održivo pčelarstvo.
Slobodan Kojić
Vajar, magistar likovnik umetnosti
Slobodan Kojić je vajar, magistar likovnih umetnosti, redovni profesor na Akademiji likovnih umetnosti na Cetinju i direktor Centar za likovnu i primenjenu umetnost Terra u Kikindi. Osnivač je Internacionalnog simpozijuma skulpture u terakoti velikog formata, jedinstvenog u svetu. Dobitnik je brojnih nagrada i autor mnogih samostalnih izložbi.
Vanja Petković
Diplomirani ekolog
Vanja Petković je završivši Prirodno-matematički fakultet, stekla zvanje diplomiranog ekologa i rešila da sve svoje ideje i energiju pretoči u akciju "Čepom do osmeha", koja osim zaštite životne sredine i edukacije dece o zdravim i ispravnim navikama u pomenutoj oblasti, za krajnji cilj ima - humanost. Kao koordinator na brojnim značajnim projektima njen rad usmeren je i ka poboljšanju položaja osoba sa invaliditetom, i rezultat njene predanosti ogleda se u prvom kombinovanom igralištu za decu sa i bez smetnji u razvoju napravljenom na Štrandu. Građani iz skoro svih gradova Srbije sakupljaju plastične čepove, a sve to zarad pomoći onima kojima je naša pomoć neophodna i zahvaljući Vanji koja veruje da kada se deluje na ispravan i kvalitetan način, znanje i te kako može da se primeni u praksi.